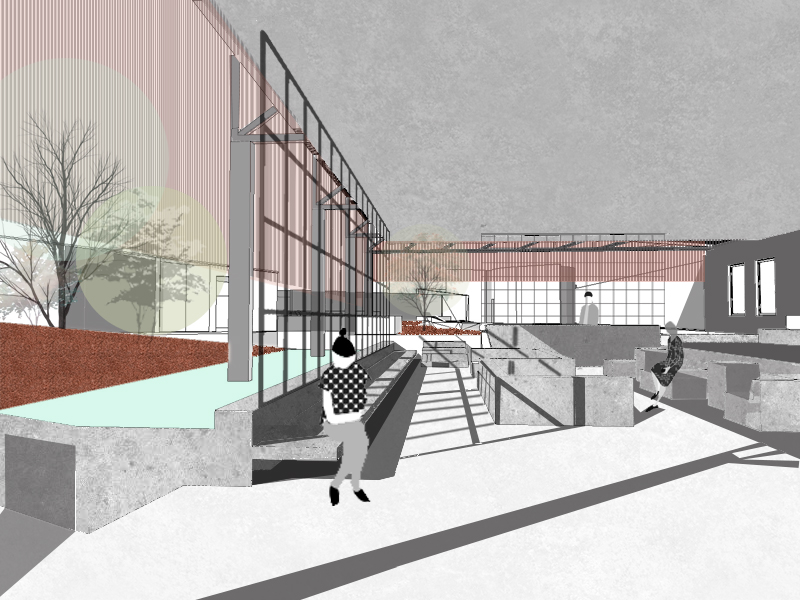 Metropolis, A Green Community Space by Design Experiment
"We were approached by the client with a triangular plot of land that was stuck within a concrete jungle that needed some breathing space.  Instead of creating a typical clubhouse, we decided to curate an oasis amidst the high – rise buildings.  The terraces of which when viewed from the apartments seem like roof gardens whose levels vary."
Metropolis is a 1900 sqm green refuge designed to be the community space at the heart of a mid-rise-apartment complex, hosting 700 homes. Positioned amidst a high-density residential complex in a suburb in metropolitan Hyderabad, the clubhouse serves as a green escape and as a third space for the residents with a diverse age group.
A unique aspect of the clubhouse comes from identifying that, the clubhouse is surrounded by buildings higher than itself, making its birds eye view as important as the usual standard elevation.
The clubhouse also has a unique aspect to its form, surfacing out of resourceful construction practices. The main structure of the clubhouse, was a quick to erect industrial shed, which was the first thing to be erected on site, before even the construction of the apartment complex, that would serve as the site office and the model home after which it was to be dismantled. When the clients approached DE to design a clubhouse, the architects designed to integrate the temporary shed into the structure to reduce the amount of construction on site significantly. Also avoiding bringing in construction pollution to an already occupied residential area.
The amenities in this clubhouse range from a small creche designed for working couples, to a swimming pool (doubles as a pool side party venue), to an internal cafeteria with indoor games and even a banquet hall to host community and family occasions. The badminton court, in particular, is of note, in the way it makes use of terrain height differences to create a wind free zone so the patrons can use it without interruptions.
Wind flow has been given a significant amount of importance and has been designed to flow into the main structure of carefully shaped lawns ad shallow pools to allow for a more natural cooling approach. High powered industrial exhaust help create this wind flow in the absence of naturally moving breezes.
While the main structure is a steel structure, the expanded areas, like the creche and the changing / toilet areas are concrete, with landscape integrated over the roof slab which forms part of the aerial façade that would be visible from most of the apartment complex. These areas, particularly with their treetop gardens, in combination with the ground level greenery create the impression of a green oasis amidst a concrete desert.
A bit about the graphic language:
The graphic language was designed to create a relatively surreal representation of the space, showcasing its simplicity and play with light in a way that while conveying the essence of the space, would not give the impression of accuracy.