Chandigarh, the face of Post-Independent India, is a well-cited example of Modernism in the country. The 'zenith of Indian Modernism'- Chandigarh's iconic status has led to its constant scrutiny within the Architectural Community. But to its inhabitants, Chandigarh remains a 'very liveable city'.
We came across a young Architectural Practice, Studio Mohenjodaro, helmed by one such local, Tarunpreet Singh Bhatia. Our conversation with Tarunpreet led to the exploration of Corbusier's City from the lens of a local architect, a discussion on its elitist image, and thoughts on the state of Contemporary Architecture in India.
Practice's Year of Establishment: 2014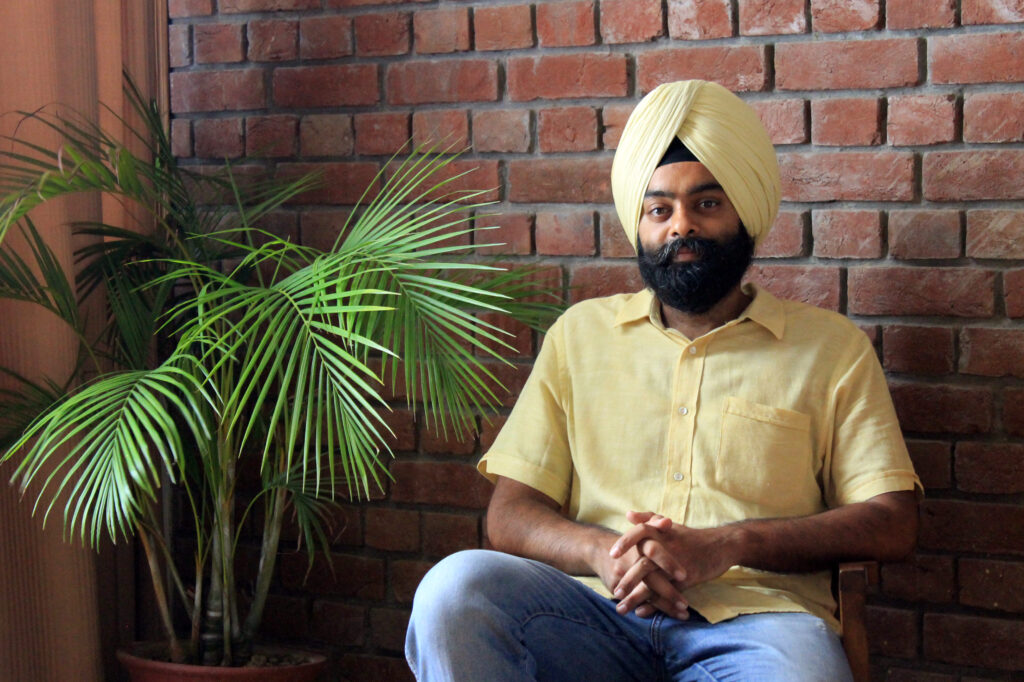 Establishing the Practice
As an architect, it seems natural to link Chandigarh to its architecture. But to its residents, Chandigarh is first a 'comfortable city'.
Given that I have spent most of my life in Chandigarh, it is safe to presume that the city has spoiled me like anyone who has spent the majority of their time here. It is not hard to get used to the comfort of its pace which is neither running too fast to become a thriving metropolitan nor is it a quiet outback of a town. The discipline and order, the greenery, and the openness that it has to offer are unparalleled.

Tarunpreet Singh Bhatia
One would think that for every architect based out of Chandigarh, the field is a natural, conscious choice. But, for Tarunpreet, the profession was an unplanned, chance encounter, which followed a brief stint with Engineering.
I could never warm up to the curriculum or the course, so I gave up engineering pretty early. The next year, I managed to get into the Chandigarh College of Architecture and took it up quite enthusiastically. Even though I did not have a connection to the field, the fact that it was an unconventional territory somehow fascinated me. Maybe because of the style of imparting education, after all, we were now supposed to make drawings and not learn Organic Chemistry or mathematical formulas.

Tarunpreet Singh Bhatia
As a student, Tarunpreet became keen on establishing a private practice in Chandigarh; during his later years at Architectural School, he experienced a struggle in deciding his field for post-graduation.
I assumed that to make up my mind, getting some professional experience would come in handy.

Tarunpreet Singh Bhatia
Post graduation, Tarunpreet worked with Hundredhands in Bangalore, followed by Stephane Paumier in New Delhi. The team at Hundredhands, including the Principal architects Bijoy Ramachandran and Sunitha Kondur, became a source of inspiration for him.
Bijoy Ramachandran and Sunitha Kondur had established and achieved a very inspiring body of work, and their quiet resoluteness to do so even now, year after year is a testimony to the firm's illustrious name. My colleagues at HH who studied at different institutes all over the country were no less extraordinary, the dedication and perseverance with which they worked instilled in me a sense of ownership towards my profession. I owe a lot to my time at HH as I believe it was the foundation for my career.

Tarunpreet Singh Bhatia
At Stephane Paumier, Tarunpreet got the opportunity to evolve his approach towards Architecture.
Every project at this firm had a whole new theme, they would enter uncharted territory with each project which I felt was very bold and dynamic.

Tarunpreet Singh Bhatia
After spending four years working in Delhi and Bangalore, Tarunpreet shifted to Chandigarh to establish Studio Mohenjodaro.
The Name
There is little to guess about the inspiration behind the Practice's name. A story most of us could relate to, Tarunpreet's first glimpse into the world of architecture and planning were the ancient Indus Valley cities, Mohenjo-daro and Harappa.
It fascinated me a great deal to read about the planned cities of Harappa and Mohenjo-daro; after all these years, those sketches still evoke a vivid visual memory. So, as an ode to my first point of contact with architecture, I named my practice after Mohenjo-daro.

Tarunpreet Singh Bhatia
Chandigarh
The Practice is based out of Chandigarh; Chandigarh comes across as a city for the privileged class and a centre for Universities, with no place for the poor. It is overburdened and unable to cater to its expanding population.
Physically, the city is at its limit. It's a small landlocked area with overburdened peripheries. It's also true that Chandigarh is a highly divided city with a close-knit community of locals. There is a large gap between the people who have been part of the city and people who have migrated for newer opportunities. It is unable to provide for its rising population of the urban poor.

Tarunpreet Singh Bhatia
Being a Post-Independence icon, Chandigarh has always been a subject of discussion. The urge to preserve the city's original character has hindered its possibility to cater to the growing requirements. Architects need to contribute toward bringing the city out of the shadow of its illustrious past and addressing modern issues.
It (Chandigarh) is now stagnating under the baggage of legacy. As architects we can be part of the bigger picture solution. We can help bridge the gap between the public and policymakers. By coming together in collectives, we can help enable inclusion of people from all walks of life.

Tarunpreet Singh Bhatia
Modern Architecture and Heritage
While Chandigarh struggles with the weight of its 'historic fabric', modern Indian architecture is gradually losing touch with traditional architecture and building techniques.
Most architecture these days is indeed devoid of any local touch. The loss of local skill and technique is so grave that sometimes it's hard to find artisans who still practice them. If there can be a more organized way of documenting the traditional knowledge and disseminating it to the general public, it might help create an understanding in the masses.

Tarunpreet Singh Bhatia
Vernacular Architecture is a symbiotic relationship between nature and the user. It is, therefore, inherently sustainable. However, its knowledge and materials are not easily available due to a lack of awareness amongst architects and non-architects.
During my five years in Architectural school, there was little exposure to traditional building techniques. While workshops and electives teach the importance of vernacular architecture, practical experience and proper knowledge are yet to form an integral part of the course structure.
Involving local artisans in the same can help institutions act as a point of exchange between artisans, students, and practitioners. It can help create an archive of information that is accessible to all locals.

Tarunpreet Singh Bhatia
The Shift in Modern Architecture
Today, Indian Architecture is observing a paradigm shift, where experimentation and risk-taking are forming the root of the transformation.
I think as a country we are now starting to realize and manifest our potential. Every new generation of architects is more informed and has access to more means than the previous ones. Yet I believe that only a small number of practices are actually challenging the status quo. But that is not to undermine the quality of efforts that are building up to the said paradigm shift. In my opinion, being open to new ideas and being curious to learn always aid in better outcomes.

Tarunpreet Singh Bhatia
Works by the Studio
In Studio Mohenjodaro's line of work, a glimpse of this bold experimentation can be observed. The practice used a natural materials palette in their project 'Tapered house' and a mix of various materials in their 'Slayback Pharma' project. We asked Tarunpreet about the studio's approach when addressing the materiality of a project.
While focusing on materiality, my first preference is comfort and familiarity. Spatial quality should not isolate the soul, instead, it should nurture it, providing a sense of belonging and ownership to its occupant.

Tarunpreet Singh Bhatia
Materiality directly impacts the user's perception of space. Humans, in particular, tend to relate more to materials that show the passage of time.
A raw material palette is brutal and honest, it does not try to appease anyone or consciously remind them of maintenance, it just lets the user be. There is no pretence. We as humans should accept our flaws and the environment around us. Beauty lies in admiring little imperfections that coexist with us. For example, a house in an intimate space need not look like a hotel. It should calm and soothe the soul. And with that in mind, we gravitate towards raw and exposed finishes which highlight the inherent natural beauty of each material.

Tarunpreet Singh Bhatia
Each project comes with its own set of challenges. For Studio Mohenjodaro, adding challenges is instilling value.
Residence 2105 was one such challenging project; a fixed template existed in the form of the ground floor structure, and the innovation had to be in a limited area on the first floor.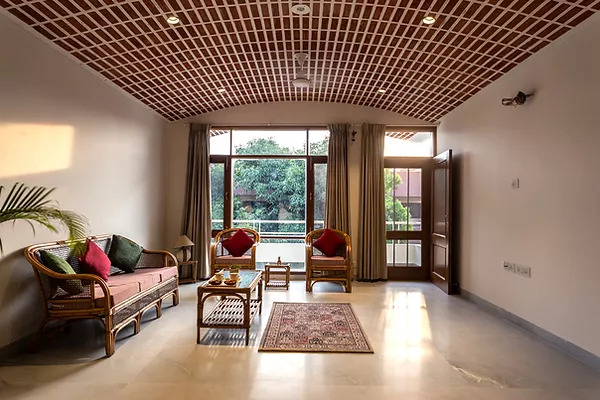 It had to balance the blend between the existing house and the proposed structure. I think the vaulted roof and its translation from thought to reality were very inspiring. From then on, it seemed possible to experiment more and more with space.

Tarunpreet Singh Bhatia
Slayback Pharma, an interior design project in Hyderabad done remotely, was another challenging project.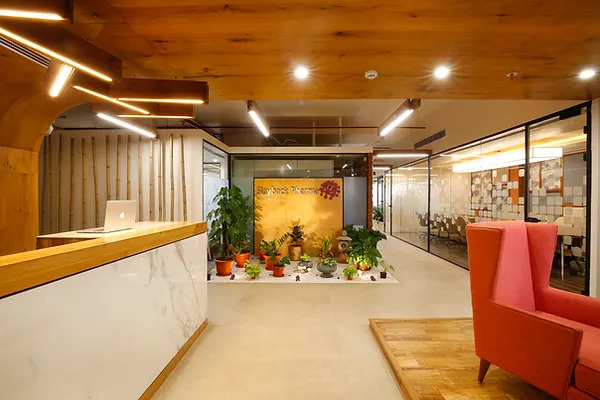 We used to visit Hyderabad to monitor the progress of work every 2-3 weeks and set up the workflow for the next stage. With no Interior Contractor, the sourcing of materials, site management, and execution in a different part of the country was a massive hurdle, but the result was very heartening.

Tarunpreet Singh Bhatia
Along with these built projects, Tarunpreet also fondly recalls an unbuilt project- a residence designed for a retired Navy Officer.
The house had a very elementary design, simple and understated, conventional to the extent of looking like a Government Accommodation. The beauty lay in its neat planning, its simplicity, no showy material palette, no stone cladding or fenestrations. You could say that if this house was built half a century ago, it would blend into the surroundings very easily.

Tarunpreet Singh Bhatia
Inspiration
Over the years, Tarunpreet and the studio's approach has sought inspiration from several architects on different fronts- Kevin Mark Low's use of raw/exposed finishes and focus on intricacies, Geoffrey Bawa's context-sensitive design approach, Rajeev Kathpalia's ideology and sensitivity, the aesthetics of Khosla Associates, and Vir Mueller's articulation of defined structures and sobriety in materials.
Additionally, Tarunpreet's time at Hundredhands has had a major influence on his practice- with the Bangalore-based studio and its founder Bijoy Ramachandran being a constant source of inspiration.
Their (Hundredhands) architecture is subtle and understated. Their structures are finely proportioned, and there is beauty in the order of the grid. The ideologies have carried into my practice and added to my approach toward architecture in general.

Tarunpreet Singh Bhatia
Addressing the balance between sustainability and modern architecture, Tarunpreet currently seeks inspiration from Didi Contractor and Chitra Vishwanath.
The idea of being so hands-on is a reminder of what architecture should ideally be. Trying to balance the tightrope of sustainability within the confines of modern-day architecture is a dilemma we all face now. Hence, their ideas continue to inspire me to explore newer, more unconventional directions.

Tarunpreet Singh Bhatia
Studio Mohenjodaro
Eight years after the studio's establishment, Tarunpreet 'consciously' refers to Studio Mohenjodaro as a 'small practice' based out of Chandigarh.
The idea is to have an intimate practice that is conscious of each other as a team. Everyone in the office is aware of all the projects being dealt with and is free to contribute to them, passively if not actively.

Tarunpreet Singh Bhatia
Not the overarching extension of the principal architect's ideology, Studio Mohenjodaro is a collective thought process.
The studio is constantly evolving- be it the soft aspects of the day-to-day running of a practice, the managerial and financial challenges of a new setup, the architectural challenges of design, or people management at the core with numerous experiences. Projects going wrong is an experience all new and upcoming practices face, but the Practice accepts the mistakes to grow and understand the field better.
Given that we are a young practice, most of the time we don't decline work that does not align with our ideology. In order to gauge what others like, we go ahead and take up these projects to be able to learn and experiment. These projects are challenging but there is always something to take from them.

Tarunpreet Singh Bhatia
While the Practice wouldn't want to change anything about their journey, they have had several moments of anxiety that they take up as part of their destiny.
In all these years one thing has led to the other and helped us become who we are. To bypass those learnings and reach the culmination directly would be unfair. This is easier said than done as there have been countless moments of anxiety, of wanting to be able to control the situation if it is going out of hand, but then destiny has its own way with the world.

Tarunpreet Singh Bhatia
---
About the Studio
Studio Mohenjodaro is a multi-disciplinary design firm established in the year 2014. Spearheaded by Ar. Tarunpreet Singh Bhatia, the practice deals with a variety of projects regardless of the scale or the kind of style and detailing required; designing interior spaces is given as much attention as the planning of larger architectural assignments.