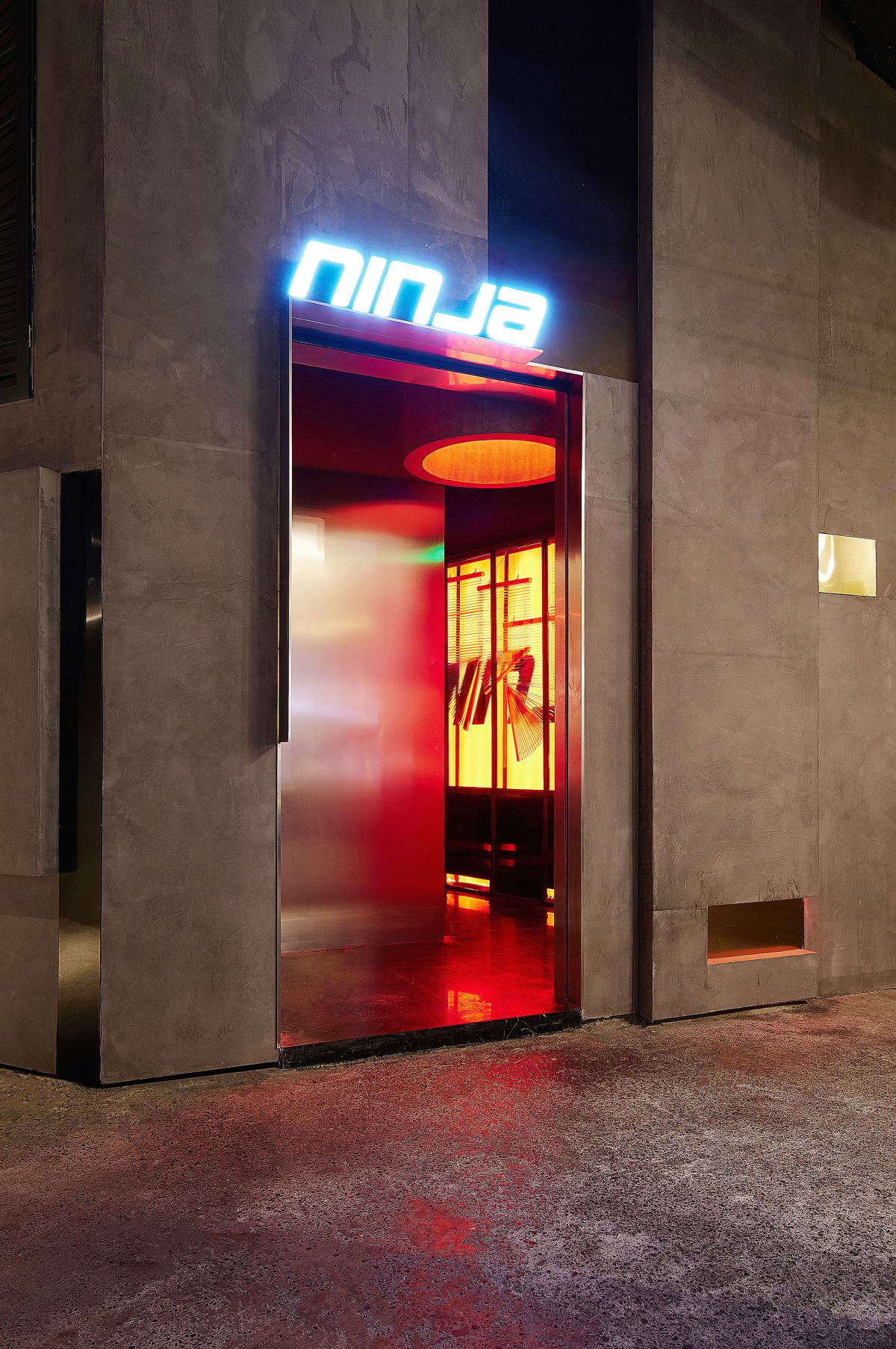 It has been nearly 2 years when the pandemic starts, which leads to traumatic recession of all walks of life. To the entertainment industry, it's also a game-changing point that only the best can survive. Ninja club, as one of the most established Hip-Pop clubs in Shanghai, has survived and thrived with its newly open 2nd club in this city located at Found 158. Among all the clubs and bars, in this noisiest nightlife center of Shanghai, Ninja chooses its own secret corner for its story and tales.
Through a long, rectangle passway formed by concrete, under the lighting mixed by the outside saturated warm one and inner red, your desire of exploration is triggered. Keep walking, and the overwhelmingly red lighting will offer you an escape from reality.
If you just walk by, you can see the red light twinkles from the windows, as the eyes of geisha behind her fan, staring at all people passing by with endless ambiguity.
The music grows when you walk along the concrete wall. Here is the dance floor, in the center of which the DJ booth stands like a golden castle, shining under the fabulous lighting. Everyone is a dancer, and you also become pilgrims here.
Several vertical tiles are shed on a soft glow created by glass on each side of the dance floor. As you dance through under with a glass in your hand, you feel like a ninja walking on the wall, cross all the rooftops of this city.
On the back, it's the rolling stone eaves, under which are sofas for you to rest a little, after the chasing and hunting. Feel free to space out here with a breeze through the golden wind bell above you. Finally, ninjas can find their own peace of mind now.
Drawings –
Videos – 
Project Facts –
Project:NINJA CLUB
Project Location: Shanghai
Floor Area: 200 square meters
Type of Design: Interior Design for Night club
Construction Group: Xiao Ruan&Zhang Jian
Design Firm: J.H Architecture Studio
Major Designer: Yang Rui
Photographer: Hu Kaifan
Videos:FixerStudio
Stage Design: Keefer
Time of Completion: May. 2021
Company Website: jh-architecture.net
Materials Used: cement, stainless steel, frosted glass, marbles, mirrors, LED lightsandSoil.