This Museum and Academic Research Centre pays tribute to Kazi Nazrul Islam, the great revolutionary poet of Bengal. We have made an attempt to reflect his philosophy and ideals through our design. His rebellious ideas often challenged conventional practices for the greater good. His love for the motherland and his avant-garde poems had changed the way people thought. We have tried to capture his ideas and transform them into meaningful spaces.
By fusing together seemingly disparate design elements, a radical and inspirational monument has been developed. The site is located on a main arterial road of a planned township in the city. Being surrounded by generic built forms with no active public spaces nearby, we were prompted to create a breathing space amidst the dense city fabric of this area. The architectural language has been developed to express the personality of Kazi Nazrul. It is simplistic and introverted creating an urban contrast with its existing setting. The sculptural design approach articulates the context of the life of the poet. The built form and its treatment invoke a feeling of dramatic justice through the language of architecture.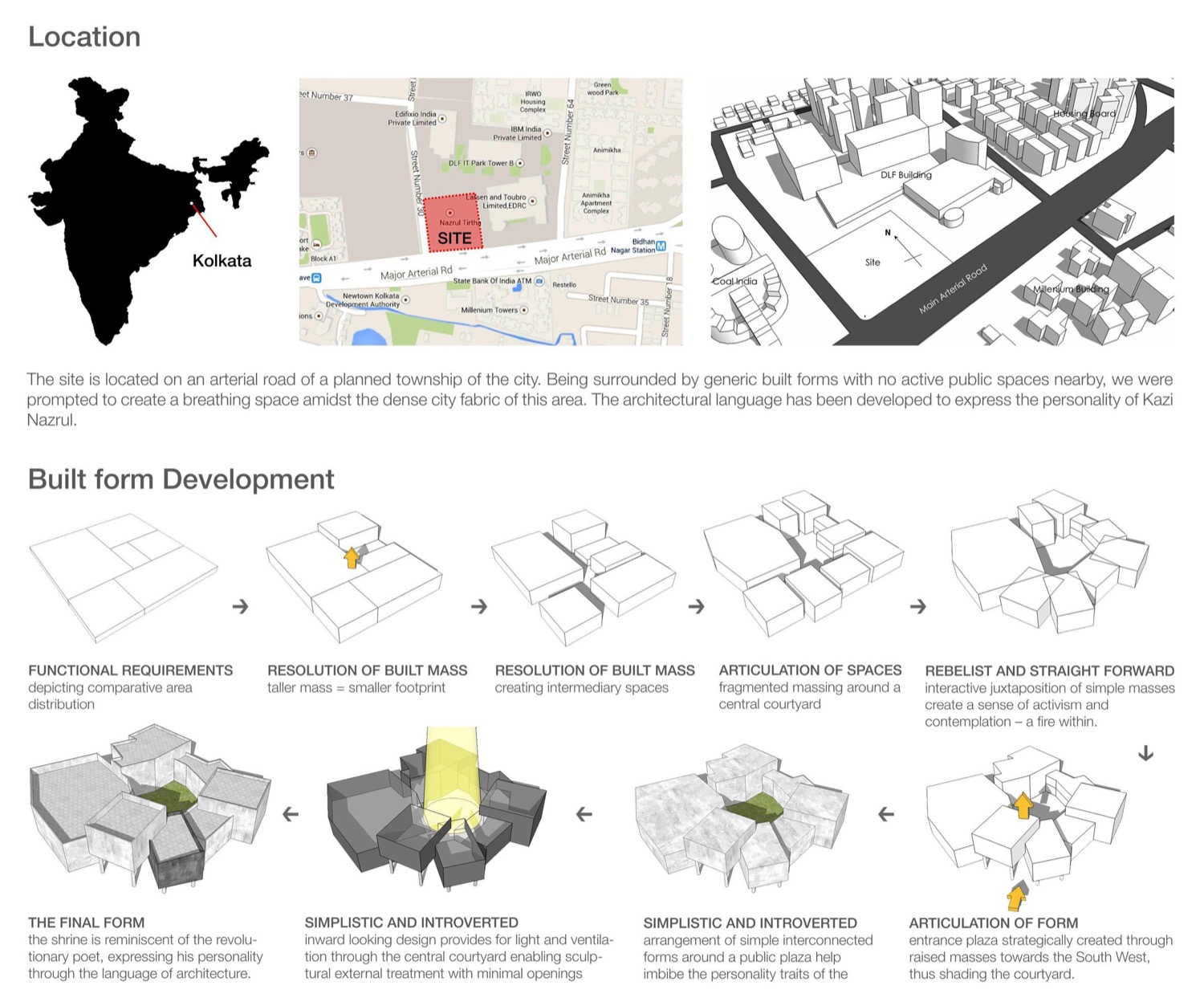 Starting from the massing right up to lighting design, every aspect of the building reflects the individuality of the poet. An inward looking built form has been devised using interactive juxtaposition of simple masses creating a sense of activism and contemplation of a fire within. An inviting entrance plaza is fashioned by strategically raising certain masses. The fragmented massing around a courtyard forms a central green relief space. Taller massing towards the South West ensures that this public zone stays shaded through the day. Additionally the courtyard is designed to act as a source of diffused natural light to the interior spaces. Considering the nature of the functions within, it was important to restrict the exposure to direct sunlight.
The use of thin exterior RC walls saved energy, cost and time while providing essential protection from the harsh sun. The use of concrete provided us with the opportunity to explore innovative ways of treating the building. The monolithic yet sculptural exposed concrete form reflects boldness and purity, characteristics intrinsic to Kazi Nazrul himself. An indigenous sculptural feature wall has been devised with an inscribed abstraction of the poet's most admired poem. CNC cut foam has been used as formwork on a dyed exposed concrete wall to achieve the desired effect is a first in the country.
More Drawings: