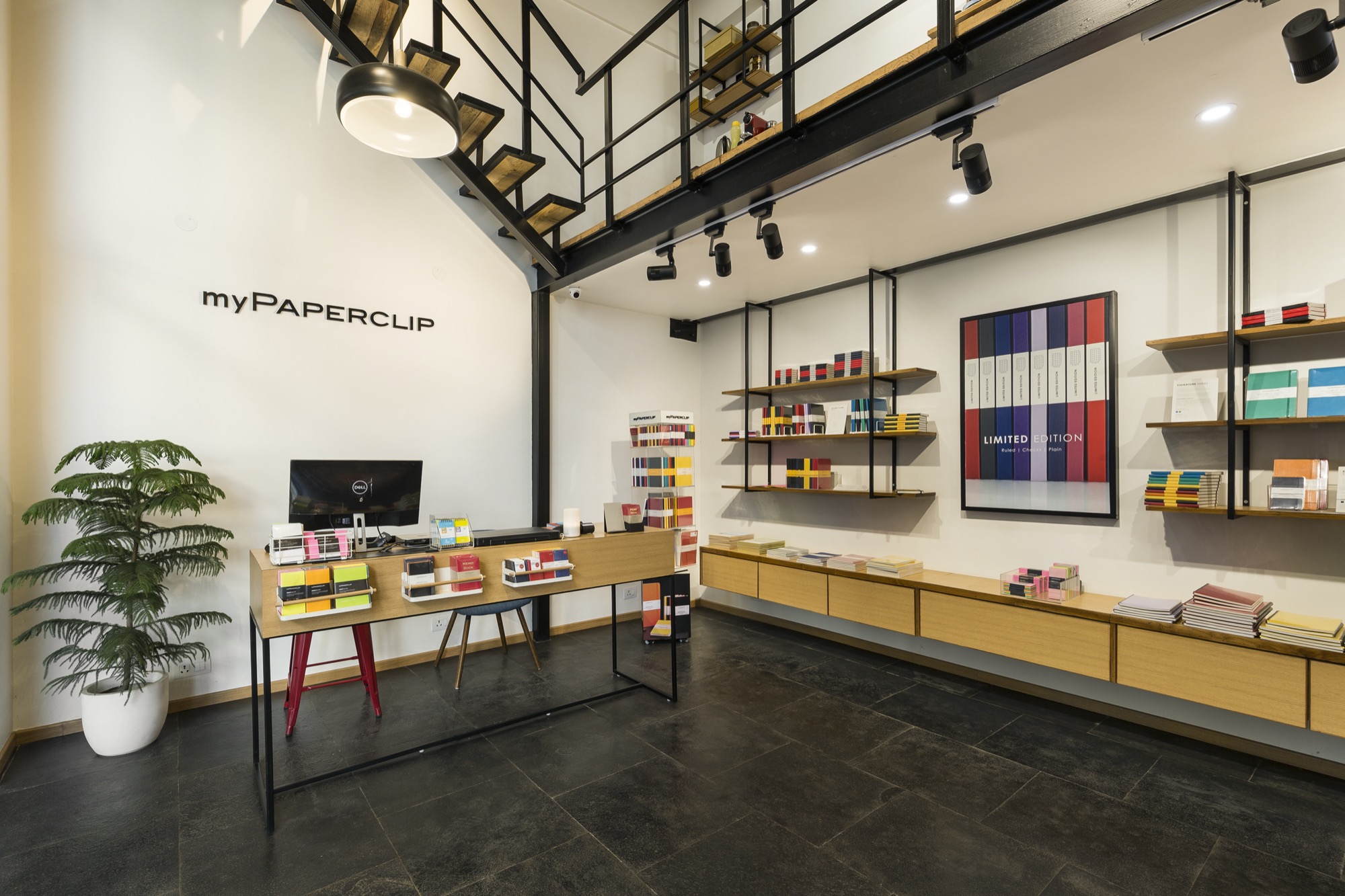 Located on Golf Course Road, Gurgaon, myPaperclip was conceived as an experiential flagship store, a space to experience the products and explore the opportunities of their corporate clients with an office. The biggest challenge with the project was 22ft X 16ft X 30ft site, to tackle which the planning of the space has been done volumetrically to create an extraordinary experience.
It consists of retail space on the ground floor and a design studio on the mezzanine level. Both the spaces are connected with a mid-level transition bridge which acts like a discussion cum display area. From a compact 300 sq ft space, the levelled planning was able to extract approximately 850 sqft area spread across 2.5 levels. The double-height entrance and the visual interaction between the mid mezzanine and retail area add to the unique experience of the space.
The brand identity echoes throughout the design language of the experience centre, where each speck and corner reflects chic and minimalism. The fresh and vibrant colours of the stationery products enjoy more than just a glance as they sit against the muted backdrop of white, beige and grey furnishings and furniture. Exposed metal structure, staircase and railing with a solid wood flooring cohesively bring the space together to create a mindful experience, one that shuts off the mindless noise, the auto-pilot of the routine.
The aim was to create a young and friendly semblance to customers and creating an identity that lingers on. Attribute it to the unusual proportions and design geometry or the warmth of material palette and muted tones, the store commands more than just a glimpse.
Project Facts
Location – Phase 1 Rapid Metro Station, Golf Course Road, Gurgaon
Completion Date – 30-12-2018
Category – Retail
Site Area – 352 Sqft
Built up Area – 850 sqft
Design Team – Bhavuk Jain, Sandeep Singh Sagoo, Neha Singhal, Aman Lamba
Clients Name – Mr. Ajay Batra
Photographer – Mr. Rohan Dayal