Architect : Manoj Patel Design Studio
Location : Vadodara, Gujarat, India
Studio Area : 500 Sq.Ft.
Project Name : Design Studio
Material : Metal Corrugated Sheet, Pine Wood
Design Team : Ar. Manoj Patel, Ar. Vibha Lad, Ar. Brijesh Mistry
Date Of Completion : October 2016
Photographs : Tejas Shah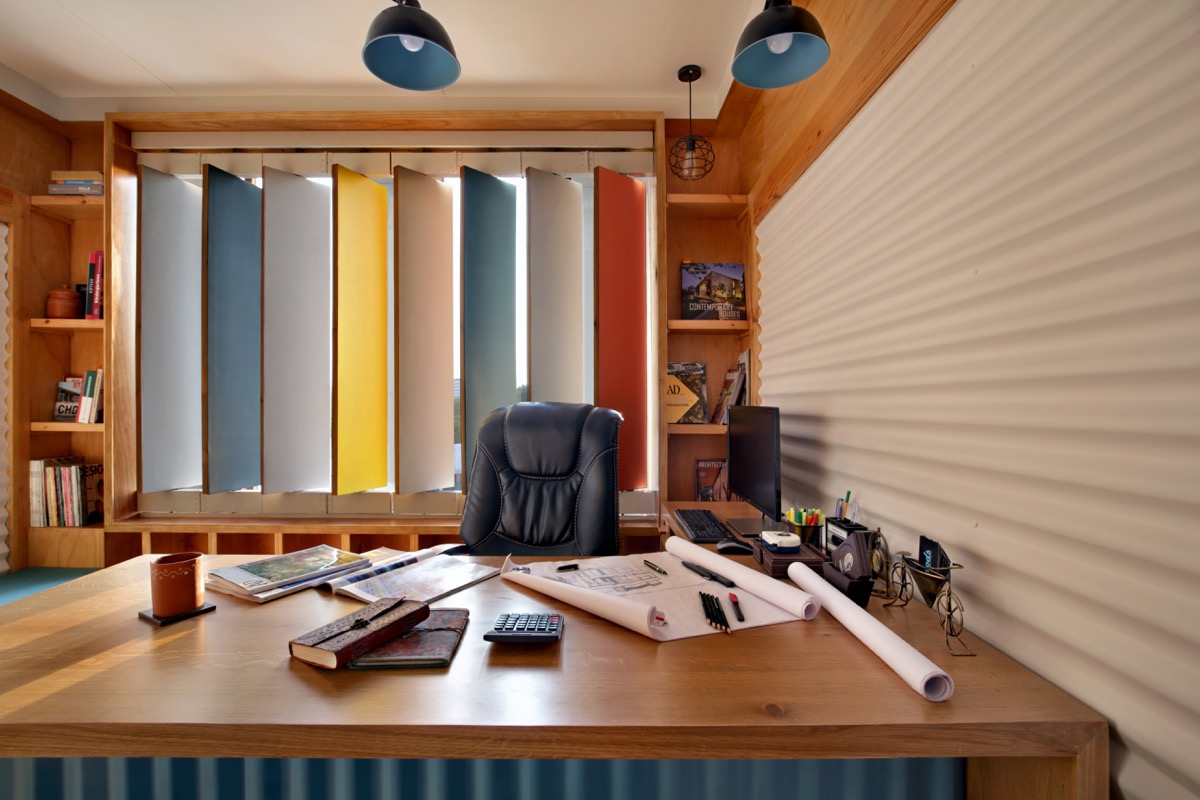 Modernized contemporary interior design with utilization of eco friendly materials have been idealized for designing the interior of the atelier. The interiors were designed with ground ideation of "sustainability". Reclaimed Metal corrugated and timber sheets which are locally sourced materials serves the centerpiece of the design which are cladded on walls, ceiling and floors certainly prevents heat and sound insulation in the interior, innovatively beautifies the outlook of the innards. The textured look of corrugated sheet creates a sharp contrast with timber parquet which is further enhanced with color pallete.
Disparate spatial orientations for rectilinear layout of 500 sq.ft which could resolve the purpose of functioning of space and circulation were been devised with climate responsive decor in the innards for the approval of final outcome of the design. The atelier is designed in such a creative approach whereby space multi functions the purpose. It incorporates a vestibule, a workstation, a versatile dining cum study , chief architect's cabin, larder and a lavatory. The innards have been designed utilizing local reclaimed chill wood as one of the principal materials in atelier.
The cabin of the chief architect is stationed at the occidental facade which was the only source for natural light and ventilation due to consecutive layout, hence it was required to be treated in a very judicious way whereby the passive cooling and daylight is maintained but simultaneously obstructs heat flow in the margin. Thus, implements adjustable vertical louvers, which have been coated with insulating colors at rear end in the interiors which keeps things cool in summers. The low volt industrial collapsible led spot lights have been utilized in the atelier which alleviates the ambience at dusk. Thus the elements employed abbreviates the operational cost while working hours in the stretch. The interior of the atelier contribute significantly to reduce CO2 emissions due to innovative conviction of design whereby, green and recycled temporary local construction materials which could be heated, cooled, ventilated and lighted more efficiently are employed.
The movable shelves, door and drawer details of the decor, flippers, mural at the fore ingress, have been created from waste wood surplus and the surplus of corrugated sheets was resourcefully utilized in the door and partition designed for general access. Expense efficient, customary, local methods and labor were implemented for the detailing in every nook and cranny of the atelier.
Conceptual Sketches
Interiors designed in the firm sagaciously effectuate the behest of the climate ,which is frugal in all aspects that manifests sustainability in ample approach with interiors at its own stratum.