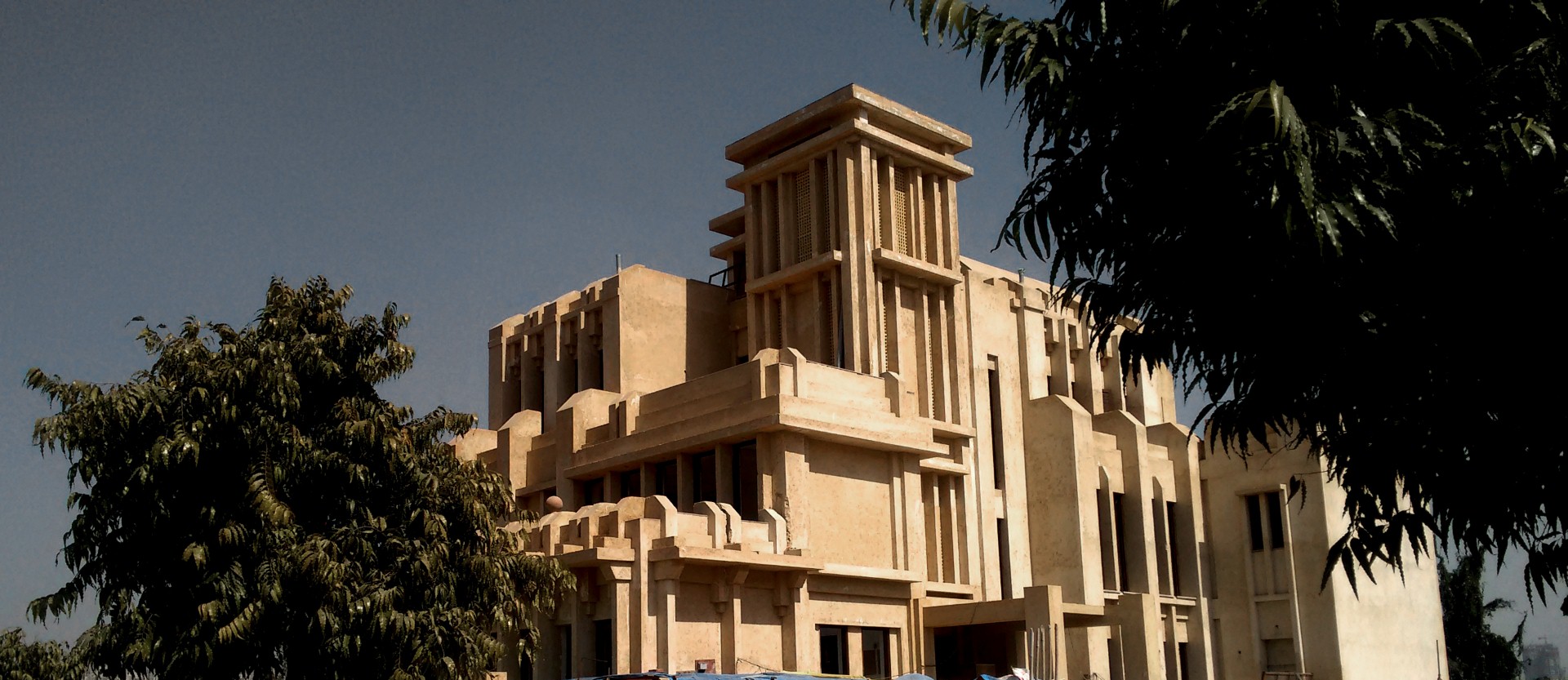 Minaret house is an amalgamative representation of modern technologies and traditional ideologies. The house is situated in an urban setting in the National Capital Region. The immediate surrounding area has very high density most of which have been developed as replicated housing units. In the midst of this repetitive and dense urban environment, the Minaret house is located adjacent to a large golf course in a plotted development.
As the construction activity is on the rise, it becomes crucial that the contextual setting serves as a strong background. Being the only residence built in the development, it becomes necessary for Minaret house to serve as a strong and defining precursor to all new constructions. With the architectural heritage disappearing rapidly, it has now become crucial to revive it and re-interpret the traditional ideologies to meet the modern day needs. India with its rich architectural heritage offers deep insight in the formation and evolution of physical spaces; this has served as the fundamental part of design process used for the Minaret House.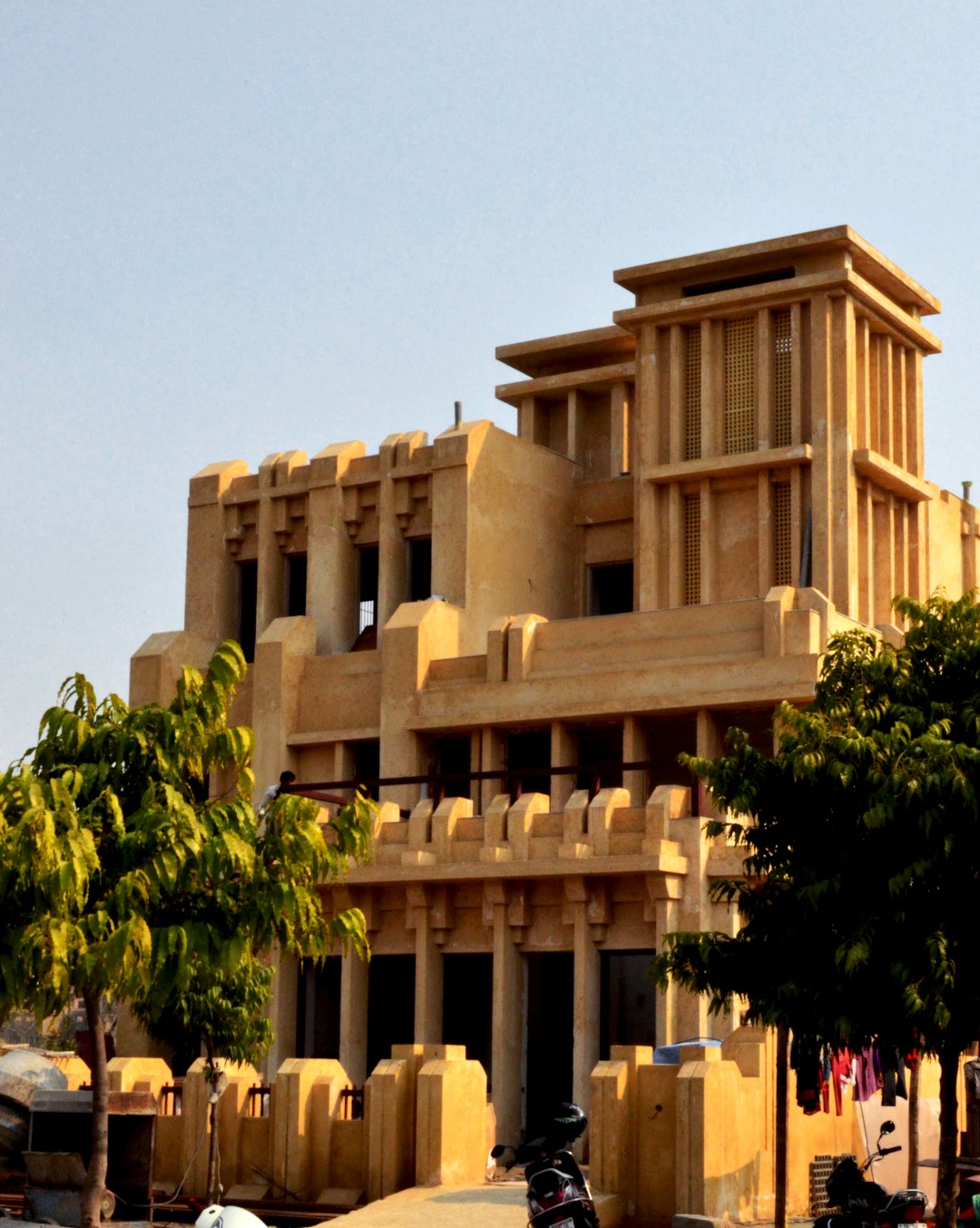 Buildings in hot-dry climate have existed over centuries; innumerous construction technologies have evolved over the time to passively cool the interior spaces. A natural ventilation system has been implemented in the house with the use of a Minaret. Wind towers have been in use for many centuries in various desert regions around the world. Egyptians were one of the early adopters who were able observe the phenomenon and provide a physical form to it.
The Minaret (Wind Tower) has been integrated centrally with its exposed façade towards the south-west side. With this exposure the air heats up quickly inside the tower and create a negative pressure at the top, thus forcing the hot air out and creating a continuous airflow inside the house. This has been used in combination with large window openings towards green terraces in the front and golf course at the rear side that allows clean and cool air to enter all peripheral habitable rooms of the house. The forced air circulation created by the Minaret lowers the indoor temperature phenomenally and helps in reducing energy loads.
In addition to proper solar orientation of the building various design techniques have been used to reduce direct heat gains. Intricate building facade is not mere ornamentation; rather it is used to inter-shade exterior walls and reduce heat gains.
The house is designed through a holistic design process; architectural design of a building is a physical manifestation of the social, cultural, political and geographical patterns of that region. The Minaret house not only embodies the climatic principles but also the social patterns that the architectural heritage offered. As a reinterpretation of traditional social spaces, distinct character is provided to public and private zones of the house. This is done through strict planning and placement of functions, segregated circulation patterns and varied spatial volumes.
Subtle impregnated design elements and planning patterns generate curiosity in the mind and lead to many unique experiences for the user.
Drawings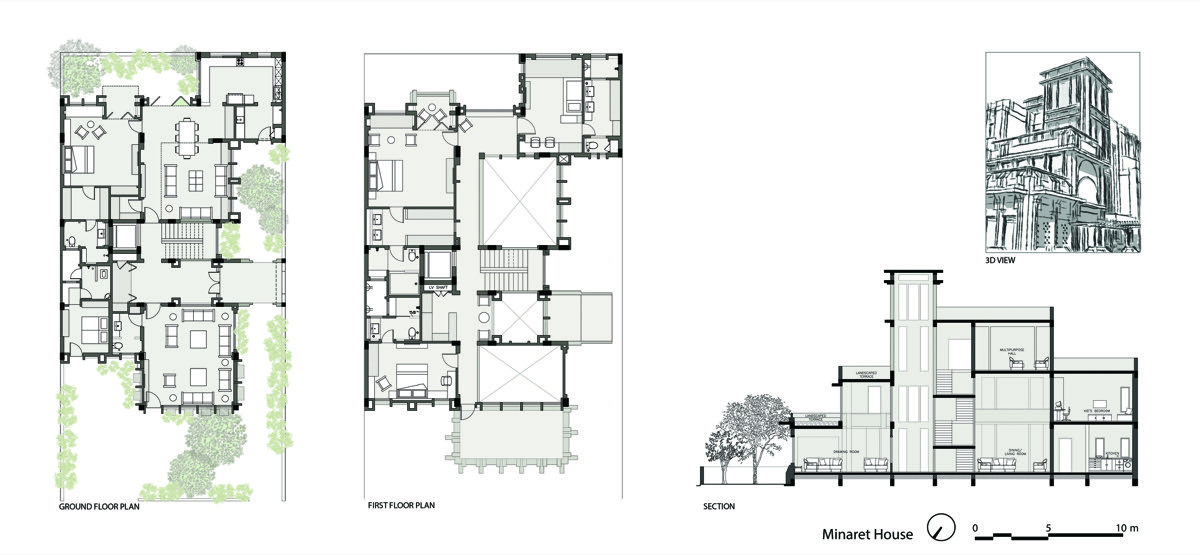 Project Facts
Location : D-11, Sector 128 , Jaypee Wishtown , Noida
Area : 8000 SQft
Team : Nilesh Bansal, Tejeshwi Bansal , Manisha Nimish, Tarini Sharma
Consultants :
Structure : EBI India
Acoustics : Edge
Acoustics
 Automation : Smartbus
Photographer : Mohammad Javed