In my 50-year journey with her, I saw her in all of these roles, and today, it is very difficult to separate them out. She was a very gracious and elegant host, and our home was always welcoming all kinds of people; family, fellow architects and designers, friends, members of the charitable organizations she worked with, and office staff. Throughout my school and college days, my friends were welcome at all times without any hesitation. Now that I think of it, it was incredible that she would manage to have 30 odd young people for dinner after a full day at the office. She said that it came from her own home, which saw a lot of comings and goings. She would have preferred even more.
She had a very strong belief in a frugal and elegant way of life. To her, frugal was a design opportunity. She made sure there was no waste in our house. I still have bags of scraps of cloth collected over the years. Sometime back, when she had cut down on her office timings, she sewed them together as quilts. She was extremely skilled in tailoring, having learned it by observing the tailor at her childhood home. After a whole day's work in the office, she would sit at night so that the next day we had new clothes! She would meticulously design each piece, in terms of the fabric, colour palette, and patterns. She made sure I learned to sew, and it gave her immense pleasure to see me at the sewing machine stitching my daughter's pyjamas – that's about all I managed!
Though she attributed it to the time spent with Kahn at Penn, the Eameses, and other designers at NID, I believe she was a natural, considering her ability to transfer it into her everyday life. During my father's term at the University of British Columbia, Vancouver, she learned pottery. She made some of the most beautiful jewellery—pendants and necklaces which are my sister's and my most treasured inheritance. Plates, vases, and pots with her signature in some incredible combinations of earthy tones became part of our kitchen. In more recent times, we spoke of putting together a pottery studio for her, but it was not to be.
Her penchant for design was more evident in her care for detail than about a larger whole, a characteristic that was most suitable when she became involved in conservation. It was as a conservation architect that she found her calling. One of the early practitioners of the profession, when there were hardly any formal programmes in the country, set out on a journey to conserve one of the largest non-government precincts.
She was totally consumed by the Nagaur Fort for years, leading to an association lasting 40 years. Meticulously, piece by piece, she guided the initiative to restore the fort. Once, she rushed to Nagaur by car in a 14-hour drive because she received a call at night that some particular connection to a fountain, they had been looking for, was spouting water. This, when she was susceptible to motion sickness and disliked even an hour-long drive! She gained the respect of her clients, advisors, patrons, consultants, engineers, and craftspeople through her dedication and commitment, never forcing it, but pursuing it with patience. Sometimes she waited for months for the Board of Trustees to approve her suggestions, never becoming aggressive or impatient. I would ask her about it, and she said, 'Meghal, it is important for them to be convinced, since it then becomes part of their legacy.' She was very conscious of the responsibility she held towards all the stakeholders in the project. She brought tremendous integrity to what she did, rising to prominence in a quiet way.
Getty repeated their grant three times, a rare occurrence because of her dedicated work as well as her frugal and appropriate use of the funds. She went into the project with full awareness that she had great learning ahead of her, but she was not deterred. She was often apprehensive about her ability to handle the scale of work. Her efforts resulted in being invited by the Government of Rajasthan to conserve the palace at Amber, the Jantar Mantar, the Hawa Mahal, and the Gagraun fort; all significant monuments in the country. For a duration of 10 years, between 2002 and 2012, she travelled to all these places, and we joined her in a partnership. I got to see her more often as a professional, working together on a daily basis. She was a task master, highly disciplined, and extremely focused on her work, compelling all the others on the team to bring the same level of focus and drive to the projects. I had no leverage with her in the professional domain, to the extent that this year she wanted my father and me to work on a book, to which we were not giving time, so she emailed us a meeting time. This, of course, we had to respond to. The meeting was held, and the last communication from her was an email with the minutes of the meeting. We hope to be able to complete that book in the months to come. Through the trust that she set up with my father, the AADI Centre, we would like to continue her legacy of sharing and encouraging young professionals.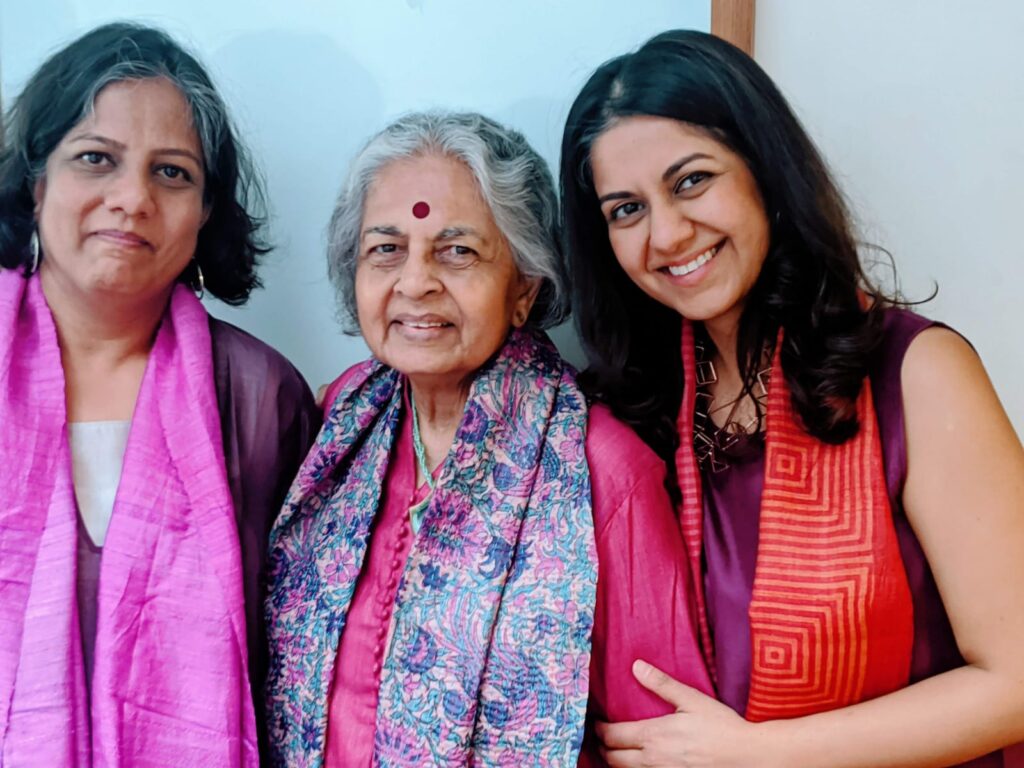 In the last few years, she gained tremendous satisfaction from sharing her learnings with younger academics and students through regular on-site workshops at the Ahhichatragarh Fort. She was always very excited to invite new people to visit the fort, share their knowledge, and guide the participants through the process. The team of the fort was as much her family as we were, nurtured through her ability to create a personal rapport with people. She would always enquire about the well-being of all the people on her team and their families and solicit personal and social advice from them. She believed that if it was well-intentioned, there was no reason not to make a suggestion that came from experience.
After her passing, so many people have reached out, speaking of her presence in their lives, both in India and abroad. She had started teaching at CEPT (at that time, the School of Architecture) in the 1970s. Recently, I was told that she was the only woman teacher on campus at the time and a role model for many of the young girls. But she never saw herself in that light, nor did she dwell on it much. It probably came from her family background—her parents were both followers of Shrimad Rajchandra and instilled a strong sense of living without encumbrances.
Her focus was on the present, the action to be taken for a better present. In that sense, I can say with satisfaction that she lived a very active life. It was one of fierce independence, yet deeply connected to us.
Featured Image: Minaskhi Jain at her weekend home. Picture: Meghal Arya
---
Also read: