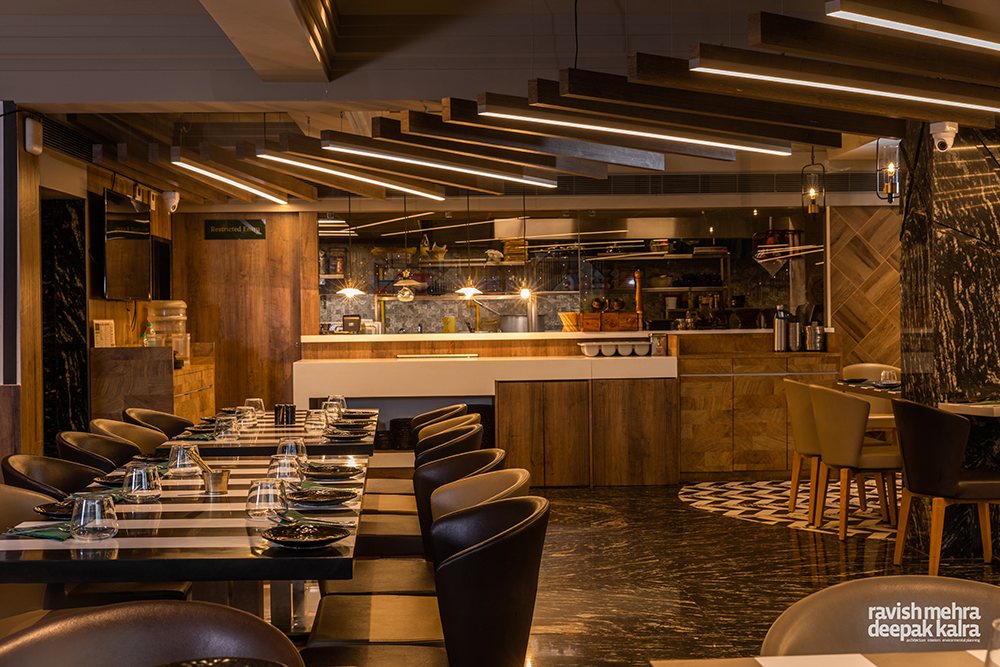 A chic restaurant in the young city of Hyderabad, Masala Republic is designed as a celebration of the quirks, vibrance and liveliness of the youth and their aspirations. Conceptualized by Dhruva Kalra of RMDK as a rich sensory experience with the playfulness of modern aesthetics, this restaurant is the perfect balance of elegance, comfort and contemporariness.
Embracing the client's proclivity for innovation, luxury, freshness and simplicity, this space is cozy, young and dynamic with an ingenious overlay of materials, lines, colours and textures. The space is treated as an elaborate art palette, combining various details together, representing the extensive multi-cultural and inclusive and innovative menu of the restaurant. Spread over two levels, this restaurant builds a distinctive visual narrative with individualistic spatial treatments for the ground floor, the upper floor and the outdoor ice-cream section.
The highly minimal and modern entrance with grey toned, arched, French doors with huge glazing, create a striking impression and a visual fluidity, drawing visitors in. The interiors are a mix of rustic warmth, sleek modernity, and classical sophistication, with a base color palette of earthy neutrals and warm greys. The Herringbone flooring and accent walls, along with the exposed wooden in rough cut wood, emphasize on the versatility and beauty of natural wooden tones and textures, giving the space a balanced contrast and a welcoming ambiance.
The plaster and patina textured walls make for a unique art feature, further highlighted with the delicate copper arch panels, and dull gold spoked wheel lighting installations. The arched high chair seating area is designed as a stand-alone art exhibit in contemporary grey, with engraved wooden blocks and patchwork floor tiles. Artistic lights, relaxed furniture along with the fusion of rough-cut wood and patchwork tiles for the food service counter, ties the entire space together, creating a refreshing experience.
The formal dining on the upper floor is an indulgent space with luxurious flooring in black granite with white streaks, black and white Herringbone patterned tiles with monochrome patchwork tile detailing, and wooden flooring. The suspended wooden and linear lighting rafters create an interesting play of the ceiling inside the main dining area. The mono-striped walls and tables, along with monochrome furniture, wooden accent wall, indoor planters and minimal lantern lighting create mutedly lavish and graceful gastronomic experience.
The copper pendant light installations, sandwiched between the huge, minimal glass glazing, and the geometric, wooden wall divider in the semi outdoor seating, act as an artistic ceiling panel, thus creating a stunning experience. The hanging metal frames, and the blue and yellow furniture further add a vivacity to the entire space.
Masala Republic, thus, plays with different volumes, materials and functions to create an Avant Garde expression of contemporary art and luxury, integrating the whole space into a nonchalant, bold and scintillating sensory experience.