Satara Municipal Corporation
Government Institutions were once designed at monumental scales, perhaps to inspire the citizens they were meant to serve. Over time the this resultant impervious, opaque and domineering presence of the institutional building has only served to distance the citizen from the institution.
Our proposal for the Municipal Building of Satara attempts to rework the physical nature & experience of the institution. Imbibing abstracted ideals from the defining features of Satara including the seven hills the Kaas plateau, step well, rajwada and the fort our project is inspired by the setting and context of the city.
Further, we propose to make the building public and to make public spaces for the citizenry. We propose a Lokmanch where the core of our proposal is two public spaces created for the city:
1. A public plaza/resiliency space at the ground, where people can congregate discuss matters of concern even voice their dissent through peaceful congregations. An amphitheatre that is adjacent to non-office programs of the café, museum etc along an axis linking the front street to the wetland landscape behind the building. The amphitheatre along with the wetland landscape itself holds excess water, acting as resilience infrastructure during seasonal flooding as was seen recently.
2. A public garden on the roof with children play areas and walking tracks create a hitherto unseen hybrid public space, which would also allow access to vantage views out into and beyond the currently low-rise city.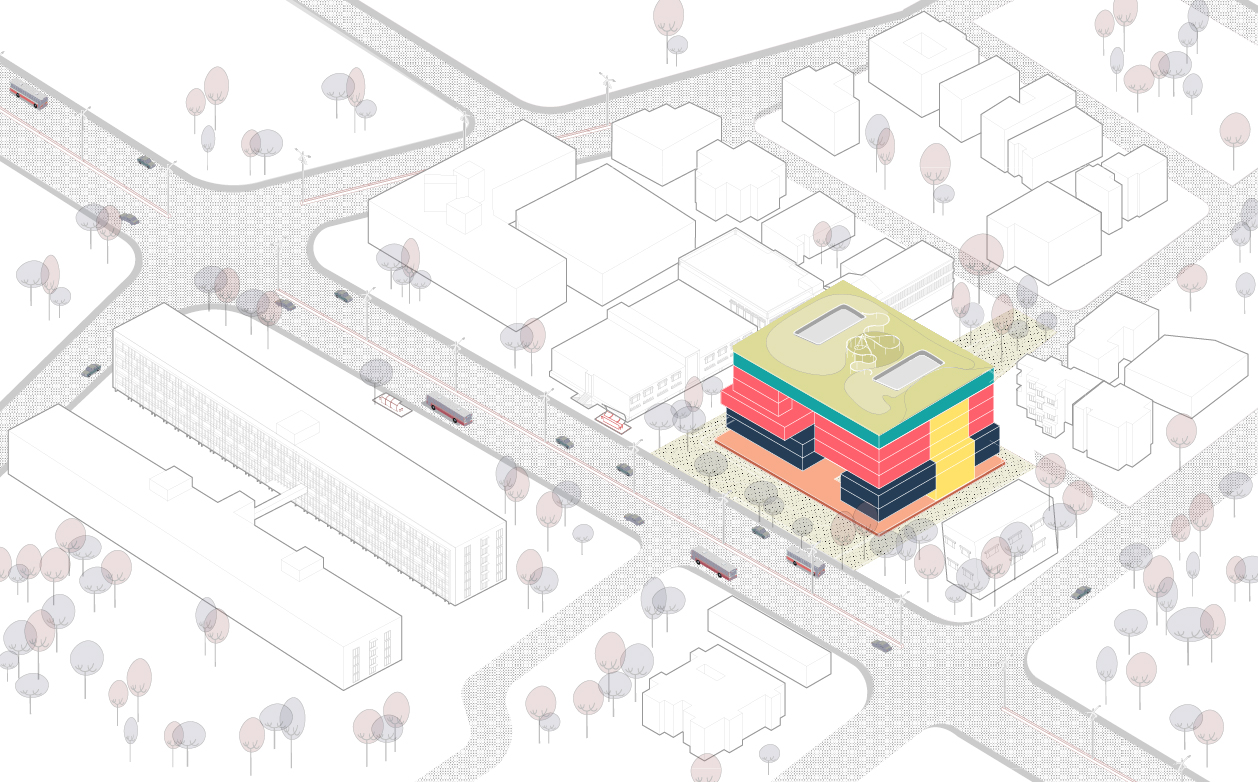 Both spaces are connected by an external ramp allowing them to be used by citizens well beyond office hours without compromising the security of the offices.
All official programs lay sandwiched in-between the two public realms thus inverting the default nature of today's institutions by symbolically putting a public program 'on top' instead of the VIP programs used by the Bureaucrat/Politician.
These offices are grouped based on Programmatic adjacencies as sieved from the program and structured around the main hall/plaza and are further interspersed within double-height sitting/waiting areas creating visually connected courts and streets in the air. The stack effect due to the central void of the hall of the people potentially creates naturally ventilated spaces.
The crux of our proposal aims to create an architecture as imagined by our democratic ideals: for the people, by the people, of the people.
Panels: