It's more than a decade back, I was in Barcelona on an invitation to give a couple of talks, one to students at the Universitat Politecnica de Catalunya and another to a group of architects. This gave me some time and euros to hang around in Barcelona. Gaudi was definitely the star, beating all of Barcelona's other attractions!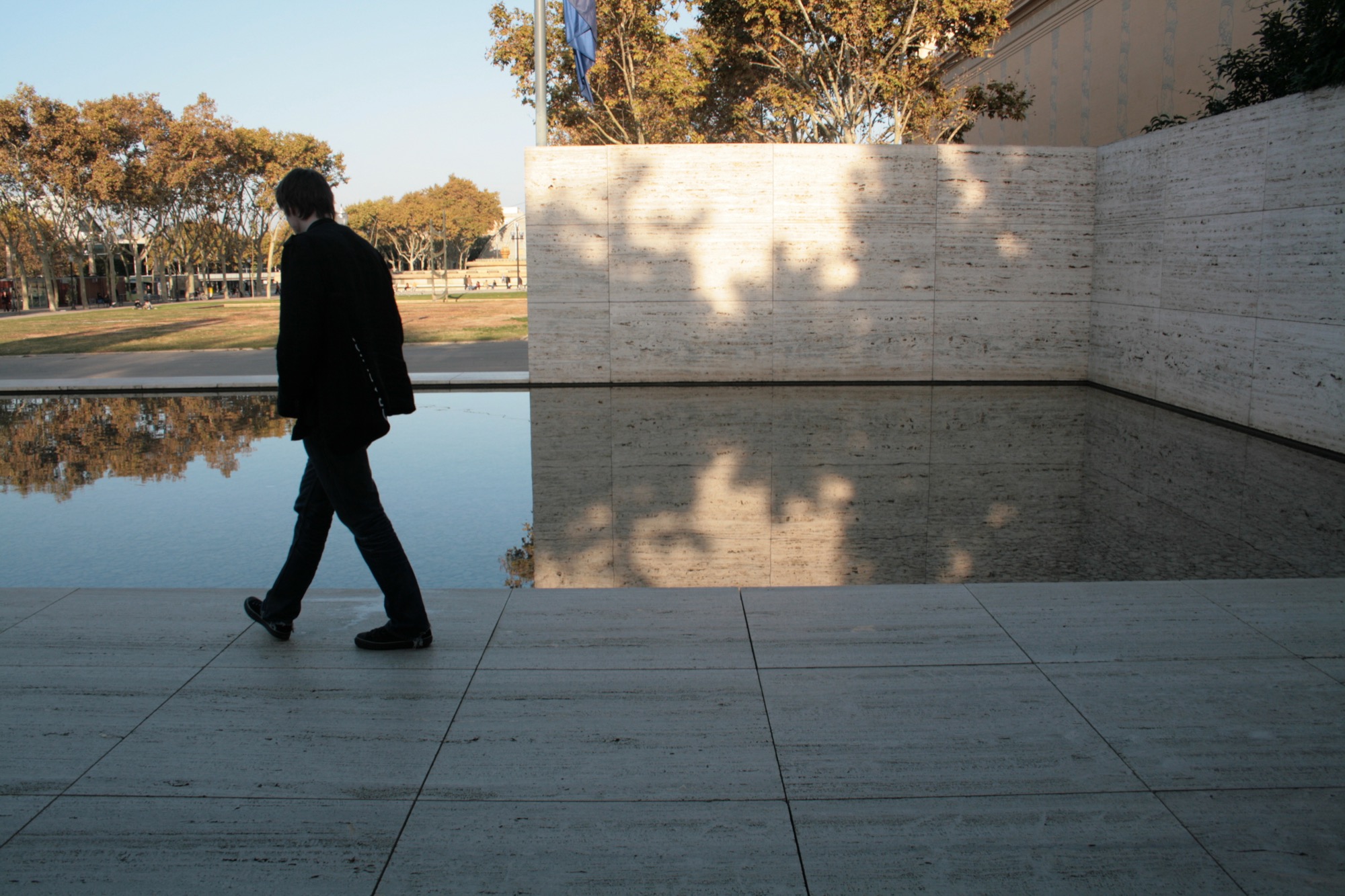 Tickets to some of his masterpieces were rather expensive and the waiting line seemed really long. Visiting the Mies Pavilion seemed way cheaper, I remember I trudged to exhibition grounds at the base of a hill and the first experience could be described a bit as, 'Kuch Nahin hai usme' (there is nothing in there). During that phase in my life I considered myself to be a bit of a photographer, Mies's masterpiece was not easy to photograph, the light wasn't good either. I was determined to find a narrative thread, which the visitors gave me, while visitors watched, experienced, photographed – I watched them, and photographed.
The Mies Pavilion, originally named the German Pavilion was built in 1929 for the International Exposition in Barcelona. Far ahead of its time, it became quite the iconic building of the 20th century, of modernism, of a Germany that was flourishing post World War I. Though called the Mies Pavilion and attributed to Mies it was actually the work of Mies and Lilly Reich (his wife at that time). Mies of the "Less is More" fame (more about that later), was a star in Germany when he was selected for this prestigious project. A contrasting combination of natural material, mainly a range of carefully chosen and cut slabs of marbles, onyx and travertine stones were placed as vertical and horizontal planes in combination and contrast with steel, chrome and glass. Unlike other highly decorative exhibition pavilions, this pavilion had a single sculptural element, that of a woman, Georg Kolbe's 'Alba' meaning "Dawn" reflecting in a small neat rectangular cistern. Actually, the building itself was the sculpture, one can imagine that it must have taken the visitors at the International Exposition, a glorified Mela of sorts by surprise, maybe even shock and bafflement. This 'pavilion' was the culmination of sorts of the concepts of the "Free plan" and the "Floating roof". It was accompanied by furniture specifically designed for the building, including the iconic Barcelona chair.
Though it became quite a hit, as it was built for an exposition the building was demolished in 1930! Only in the 1980s, studying original documents and salvaging original and other material did a group of Catalan architects carefully build back the Mies Pavilion!
Before I finish a little more about, "Less is More", this was actually picked up by Mies from Peter Behrens of the AEG turbine factory fame, who was his Guru and employer, who used it in the studio to guide his young proteges. Mies went on to popularize it in a way quite different from how Behrens used it originally, more on this perhaps another time.