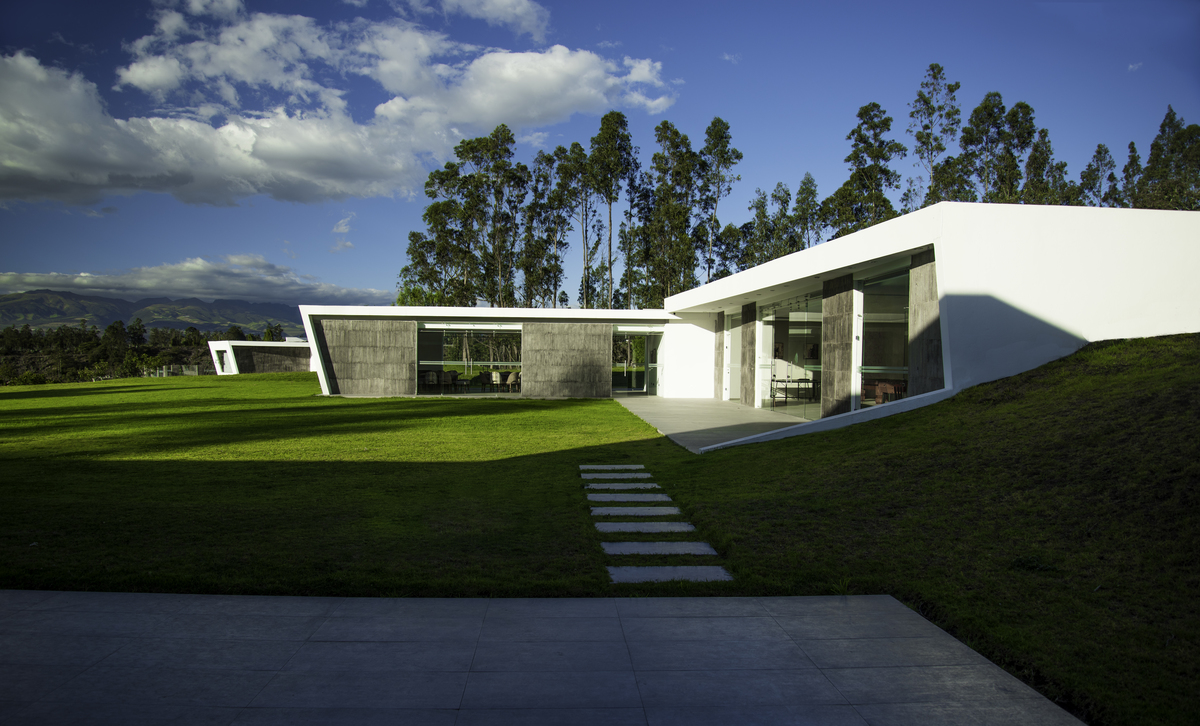 La Victoria comes to fruition given the need of creating a new area adjacent to a weekend home for a big family, located on the outskirts of the city of Quito, Ecuador. With the idea of generating spaces for leisure as well as family gatherings, the project includes two wide-open areas connected amongst each other which function as a family and game room, the other space serves as a lounge-dining area, with an integrated kitchen. This project is complemented with servant spaces such as bathrooms and storage, wrapped around a big green patio area that serves as a garden for the main house.
The project mimics the natural landscape of the site due to the strategy of adapting the architectural volume to the terrain. From behind, the building is almost lost and it does not show its real magnitude, nor does it interfere with the view from the site to the nearby valleys and mountains. The visual pattern is a determinant factor on the placement of the building, thus the volumes are positioned to frame the view as well as possible. Also, the placement corresponds to an east-west axis line to try to take in the natural light as much as possible, but more than anything the previously mentioned view from the site.
Although from certain spots on the surrounding land, the project practically disappears, the architectural volume has a height of 4m tall, and the project creates open areas of 8m wide and 20m in length. Because of this, a constructive strategy had to be planned to allow these spaces to come to fruition while trying to avoid the placement of columns inside the space that might have divided the open areas or interfere with the view. The height of the spaces comes from the strategy of dealing with the specific microclimate of the area, which tends to be quite hotter than the weather in Quito city. The placement of the openings in the volumes corresponds to the idea of creating cross ventilation inside the spaces, especially in the lounge-dining area.
Besides the engineering difficulties, the project proposes slanted walls on the ends of the architectural volumes, which are an essential element of the esthetic of the project and it corresponds to the idea of wanting to bring the mountain shapes near the site to the terrain itself.
The project is thought in such a way that the articulation of the spaces does not interfere with the view from the site, which is why the architectural volumes are plain white with pronounced edges and some walls made of exposed concrete to contrast the white. The interior design also follows this program with plain white walls and ceiling that contrasts with grey flooring.
It is worth mentioning that the spaces created can also function as a place for events reception since the project presents open areas as well as staff areas for that complimentary use of the space.
Project Name: La Victoria
Architecture Firm: j2ibstudio
Firm Location: Ecuador
Gross Built Area: 400 m2
Project Location:  Ecuador
Lead Architect:  Arch. Juan Jose Izurieta
Renderings credits: Juan Diego Gonzál, Arq. Juan José Izurieta
Additional Credits
Designer:  Arch. Juan Jose Izurieta
Clients: MG
Collaborators: Arch. Nicole del Rosario