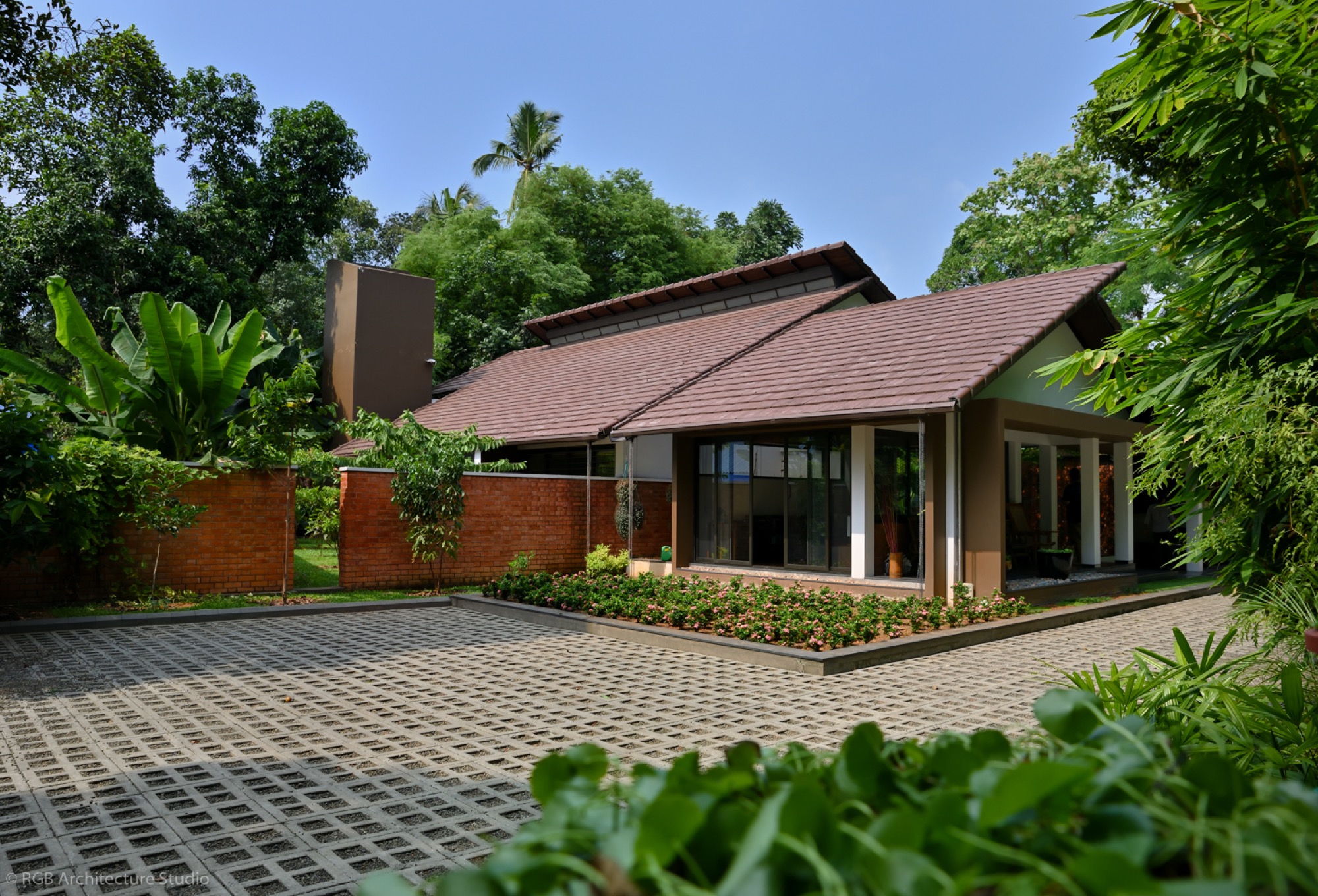 The KORA HOUSE,  by RGB Architecture Studio, is essentially a retirement home for the Koras who are returning to their homeland after years of expat life, with a deep yearning for the joys and intimacies of their large extended family and the warmth and vegetation of their land. However, the native returns to a new reality of his own: that which has seen multiple transformations owing to the many years spent in exile and the luxuries offered by the foreign land. The project therefore, was a mediation between these two realities. The choice of site itself is symptomatic of this: in spite of being extremely close to the busy National Highway as well as the airport, it looks like a clearing in a forest surrounded by a thick foliage arising from neighboring plots.
Our search was for the raison d'etre of the house: a place that became the singular source of nourishment to the family, one that while offering adequate levels of privacy and sense of security was also the point of inflexion between the built and the outside. Thus a large garden court is formed on the east, framing the neighborhood foliage and the pixelated morning sun that sieves through it, with a lap pool on its side. The massing forms the three sides of this court: the kitchen block to the north, parking and arrival block on the south and a large verandah leading to the double volumed 'durbar', or the main family space, on the west. Varying degrees of enclosure converge into this rarefied volume – the plot boundaries as surfaces folding in; massing attached to these surfaces to contain exterior courts; and finally the court gradated into the inner realm.
The form of the house is articulated through a set of interconnected lean-to roofs that assist the sight lines into the foliage. The sloping roof with its low eaves cuts the tropical glare, scales the mass closer to the ground lines and in its continuous rising up beyond the point of the ridge seeks to re-establish Architecture's relation between the earth and the sky. The staggered roofs lead to a split which allows for some delightful play of light through a clerestory, while simultaneously offering a natural exhaust to the rising hot air within.
Drawings:
General Information
Project name: Kora House
Architecture Firm: RGB Architecture Studio
Lead Architects: Kunjan Garg, Rajasekharan Menon
Completion Year: 2018
Gross Built Area: 350 sq m
Project location: Kochi, Kerala
Photo credits: Manoj Sudhakaran