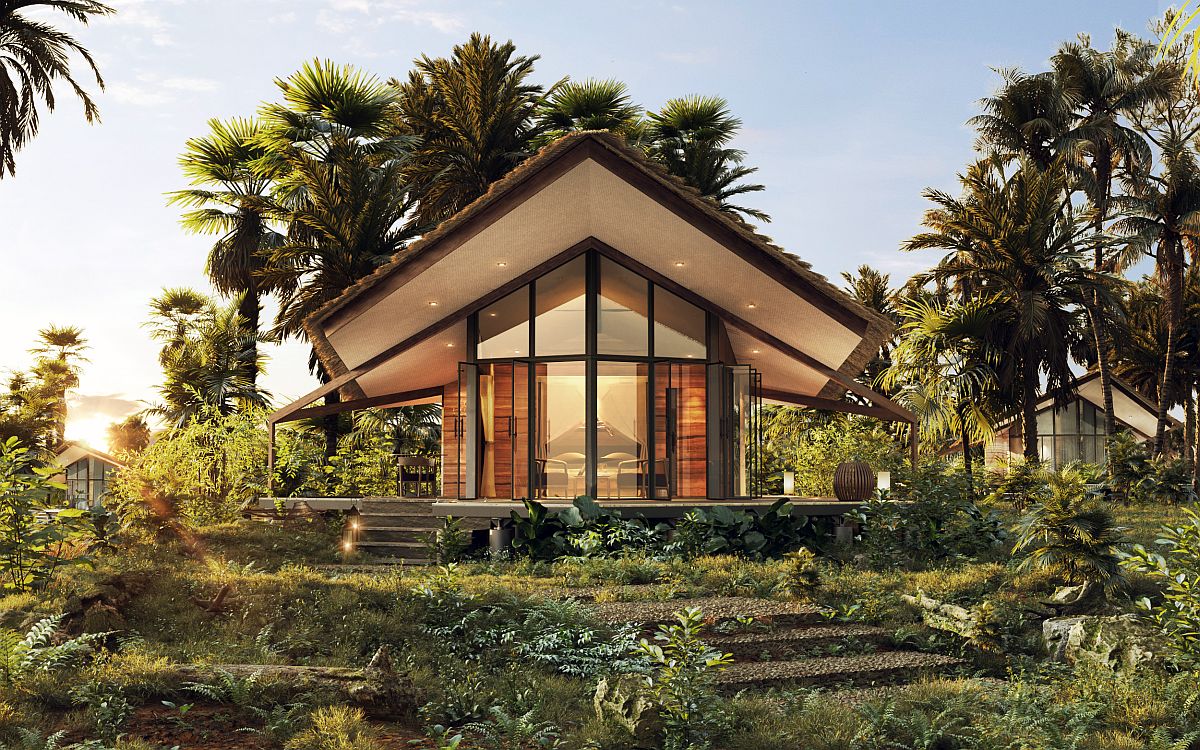 Positioned within the Cambodian countryside setting, this proposal has been designed as a series of retreats connected through tropical gardens and walkways to create a community-focused. "KH retreat" aims to combine elements of the traditional Cambodian dwelling with others elements that make it the idea of attractive, healthy and sustainable design that physically connects the ground and raised living areas. With a total built area of 60 sqm, the building form is made up from the overlapping of the letters KH which means Khmer, the official language of Cambodia, those letters give an organized pattern of form and space. The design seeks to emphasize the closeness to nature while allowing a comfortable stay indoors. A steeply pitched roof sits partially above a rammed earth wall and timber structure. Two skylights are chopped off the shaped roof on both sides and define spaces below from unique perspectives. It's that element that allows a delineated space to transform into one that feels protected.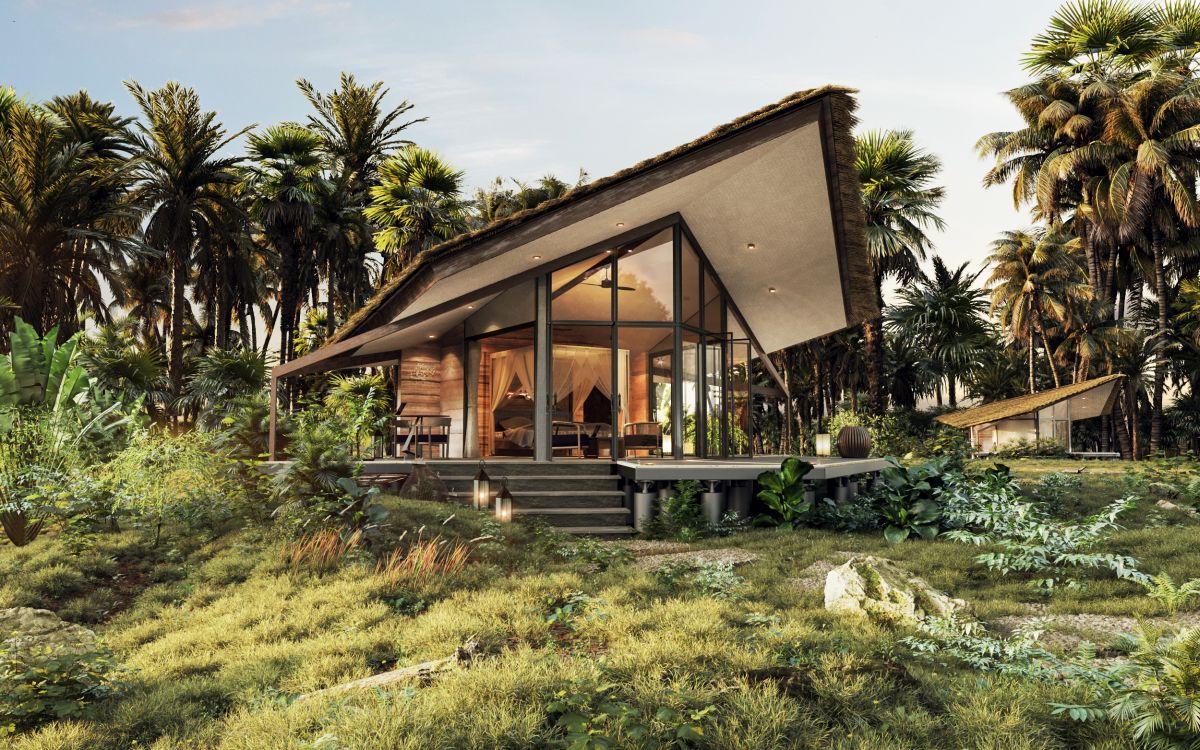 The fragmented volumes of the building is mixed with natural elements for seamless indoor-outdoor flow. The retreat's concept is inspired by traditional archetypes to evoke a Cambodian feel. Thanks to natural cross ventilation, built in insulation through the roof and rammed earth maintains the space will have a cool and constant temperature. Designed according to these thermal mass principles, the architectural earth formation naturally doesn't need an air-conditioning system, the site would run on solar panels and rainwater collection systems.
A Connection to nature and the outdoors are vital, indoor-outdoor flow is seamless with large doors and covered architectural textile membrane canopies.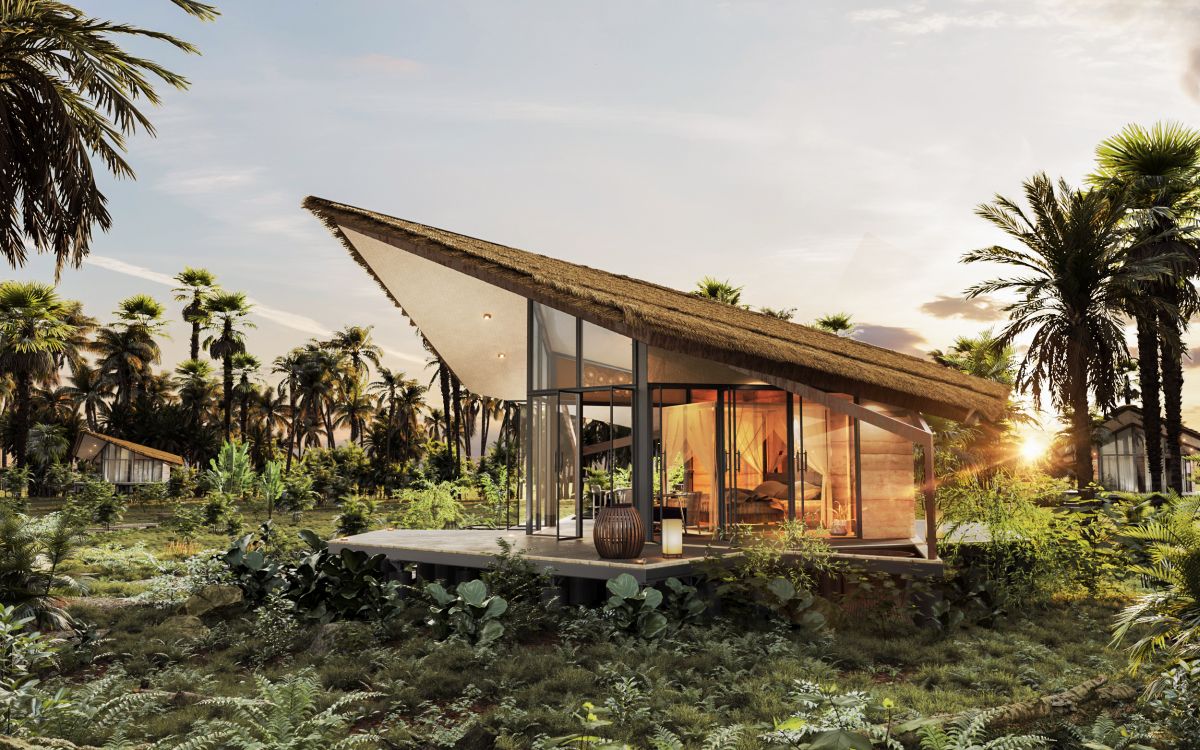 The perimetric openings provide passive cooling and fresh air circulation within the interior, natural daylight that penetrates into the space, reducing the need for artificial lighting. "KH retreat" comprises one master bedroom with a large bed complete with a safety mosquito net that provides privacy. There is also a bathroom with shower, a cozy living area and an outdoor space for relaxation.
The retreat has space for a kitchenette and could also feature an external jacuzzi to give occupants a place to enjoy the outdoor surrounding.
A Sustainable approach and respect for the existing nature on site, there are many factors to consider in a holistic design approach with respect to the surroundings.
Drawings –
Project Facts –
Project Name: KH retreat
Architecture Firm: Architectural Engineering Consultants
Firm Location: Phnom Penh, Cambodia
Completion Year: 2021
Gross Built Area: 60 sqm
Project location: Cambodia
Lead Architects: Alessandro Mangano
Media Provider
Renderings credits: AEC in collaboration with MOZ
Additional Credits
Design Team: Stephen Heng, Pongpol
Clients: private
Engineering: AEC