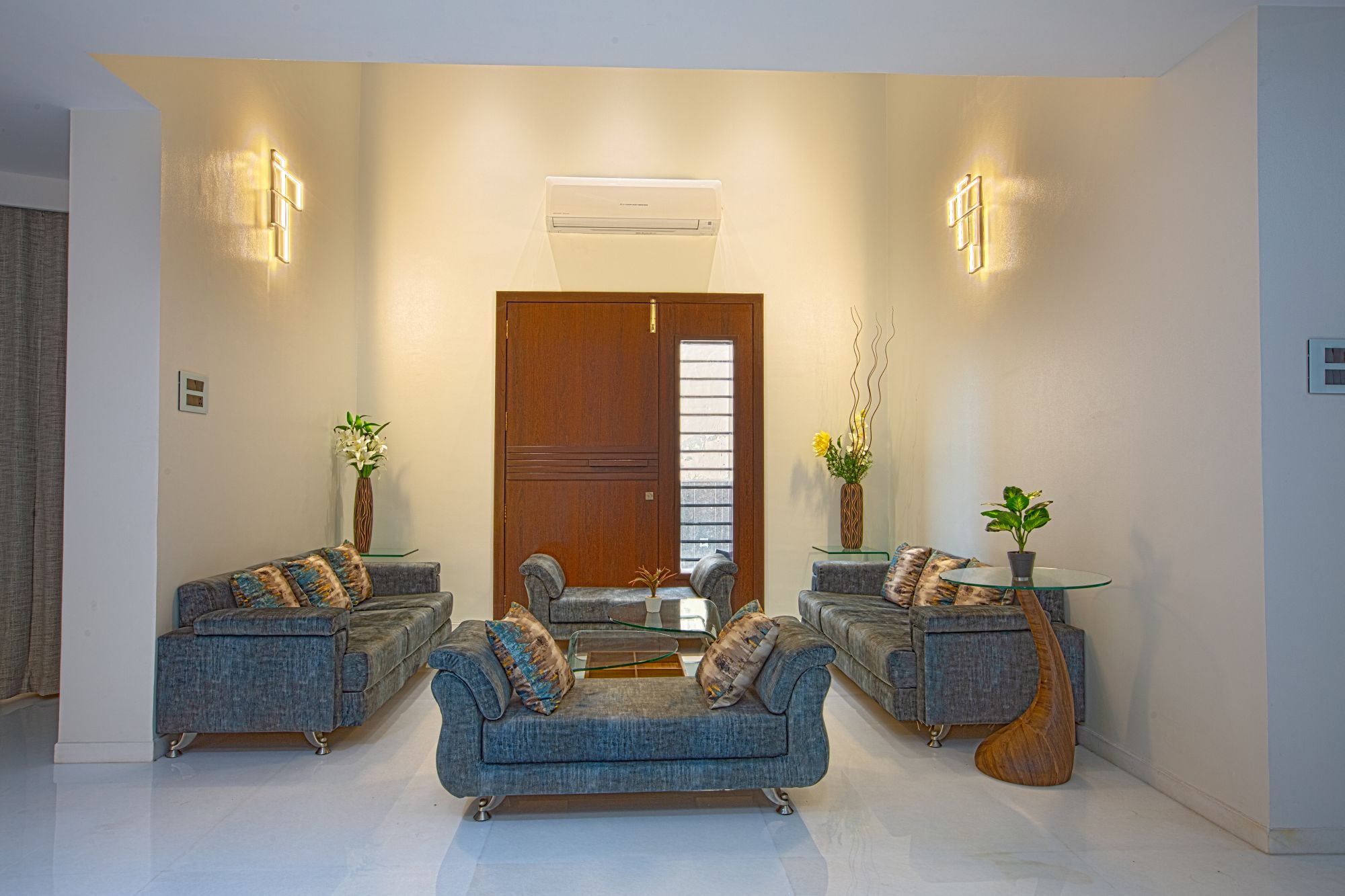 The concept behind the interiors was making a comfortable homely environment. The Kawad house is a family residence characterized by strong geometric forms and materials reminiscent of modern architecture. Local Jodhpur stones were used to reflect the vividness of the local culture and strike a balance between modern and novelty. The interior layout aims to cultivate family togetherness without squandering the privacy of the residents.
The Kawads residence was created using a streamlined approach where materiality, space, and interior design were the guidelines of the project. Our team explored everything from the most prominent elements (e.g., layout, materials palette, lighting fixtures) to the smallest detail (e.g., furnishing, colors, textures…) which allowed for a precise and vibrant spatial, material, and architectural choreography. The Illumination design was designed as per the needs of each space. The reflective white marble used for the flooring gives a sense of spaciousness to the rooms while dark furniture and wooden adorning add more contrast and character to the overall design. The Kawad residence explores how architecture can have different day and night atmospheres with distinct, yet homogeneous experiential and spatial qualities.
The project emphasizes the lighting design of residential spaces. Ambient light, task light, accent lights & decorative lights were pre-owned. Illumination design within the interiors has three basic purposes a) to work & move about in safety b)to enable the task to be performed c)to make the interior look pleasant. Thus it's important to have a good proportion of lighting with respect to the materials & finishes used in the interiors. Ambient light in coordination with some linear tracks has played an important role in creating the feel of different spaces. A well-designed lighting environment defines space, reveals texture, shows form, indicates scale, separates function, creates a mood. It contributes to the character, to the desired attitude towards form & space & to the effective functioning of that space. Light can make & break a space both functionally & aesthetically.
Project Facts –
Name of the Project: Kawad's Residence, Jodhpur
Project Location (Enter City, State/County, and Country): Jodhpur, Rajasthan, India
Architectural Group: Ravi & Nupur Architects
Architects/Designers Name: Ravi Jain, Nupur Jain
Client: Mr. Kawad
Project Completion Year: 2019
Built-Up Area (Enter sq. meter or sq. feet ): 4134 sqft
Project Type (Residential, Office, Retail, Institutional, Landscape, etc.) : Residential