K.G. Subramanyan, an artist who was awarded Padma Vibhushan in 2012 by Government of India, died yesterday at the age of 92.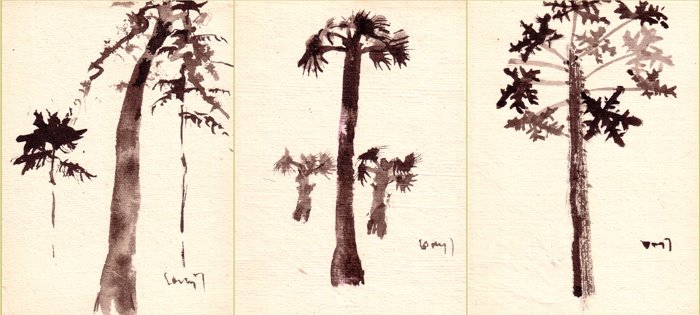 Peeyush Sekhsaria, pays a tribute to the legend:
The great K G Subramanyam is no more – the only tribute can be to draw and paint..
I knew of him barely (what a shame!), and had never really seen his work, the poster outside the Bihar Lalit Kala Academy premises in Patna was arresting. My extended weekend in Patna gave me the time to drop by. The gallery was full to the brim with his work – what a master, simply phenomenal. While I finished seeing the exhibition I got chatting with the lone gent who was sort of guarding the exhibition – he was Kamlesh Kundan, a quiet, soft spoken Patna based artist who was taking care of the exhibition and the book sale, "K.G. Subramanyan is a Master, when will I get a chance to serve him otherwise". Seagull, Kolkata had organised the exhibition and they had a series of books on sale – I spent some time going through them and ended by spending 3.5k, buying everything that had his drawings, including an intriguing series of books for children. I called Kamlesh sometime back today and we talked through a slightly unclear phone connection, he said that he along with some other artist friends were sitting at the gallery yesterday when the news of his passing away left them stunned, a great sadness enveloped them. They were hoping that he would come to Patna to grace the occasion and now he was no more. They have kept the gallery open as a tribute and have sent an application for the exhibition dates to be extended.
Starting from barely knowing the master, to having a chance opportunity to see his work, to be completely awestruck, to reading that he was no more, it was all a journey of 5 days. What a beautiful sad coincidence. The only tribute can be to draw and paint.
Visit this link
to know about the ongoing exhibition of K.G.Subramnyan's works.
Peeyush Sekhsaria, trained as an Architect, has a Masters in Earthen Architecture and an M.Phil in Geography. He enjoys drawing and more recently been dabbling in water colours. He is an occassional photographer and writer. Some of his work can be seen at www.peeyushsekhsaria.com