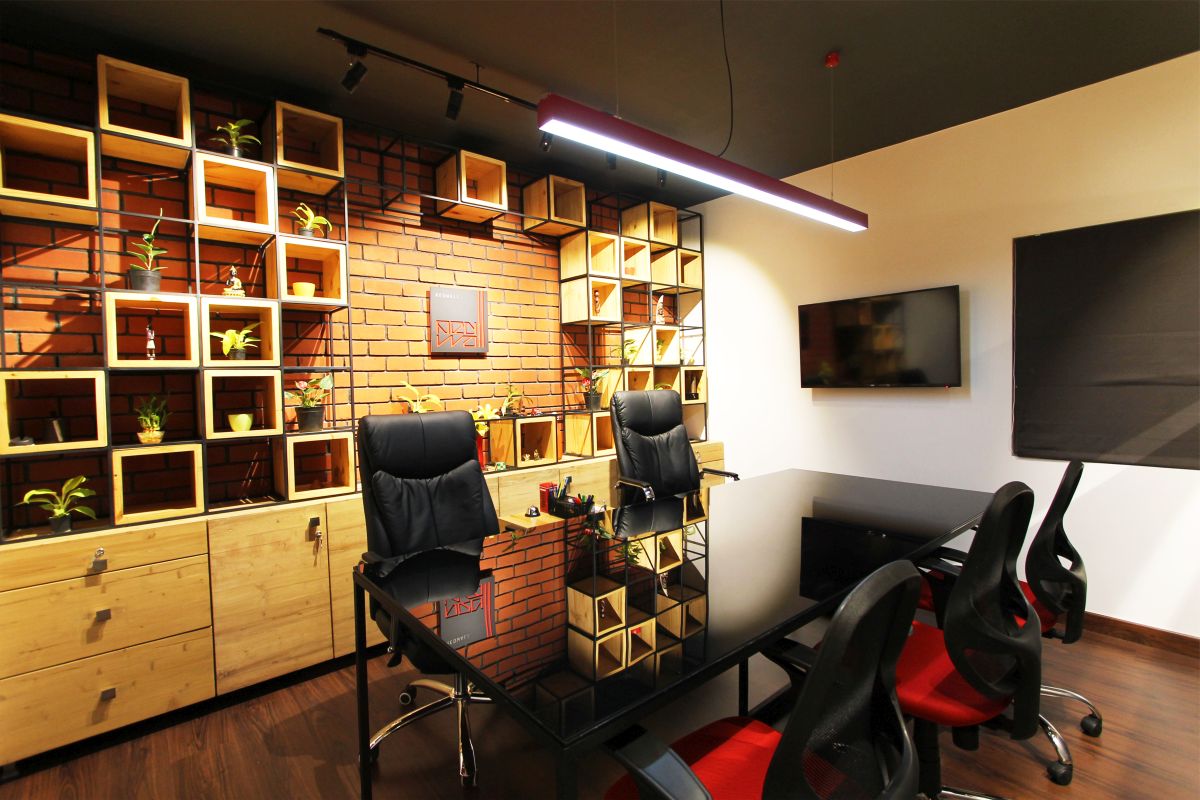 INTRODUCTION
Redwall Design Studio is an Architecture and Interior design firm located in JP Nagar, 7th phase, Bangalore, Karnataka. The design studio is shaped to make the best possible use of the available space as a versatile setting.
BRIEF
The studio entrance has an elegantly standing red brick wall, articulating the Redwall Studio. Setting foot in, one could contemplate a metal framed photo display, showcasing the studio's works. Having a linear approach, the studio has two bays on its right, pantry bay and studio bay, which further opens into a fascinating conference room. Thoughtful and effective use of materials and lighting creates an active cozy environment appropriate for the design station. The studio has a further extension at the terrace which splits as studio 2, pantry and a dinette.
CONCEPT AND MATERIAL
The concept of space frames perfectly suit the nooks and corners, leaving the space furnished and a feel of lavish ambience in a compact room. The raw pine wood box shelves collaborate with the metal frames which further extents as a couch. This gives a pleasing experience in the front approach and also acts as a waiting lounge.  The wooden flooring, expressive walls and exposed dark ceiling create an adorable envelope. Burst of colors through furniture pieces, pinup boards and photo frames add liveliness to the work setting. The fitful placement of greenery on shelves and ledges evoke soothing and refreshing emotions inside the studio.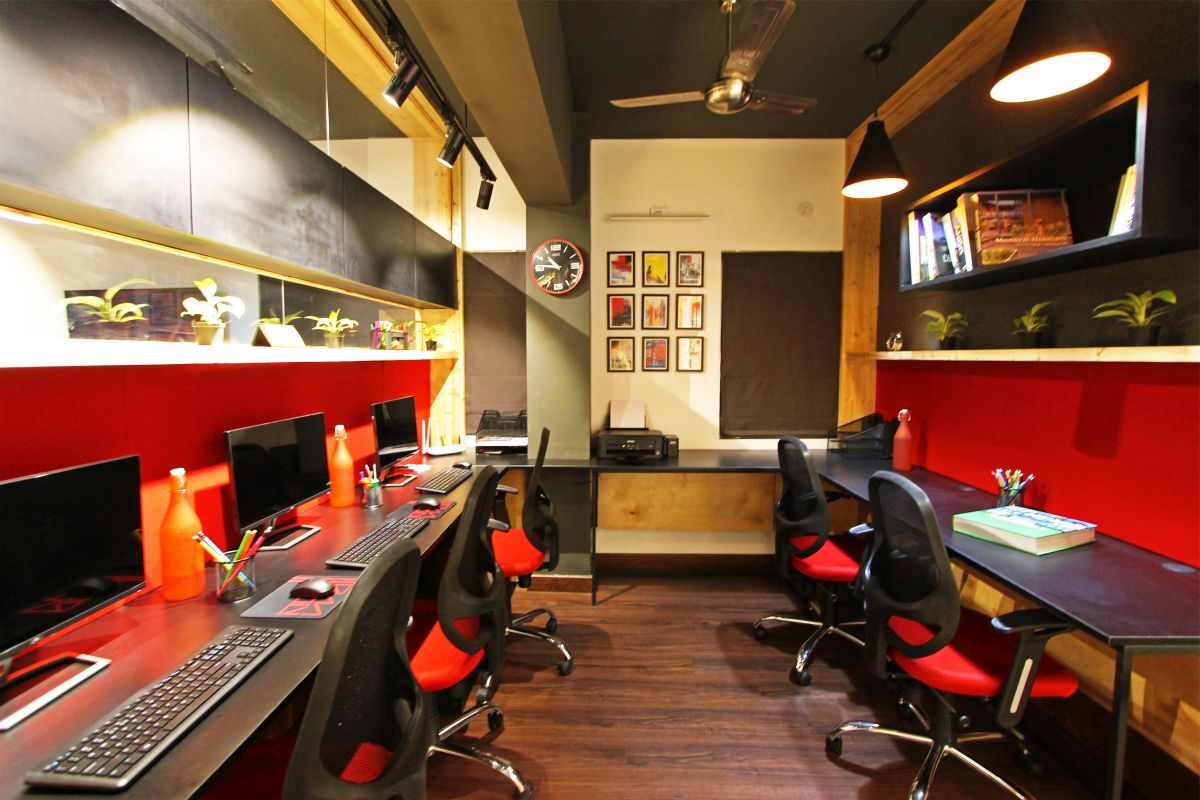 THE CONFERENCE ROOM
The conference room has a classy red brick wall as a background holding the Redwall design studio name plate. Ornate metal frames and scattered pinewood boxes placed above the bottom cabinet acts as a foreground which looks overwhelming. The opposite wall has a top sleek shelf along a pinup board at the bottom and the between part has a look through glass. Sleek glass table and nifty chairs stand elegantly in the center with a classy linear pendent light above.
 LIGHTING
The studio is fascinated with gleaming lighting fixtures at the desired places. The linear approach has the track lights, focusing the articulated walls and the photo display giving a visual treat to the users. The studio bay has a subtle ambience by placing the pendent lights and tract light above the work station. The studio looks radiant with comfortable working and interactive zone offering a suitable working ambience.
THE TERRACE
The ottoman style tables and vibrant chairs give appealing look to the dinette along with bamboo drapes on the adjacent sides. The planter boxes placed around the dinette create a soothing ambience. The space is completely transformed into an unstressed, calming zone amidst the work station giving the users a relaxing place to experience.
Project Facts :
Project Name : REDWALL DESIGN STUDIO
Location : JP NAGAR, Bengaluru, Karnataka, India
Area : 400 sq ft
Project Status : Completed, FEB 2018 
Firm Name : Redwall Design Studio
Principal Architects : Kiran Kumar MR, Sudeep Dev M