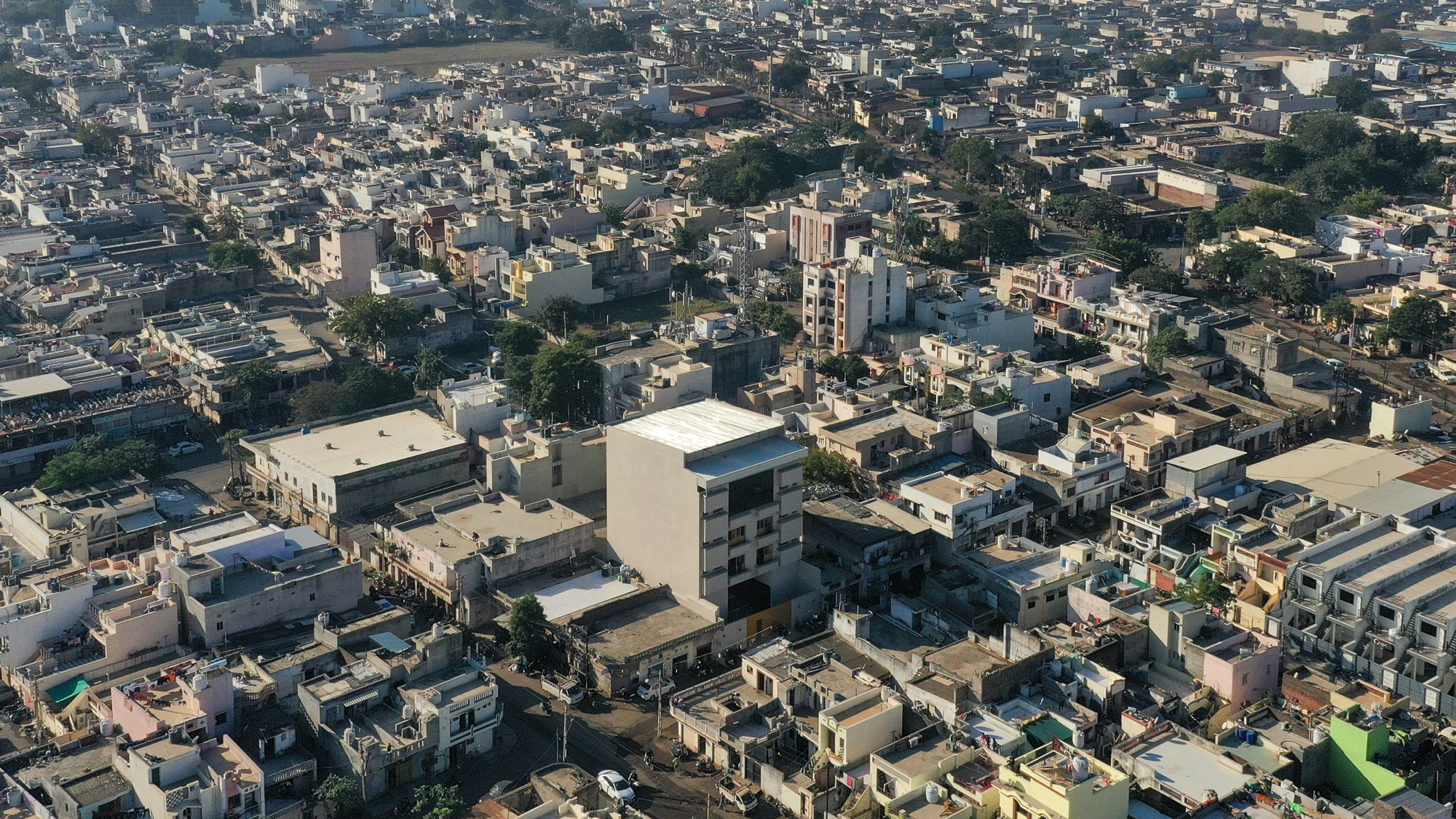 The Factory for Unique Engineers is an industrial facility designed in the old congested industrial establishment in Rajkot. The company operated from this location for generations and had sentimental value rooted in this site. Being the second-generation firm in the business of domestic and commercial use flour mills, it is one of the leading production houses in the region. The requirements arose from the client's need to implement a series of high-end machinery and services to develop and manage products manufactured by the firm.
The north of the site was the adjoining road and the only open edge, rest all directions blocked by the existing buildings. It was a challenge to ventilate the building while achieving the necessary floor plate as per requirement. As a solution, we scooped out two small courts on the south and used high ceilings to our advantage. The decisions of the northern facade were majorly governed by the regional bye-laws and our constant effort to provide large openings and accommodate services. 
Internally, the building has an intriguing play of levels and double-height volumes functionally assisting the nature of work. One of the volumes on the ground floor opens up the factory to the main road easing the process of unloading and dispatch. Two delicate slabs are cantilevered here puncturing this double-height void to form a hanging office overlooking the inflow outflow movements. These are 100 mm thick RCC slabs projected without any beam by about 1900 mm. Another such volume on the top floor frames the city's skyline while flooding the interior floors with natural daylight. 
The staircase allows spillover activities of every department transforming a mundane circulatory element into one that offers interaction amongst all workers. The walls have thoughtfully been painted white and yellow to let the light reflect the most and form an encouraging work environment. 
In totality, this factory built with available resources and local masons is a minimal yet vibrant break from the chaotic and haphazard construction nearby. It forms a soothing contrast in comparison to the context it sits in and depicts the organisation's approach and power subtly and humbly. 
Drawings
Project Facts:
Project Name : Industrial Facility for Unique Engineers 
Firm Name : Dhulia Architecture Design Studio
Lead Architect : Ar. Komal Dhulia
Project Team : Ar. Ravi Badrakiya, Ar. Rakshak Dhanani, Ar. Komal Dhulia
Structural Consultants : Manish Doshi, M V Doshi Office 
Project Type : Industrial, Factory, Workshop
Project Area : 13000 SQ FT 
Project Location : Atika Industrial Area, Rajkot, Gujarat, India
Photography credits: Karan Gajjar / Space Tracing Company