Full Circle Taproom was designed by Made in Earth to be rooted in all things Bangalore. A large framed structure with an open plan feels almost like one is outdoors with a generous part of the ground nurtured to have the foliage take over.
The spaces took shape around the idea of the gardens and the kattes of the region. Kattes are platforms usually built around neem, people or acacia trees and are an integral part of local social gatherings. The whole space is semi-open and centres itself around a courtyard, an open-air theatre and then around its art. The seating in Full Circle is reinterpreted and shaped in masonry and Ferro cement and finished with polished cement oxide.
In every zone, in its colour, is set a mural in relief, made of layered clay. The walls are made of compressed stabilised earth blocks and, where fitting, are left exposed. Much of the flooring is made of an IPS or oxide floor that was reimagined for heavy footfall. The sloping roofs are laid in Mangalore tiles, with the sides in glass, openable to let the accumulated heat escape, and the entire space is ventilated through mechanised low-energy air cooling.
Over the central courtyard, part of the roof is in glass to let that winter sun in or to sit and look up at the monsoon rain. The space pulls in myriad kinds of people, from grandmothers who love to sit amidst a garden to eat, to the young Bangalore crowd that is trying their first beers with their parents. In the evening, handcrafted cane lampshades sway a little because of the breeze, making the shadows in the reliefs dance to new depths.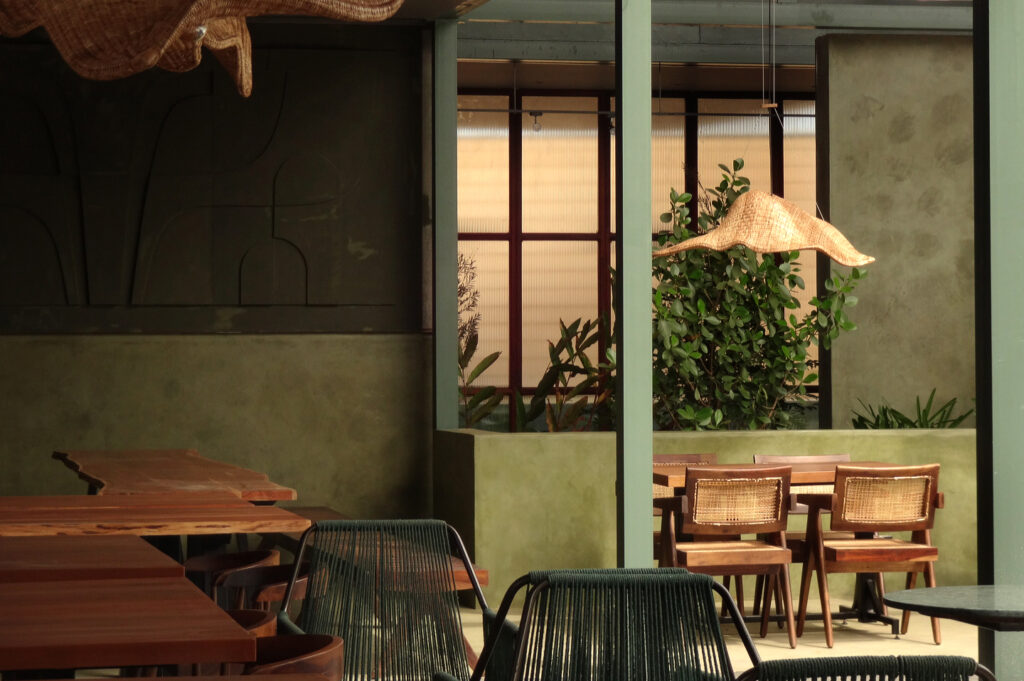 Drawings