Bengaluru-based architectural institution, Dayananda Sagar College of Architecture (DSCA), has announced the launch of its essay writing competition ESSAYS IN ARCHITECTURE: Analysing, Imagining, and Reinventing. DSCA believes in providing a platform for students to not just learn the basics of design and construction but also to explore realms within architecture to enhance their talent and creativity. Initiating this maiden venture in South India, the institution has focused on the value it imparts in encouraging alternate avenues in architecture, besides designing.
The competition is for architectural students who have a flair for writing and display an ability to articulate ideas in written format. It has been conceived with the belief that the expression of thought and ideas can be done with the help of the written word, and not just the time-tested methods of architects. It is hoped that this competition will encourage students to think beyond the conventional roles that architecture as a profession has offered thus far. The competition is open to current registered architectural students who are pursuing a bachelor's/master's degree in accredited schools of architecture in India.
The theme of the competition is Architecture and Technology and arguments can be established on either of the following topics
Timeless Architecture with Dated Technology?
The Dark Side of Technology 

Entries are invited in two formats, Long Essay (2500 words) and Short Essay (1000 words). Two Cash Prizes of Rs 25,000/- each, plus a Special Mention will be declared in both the formats. The four winning essays will also be published in a forthcoming issue of one of India's leading architectural journal, Architecture+Design.
Poster: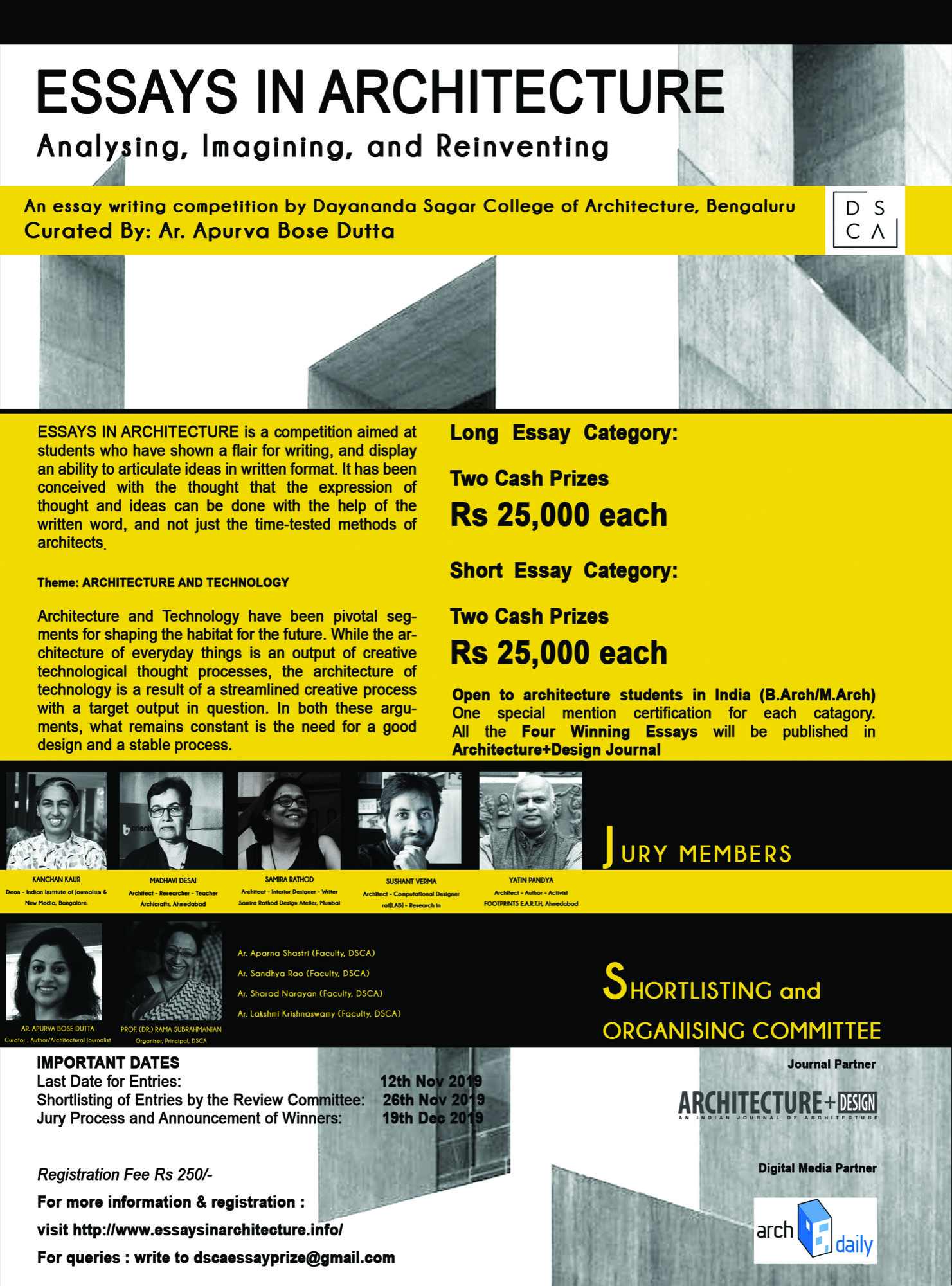 On the need to emphasize on architecture writing through this competition, Prof. (Dr.) Rama R. Subrahmanian, Principal, DSCA, says, "The ability to communicate and write logically and with clarity is essential if architects are to assume leadership, and prevail in social, political and economic contexts where key decisions about the built environment are made. The Essay prize is an endeavour to promote design writing/writing about design as a valuable accomplishment."
Author and architectural journalist Ar. Apurva Bose Dutta, the curator for the event, adds, "I am well aware of the tremendous interest and curiosity that architecture-design writing has generated in scores of architectural students across the country. I am excited to be a part of this initiative by DSCA, which will help these budding architecture writers, to not only get acknowledged for their work, but demonstrate the power of written word to the architecture and building industry".
The competition is supported by Architecture+Design (Journal Partner) and ArchDaily (Digital Media Partner). Architects Madhavi Desai (Ahmedabad), Sameera Rathod (Mumbai), Sushant Verma (New Delhi), Yatin Pandya (Ahmedabad), and Journalist Kanchan Kaur (Bengaluru)—experts in the field of architecture-writing and technology will be the Jury for the competition. 

Last date for registrations is 19th Oct 2019. For more information on the essay competition, visit https://www.essaysinarchitecture.info/. For any queries, write to [email protected].