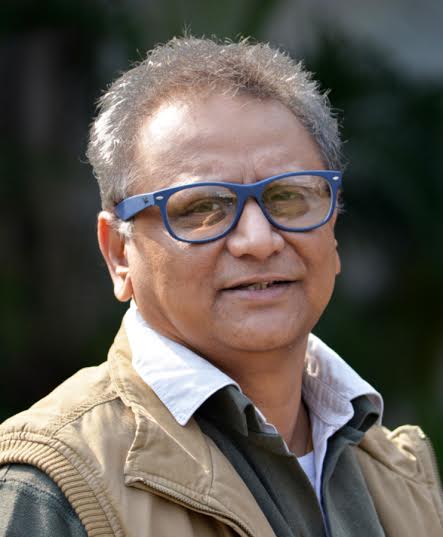 Architect Nirmal Kulkarni (Download Profile) and Architect Neha Kulkarni are the founding principals of AUM Architects, an international
award winning
, Gurgaon based firm that has over 25 years of rich experience in institutional, commercial, residential and township projects. With a content client base, the firm delivers on multiple projects with an approach to consider the interest of all parties involved in them. It has grown over the years under the leadership of Ar. Kulkarni, who is not only a
practitioner,
but is seasoned in the field of education as well. With the InDES initiative, along with a group of forerunners, he strives to bring about a revolution in the way architecture education and design in the country is perceived and achieved. He believes in working towards a sustainable and relevant architecture for India, and consciously, conscientiously and mindfully doing our own bit towards that goal. InDES's mission is to promote design awareness,
education
and
indegenous
practices, and create a corpus of design knowledge, with a platform for dialogue for research on design.
We got the opportunity to communicate with Ar. Nirmal Kulkarni, and he eloquently worded responses to our questions about the profession and education. He is an avid nature photographer, and idolises B. V. Doshi and Charles Correa when it comes to Indian architecture. And among the foreign living architects, Thomas Heathwick is his favourite.
In his advice to students of architecture, he speaks about changing the outlook towards education from 'attendance' and 'marks' to a more creative and design centric approach. His message to fresh graduates, students and young architects is:
"Observe, Reflect, Analyze, Qualify, Assimilate, and direct your own career with extreme sensitivity, and above all, CHILL."
 Below, Nirmal Kulkarni's responses to some of our questions are shared:
AL: If you were not an architect, what would you be? And why?
NK: I'd be dead. I breathe architecture & design!
AL: What is your favorite past time?
NK: I love photographing Nature in all its glory and details.
AL: What is the biggest challenge, you think, architecture profession in India is facing today? And, what solution would you have for the same?
NK: I believe in a flat world, from the perspective of equity and access to opportunities. The profession of architecture today, largely, probably 90% of it, is making hay while the sun shines. Blind copy pasting from westernized images is rampant in pursuit of materialistic ambitions. Unsustainable materials (like the wrong glass selections) are being crassly used, ultimately to vendor gains. All this happens for the haste to compete in the Globalization race and GDP growth. Most often, the Client is blamed for suggesting the building aesthetics. But, if belief in doing the right things is not stressed from the architects concerned, who is to blame? There are also practices whereby, vendors provide elevations and details to the client, so the architect is not even involved in the process. We have a situation here where, not any one particular agency can be blamed (maybe blame all), but all have to work towards achieving a sustainable and relevant architecture for India. The best attitude is to have faith and do your bit, consciously, conscientiously and mindfully. Finally what I would advocate is a kind of 'Design Activism', but having said so, each to his/her own.
AL: Who is your favorite living architect from India? And from foreign?
NK: B V Doshi is my favorite architect from India.
First was Charles Correa, but he just passed away, but not before leaving a huge legacy.
Thomas Heatherwick from London is my favorite architect.
AL: Which are your favourite contemporary buildings from India, designed by other firms? And also foreign?
NK: 
From INDIA:
India Habitat Centre, New Delhi
Bahai Temple
Bharat Bhawan, Bhopal
Kanchenjunga Tower
Sangath Office
IIM Bengaluru, by B.V.Doshi
From Elsewhere:
Seed Cathedral, by Thomas Heatherwick, Shanghai.
Church of Light, by Tadao Ando, Japan.
Ningbo History Museum by Ar. Wang Shu.
Kolumba Museum by Peter Zumthor.
Museum of Modern Literature, by David Chipperfield, Germany.
Metropol Parasol in Seville, Spain by Jürgen Mayer-Hermann.
AL: If you were allowed to change one thing about architecture education in India, what would it be?
NK: I teach, therefore I speak. As I've noticed, the hangover of the CBSE system of education bears heavily upon our young minds. The two key components of great angst are 'attendance' and 'marks'. In pursuit of this duo, perspective gets distorted, minds get wrecked, and creativity gets tunnel vision. Disciplines like design in my opinion, cannot be graded empirically to the last mark. A lot depends on circumstance and a whole lot of subjectivity connected to it. Add to that the burgeoning number of architecture schools, and the depleting number of qualified and dedicated teachers. All in all, we face a challenge which never before has been imagined, and it will take sheer grit to engage with the system, re-work on the concepts, and tweak the nuts and bolts to come out on top. This has got to be done for design to flourish in freedom. In fact @ Indes, we try to preempt the straitjacketing action of rote learning. We conduct design workshops in schools for inculcating design thinking. For students of architecture, Indes collaborates with NIASA to conduct webinars wherein architects, designers and people from creative and social fields can meet online to discuss issues which surround generic and specific subjects.
AL: And, the profession?
NK: I practice, therefore I preach. It is very evident today that the Indian juggernaut is rolling and as every day goes by, the pace is surely going to be stepped up, as natural forces be. Despite the super speed of development, one will have to run a reality check on the value-systems before these slip away beyond the grasp entirely. Most certainly a continuous dialog between professionals will help. Today one is busy attending to one's own routine, so time will have to be taken out to nurture the common grounds and reshape the subtleties which govern the profession. From these focused conversations can emerge directions which can guide and lead the profession to a new high? There are a few platforms available today for this, but many more need to be created and sustained. A similar such platform is made available to the architecture community today by Greha, in the form of the 'Architecture Collegium'. I do believe in the power of collaboration for the community.
AL: What is your message to fresh graduates, students and young architects?
NK:
O b s e r v e…..
R e f l e c t…..
A n a l y z e…..
Q u a l i f y…..
A s s i m i l a t e…., direct your own career with Extreme sensitivity, and above all, CHILL.