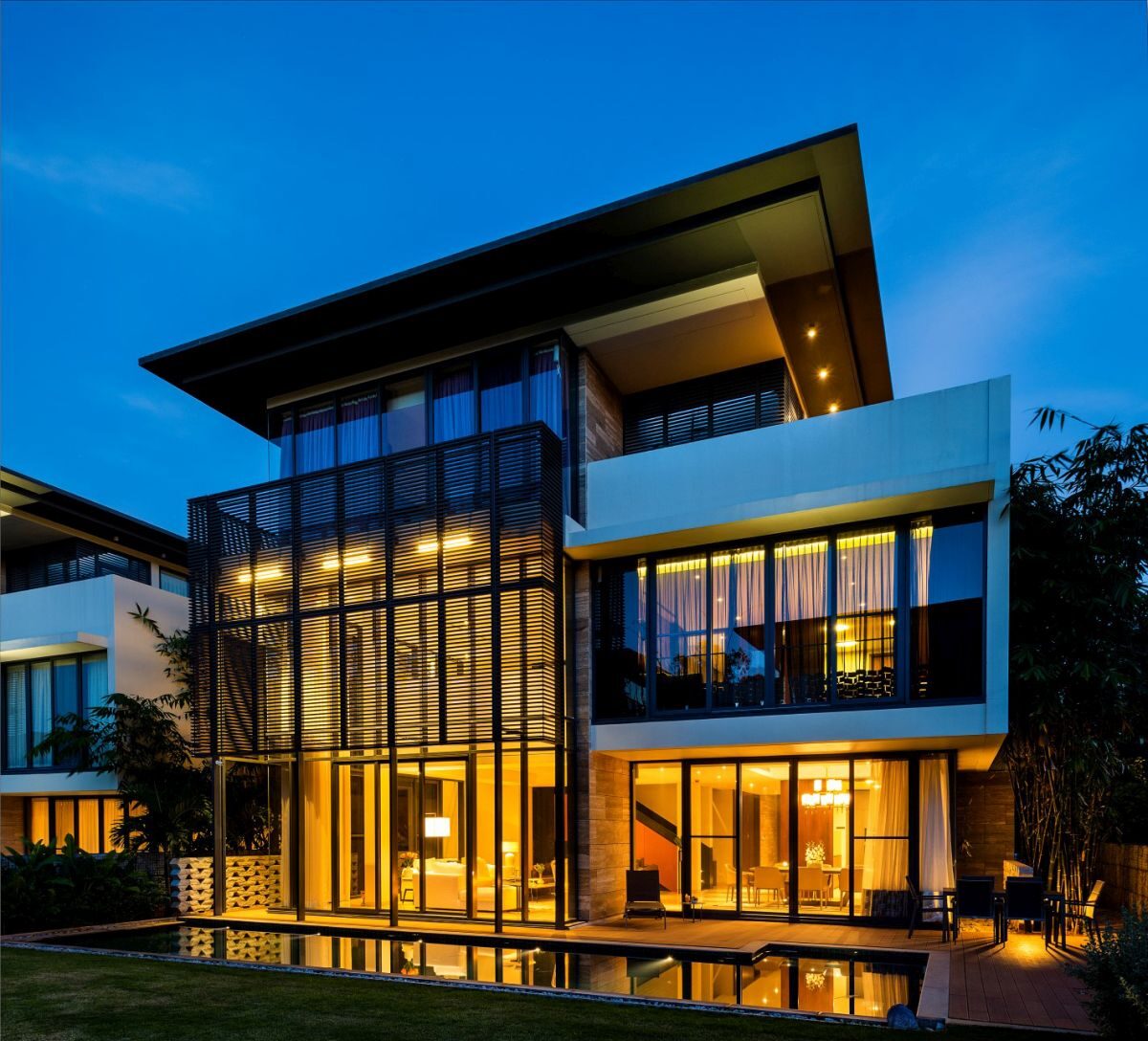 This villa in Embassy Boulevard for a family of six had a plot area of 7700 sq. ft. and was completed in the year 2018. The client's requirement was an elegant looking, contemporary villa. The ambience achieved is contemporary, but at the same time, reflects a calm and positive vibe. Clutter free, with minimalist furniture, this villa offers the best of both worlds- the sophisticated opulence of a star hotel and the personal touch and bespoke ambience of a home.
Hand-picked, exquisite Italian furniture gives the house a rich and elegant feel. The pastel colours on the walls act as the perfect backdrop for the bright coloured elements. The finest of light fixtures were selected to provide the desired light intensity and quality while adding to the aesthetics of the spaces. Splashes of meticulously chosen intense colours act as highlights against the otherwise neutral palette and set the colour schemes for the various spaces in the villa. Artificial plants and flowers placed at strategic points add to the liveliness of the spaces.
The curtains, carpets and bed linen have been aptly customized to match the colour scheme of each space, which has been pivotal in achieving a stimulating ambience throughout the villa. The rich coloured curtains add a pop of colour, while the customized sheers add to the exclusiveness of the ambience. The bright, colourful paintings that adorn the walls were hand-picked by the client, lending a personal touch to the spaces.
Bright orange and electric green single seater sofas contrast with the stark white sofa sets in the living & family space.
The younger daughter`s bedroom was designed not only considering her age, but also taking into account the scheme of the rest of the house. The floral embroidery on the sheers provides a subtle femininity to the room.
The pastel green colour scheme and floral sheers lend the parents` bedroom a soothing vibe. The classical contemporary side table lamps, along with the subtle hints of gold scattered around give a sense of mature elegance to the space.
The master bedroom was treated with opulence and extravagance. Customized black curtains with a golden patchwork add to the ornateness. A black and white striped chaise-lounge is a striking piece against the backdrop of black curtains. Deep-plum coloured orchids and throw-cushions add a burst of colour to the room.
The last bedroom has been designed in a very simple but elegant fashion, with nude and beige tones,
chic furniture and elegant light fixtures, reflecting the elder daughter`s nature.
Overall, the villa is an extraordinary blend of homeliness and sophistication. Classy, yet warm & welcoming, this villa is a reflection of its owner`spersonality.