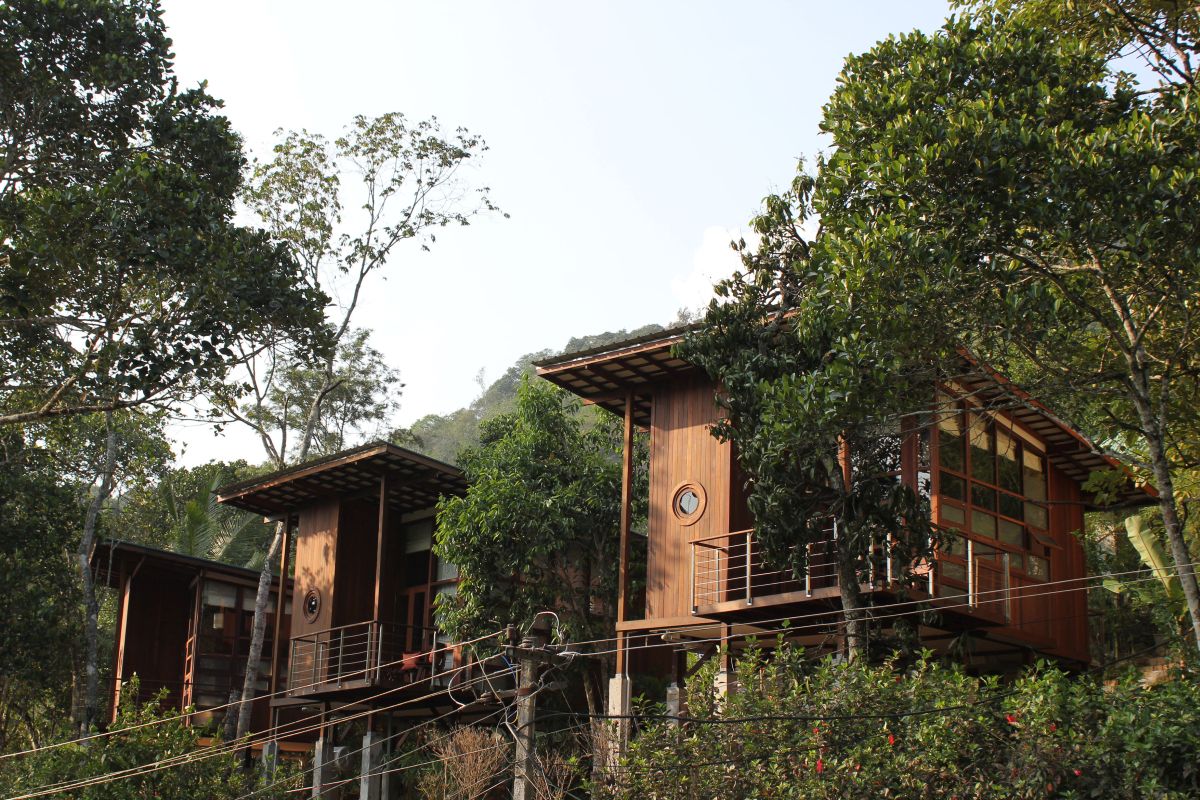 Set amidst expansive Cardamom plantations on steep terrain areas in Thekkady, Kerala, a set of cabins have been designed to nestle within a sea of green.  Responding to a brief for a boutique resort, the project includes five independent cabins, an outdoor pool with adjacent stepped decks and a spa block divided into three interconnected volumes all raised on stilts.
The 40 sq.m cabins feature floor-to-ceiling wood-framed openings that are composed and designed to enhance the impact of the dramatic views while ensuring privacy between the units. The cabins open out to generous decks to embrace and experience the feeling of belonging to the surrounding plantation.
The structures are envisioned as light and elegant floating volumes in order not to disturb the natural harmony. They are crafted primarily out of rich reddish hardwood sourced from sustainably managed plantations. Inspiration comes from quaint shops and structures dotting the plantation landscape surrounding the property, which features framed glass enclosures and simple wooden furnishing.
The interiors are minimal and yet sophisticated, keeping the focus on the dramatic setting. Hand-crafted teak wood and rattan furniture and rice paper light fixtures complement the rich wood-paneled surfaces. The ensuite bathroom is compact and raw, with locally sourced black granite counters and a shower area featuring a 'porthole' window framing the views beyond.
The overall design has been an exercise in balancing luxury and elegance with quietness and restraint.
Drawings –
Project Facts –
Project Location: Thekkady, Kerala, India
Completion Year: 2017
Gross Built Area (square meters or square foot): 500 sqm
Lead Architects:  Bhavana Kumar, Nicola La Noce
Other participants
(eg. collaborators, clients, consultants, etc):
Structural Consultant: Manjunath & Co
Landscape Consultant: Earthline Consultants
Photo credits: Vivek Muthuramalingam, Kumar La Noce, Salim Pushpanath