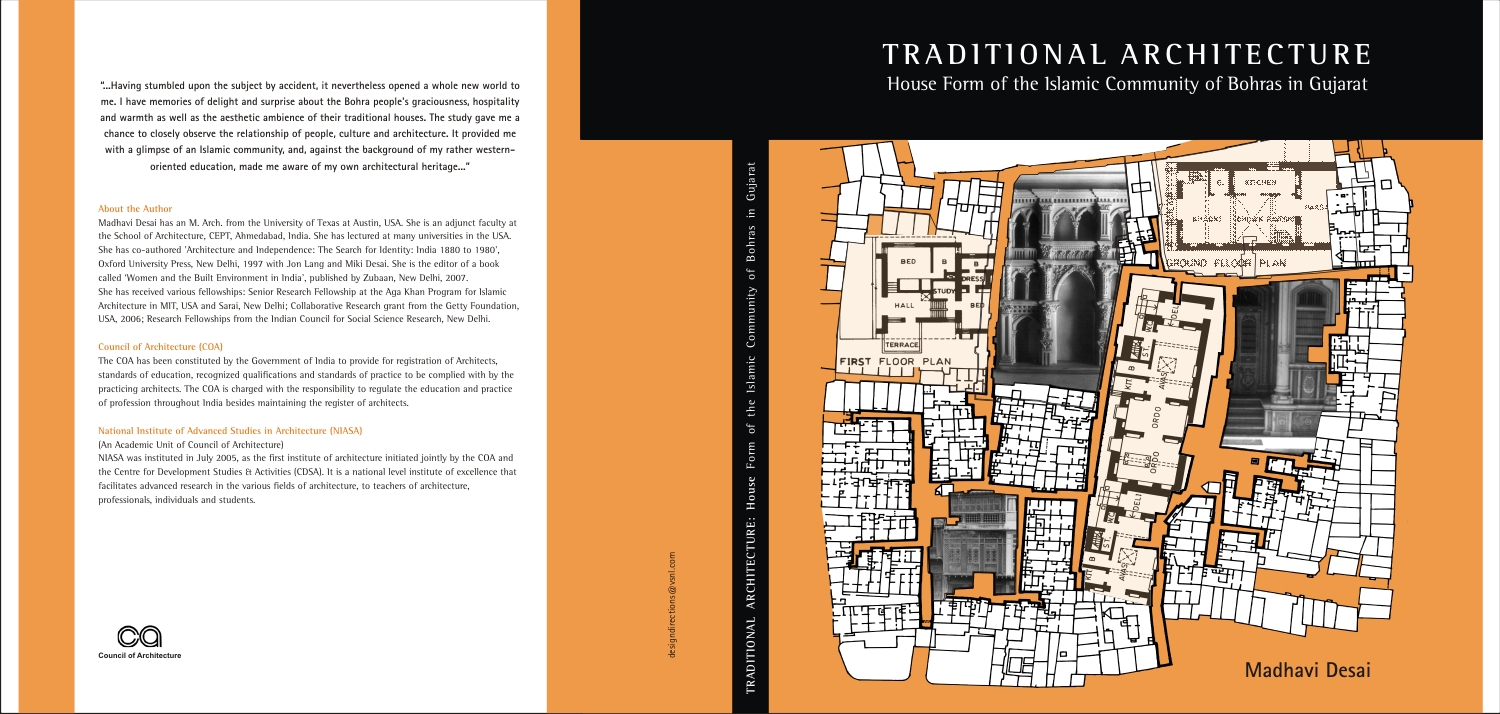 Traditional Architecture; House Form of the Islamic Community of Bohras in Gujarat, by Madhavi Desai
Architectural studies in India, as in the rest of the world, have until recently focused on monumental buildings. The development of the history and theory of Indian architecture has been highly dependent on the classical edifices of the sub-continent. Proper study and documentation of the vernacular traditions have not been a major concern of scholars.
Vernacular architecture is more than a history of form and style or aesthetics, it is a product of cultural and environmental factors and an expression of the way of life of the people for whom it was built. Therefore, they have an equal claim in any comprehensive record of authentic history. The roots of the immense wealth of living vernacular traditions in India lie in her vast geographical milieu ranging from mountains to plains and jungles to deserts. Their manifestations are seen in the breadth and width of the country such as the isolated hamlets of Goa on the western coast, the homesteads of Kerela in the south, hill dwellings of the Kulu valley in the north, wadas of Maharashtra or desert houses of Rajasthan. This diverse and rich range of traditional habitats expresses the historical evolution of the various communities. In addition, they are of tremendous value considering that there was an intimate connection between the vernacular building technologies, local materials, craftsmanship and society.
The traditional habitats of the Islamic community of the Bohras (generally referred to as Daudi Bohras) in Gujarat, found in cities and towns such as Surat, Siddhpur, Dahood, Godhra, Kapadvanj, Khambhat, Ahmedabad, Palanpur, Bhavnagar, Dholka, Surendranagar, Morbi and Jamnagar, are excellent examples of traditional architecture rooted in the regional landscape.
After a reconnaissance survey, I selected the first six settlements for an in-depth study based on their vivid and unique characteristics manifested in the settlement morphology, street pattern and house form. Built during the period of the late eighteenth TO early twentieth centuries, these dwellings are based on the regional model but have evolved to an amazing level of sophistication and excellence.
Based on a specific spatial organization with a set of principles of design, the resultant Bohra example has a wide range of interesting manifestations. The house form itself represents the multiplicity of the architectural response to diverse cultural influences through the process of eclectic adoption. During the two hundred years of British rule, the Bohra house form also underwent years of British rule, the Bohra house form also underwent a social and aesthetic transformation but at a relatively slow pace with a minimum impact of external influences.
Book Facts:
Title – Traditional Architecture; House Form of the Islamic Community of Bohras in Gujarat
Name of the author – Madhavi Desai
Name of the publisher – COA Council of Architecture, New Delhi, 2007
Number of pages – 120
Binding type – Hardcover
Availability – OUT OF PRINT (May get republished)
---
Image and text provided by Madhavi Desai