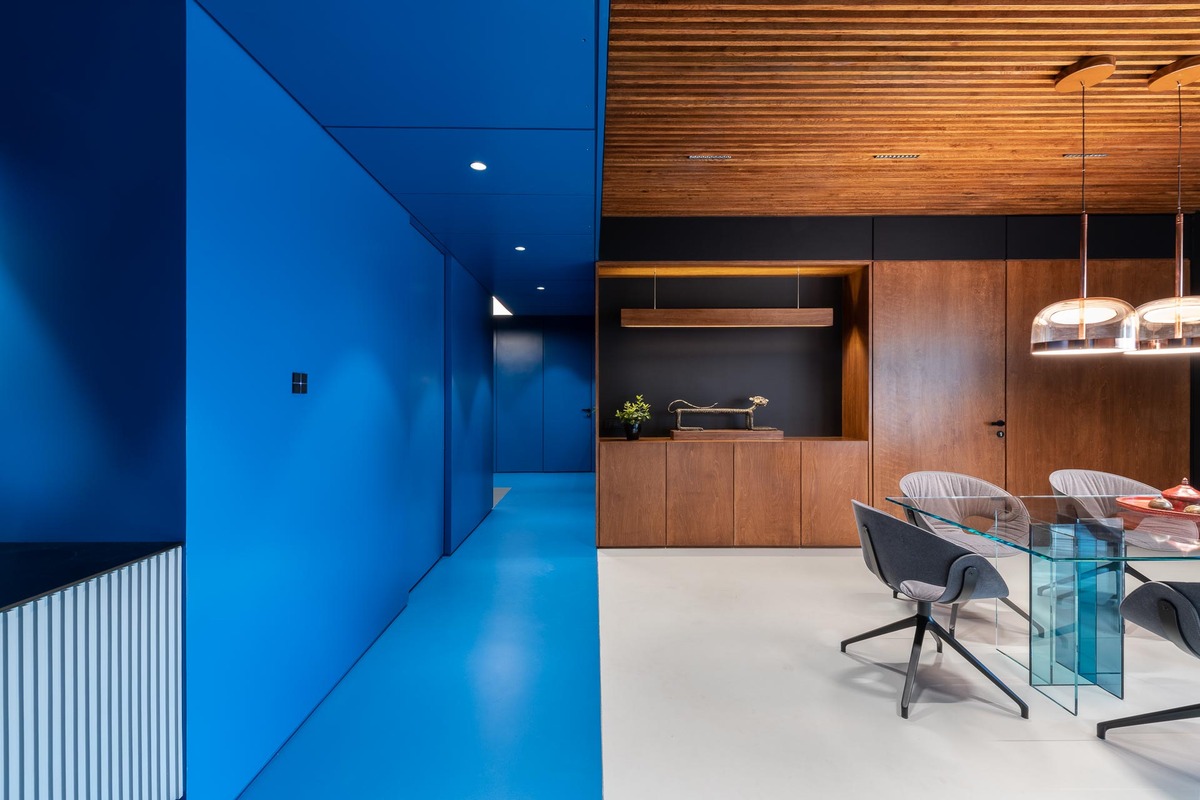 The intent of this design was to work within the context of the Indian cultural narrative with a new language of interpretation that allows for a dynamic, varied and yet enduring experience for the end-user.
The spine of the design is the exuberant use of colors, which is a key element of the Indian culture. The subtle yet definitive use of colors to connect with the space without being overwhelming and out of sync presented a new challenge. The mainstay of the theory is the large volume that starts right from the entrance spanning till the lobby for individual rooms.  This volume has been termed 'The Blue Scoop'. The design intent for it was achieved by having all the surfaces connected to this volume in a single tone of color (Blue). This move creates an illusion of a chunk of mass being subtracted (scooped) and separated from the overall volume. Keeping the spaces muted around this scoop further ensures that there is emphasis on this space being the mainstay of design.
Another example of an inspired use of color is how the color black is used in this space. Black, which is typically considered taboo, if used wisely can offer a new interpretation of other colours and elements around it. In this project, the colour black provides a contrast and context to the other colours.
We have attempted to continue the Indian cultural narrative by using local raw materials. The textures of these individual raw elements, such as brick and stone were highlighted using available natural light. The material palate consists of Godhra brick tiles, concrete floor and stained Birch plywood in its raw form. At the same time there are elements like colored PU, back painted glass and matte black paint that balance out the rusticity.
The correlation between the living space and the lounge area is conceptualized to achieve much needed modularity. One can create different scenarios by opening and shutting door panels. Careful consideration has been given to where the doors are parked during these scenarios.
While weaving an Indian cultural narrative through these different elements, we tried to create a new 'language interpretation' that doesn't rigidly adhere to dichotomies like Indian v/s western, modern v/s traditional. Such narratives can be found via artwork of old vintage cars and global 3D artwork coexisting with Bastar's tribal art in the same space. The intent has been to provide an 'experience' to the end user that is unpredictable and dynamic. Creating such an experience surely involves risk-taking for the designers, but the reward is an unprecedented yet a enduring experience for the clients.
Project Name: Blue Scoop Haus
Architecture Firm: D.I.G. Architects
Completion Year:2019
Gross Built Area: 2100 sq.ft.
Project location: Thane west
Lead Architects: Ar. Amit Khanolkar & Ar. Advait Potnis
Design Team: Ar. Samadhan Mhatre (designing), Ar. Fenil Gala (project management)
Clients: Mr. Kapil Pathare
Graphic design-Ashutosh Gavit