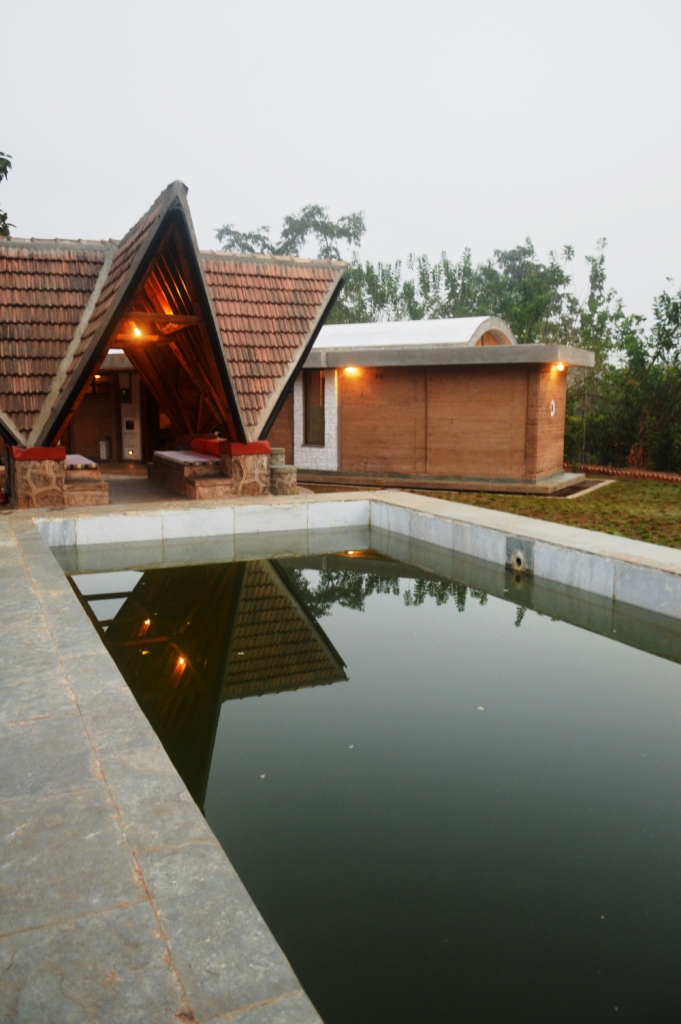 This building is a private residence at an organic farm located in rural Maharashtra, near the city of Mumbai. The site is eleven acres in size, undulating with steep contours and terraces. Cared for by the Bhatia family over the years, now this previously barren land is a thriving oasis of green tranquillity with hundreds of fruit trees, and rich biodiversity. The client who commissioned this home is an avid ecologist and advocate of urban composting, in his neighbourhood at Marine Drive.
We are an architectural design and construction firm, working exclusively with ecologically appropriate materials and sustainable technologies. When approached to build this countryside house, it was evident from the onset that our client's vision resonated perfectly with our own. The product was to be an authentic contextually appropriate modern prototype, for a region now subject to urban sprawl.The lack of locally available skilled masons in the area posed quite a challenge. We responded to these circumstances by taking on the contractor's role ourselves, working directly with villagers from the nearest settlement. These people are primarily farmers with little experience in construction. Harvest seasons had to be factored into project scheduling, over and above the necessity to teach every aspect of building from scratch.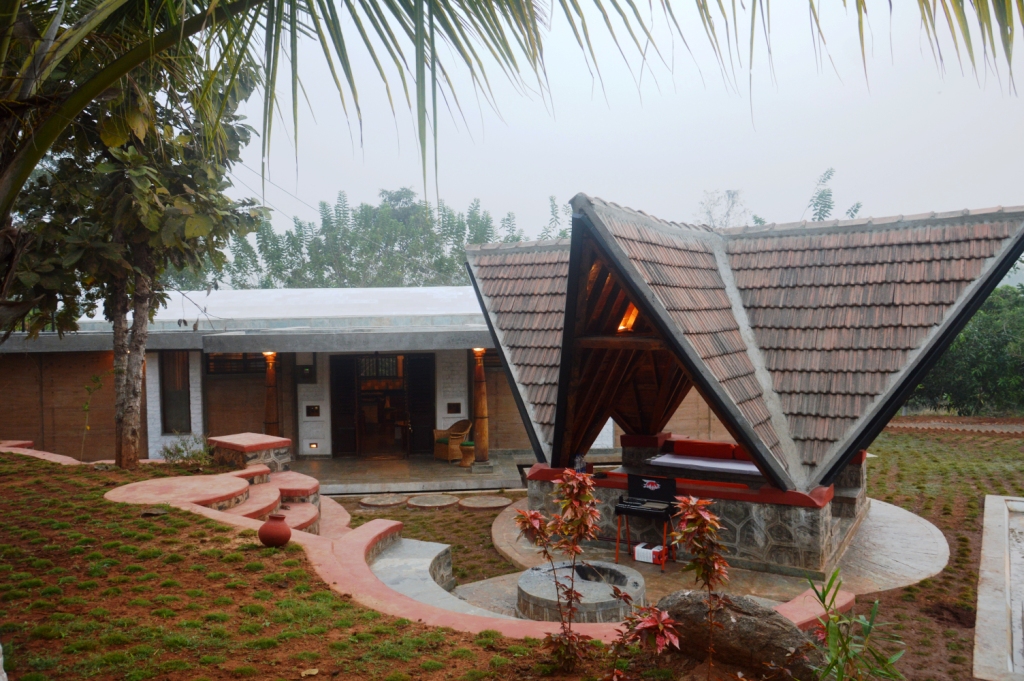 To our delight the enthusiasm displayed by these locals was extraordinary. As we commenced with demonstrating a method of creating stable foundations using only compressed earth, their interest in the work was locked. Our approach was cost effective as compared to other strategies employed in the region thus far.
In order to provide structural integrity, allowing for the building to be disaster resistant; this earth foundation is capped with a plinth beam tying the whole base together. A water channel moat is integrated with the foundation to provide cooling, and insulate the home from infestations; while also serving as a beautiful water body.All load bearing walls for the building are created using compressed earth, just as in the foundation.These walls are rammed by hand, in-situ using a shuttering assembly, which is easily assembled and dismantled. This shuttering is designed to create any size of wall using only a single apparatus, in turn minimizing equipment and thereby costs of infrastructure.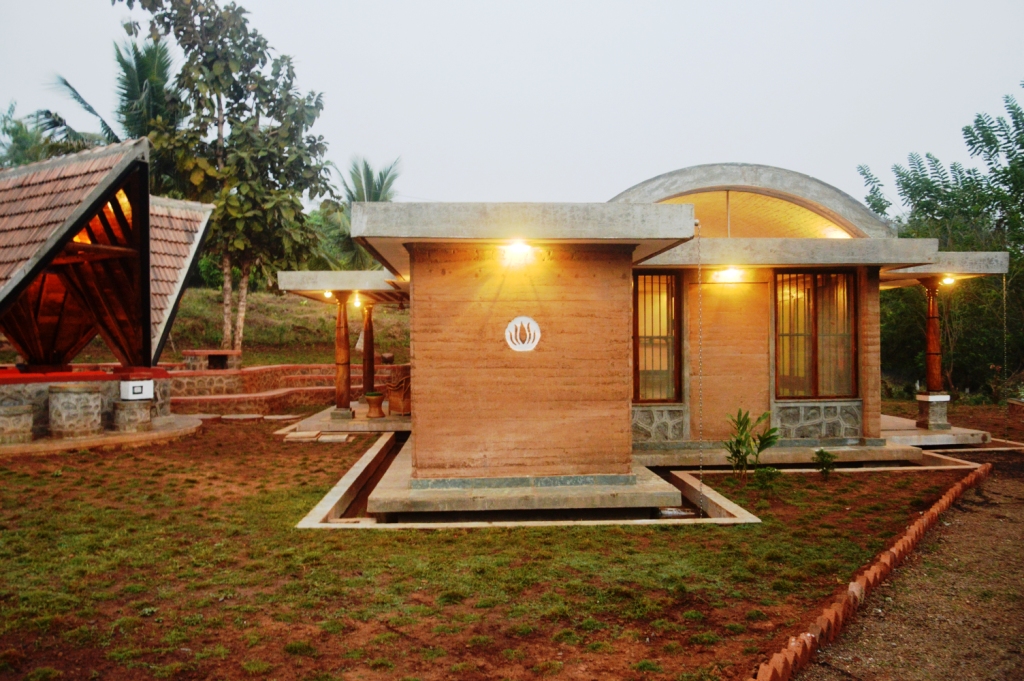 A wall panel of 8ft x 8ft and 9″ in thickness can be rammed in a single day. Since this entire operation requires only human energy, and basic raw materials, such a method is naturally low in carbon footprint, as well as economically feasible. The building is a load bearing structure and the entire roof of this home is supported by these earth walls alone.
Having saved on the need to purchase volumes of brick for the main structure, our workers welcomed the knowledge of this technology, and were visibly proud to be the first ones in this region to succeed in creating modern rammed earth walls. Owing to proper technique and carful execution, the surface of these earth walls are aesthetically pleasing, and did not need to be plastered; thereby further saving costs, time and effort.
Where concrete slabs are necessary in the roof, inverted terracotta pots have been cast into the slab. These create hollow fillers in a normal slab thickness, minimising concrete content. These earthen pots are standard locally available sizes, which are retained in the ceiling, visible from below. This method creates a waffle effect in the slab that is aesthetically unique, and drastically reduces the dead load of the structure, as embodied concrete quantity is minimal.The primary volume of this home has omitted the use of concrete altogether, by spanning a brick vault, which removes steel from the equation while reducing cement content to create a stable roof. Apart from the natural beauty of such a form, this vault provides for ventilation and illumination of the space. Owing to the thickness of the vault section; contained spaces are naturally cooler, reducing electricity consumption over time.
All doors, windows and load bearing columns are sourced as recycled materials, salvaged from demolished mansions at the Karaikkudi town of Tamil Nadu. Timber can be considered as one of the few truly renewable construction materials available, with the added benefit of carbon sequestration over the lifespan of said tree. Therefore the incorporation re-used timber is a double bonus in terms of sustainability quotients and embodied energy efficiency of the building.Integrated with other landscape elements, we decided to attempt an innovation of the region's traditional roof form as well, using locally acquired timber with standard Mangalore tiles. Taking the form of a self supporting gazebo, designed as five interlocking pyramid structures, this well ventilated outdoor space is open on all four sides. Providing ample recreation area, the feature serves as an extension of the home while providing much needed shade for the swimming pool.
The retaining wall built with random rubble stone masonry for this contoured site, is designed to double up as a seating and barbecue in some places, or act as a serving counter and washing platform in other segments, and ultimately turning into an access staircase to the site.A swimming pool made primarily of local stone has been built with buttress walls, retaining water just as in vernacular step wells. The large surface area of the tank harvests vast amounts of rainfall, while serving as a farming water reservoir for dry spells. Overflow of this pool fills the house moat, and feeds plantations thereafter, using only gravity for circulation.
---
Facts:
Cost :5000000  INR

Area :175 SQ.M
Client / Owner :Anil Bhatia