Sardar Vallabhbhai Patel Stadium in Ahmedabad stands as the result of a remarkable collaboration between architect Charles Correa and structural designer Mahendra Raj. Constructed in the 1960s, it ranks among the most impressive public structures of its era, showcasing cutting-edge engineering and the skills of Indian professionals in the years following independence.
The stadium stands as an iconic structure, symbolizing a pivotal period of experimentation with concrete as a material to create monumental architecture.
The use of handcrafted, manually poured, form-finished concrete to construct such a massive edifice adds to the legacy of masters like Corbusier and Kahn in India. The stadium holds significance for the sports community, the people of Ahmedabad, and the engineering and architecture community.
Sardar Vallabhbhai Patel Stadium is clearly notable for its structural ingenuity, which brought forth architectural forms and aesthetic treatments previously unseen. The utilization and exploration of concrete's plasticity to craft unique roofing and facades, coupled with meticulously designed formwork or shuttering for minimalist finishes, are truly extraordinary. The primary elements contributing to the engineering and architectural value of this stadium include an awe-inspiring structural innovation of a long-spanned, folded, 20-25 meters deep cantilevered canopy covering the seating area, along with repeating vertical concrete frames enveloping the entire exterior façade, introducing rhythm and spectacle to the façade's experiential quality.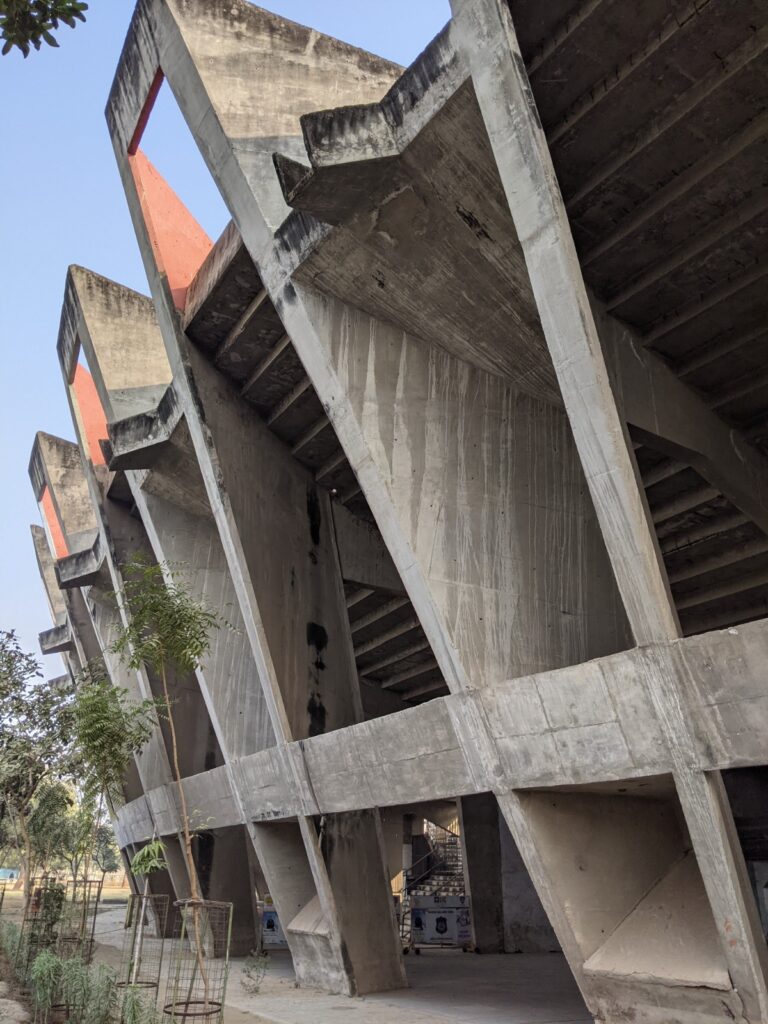 Apart from harnessing concrete in its most creative forms, its textural and visual qualities have also been harnessed to craft an unapologetically honest structure, adding visual and artistic value to the stadium building. The formwork meticulously designed for each element showcase the delicate detailing by the designers.
To save or to not save
However, despite its history of use and some repair efforts, the stadium now exhibits signs of distress. Numerous building elements are beginning to deteriorate, demanding immediate attention to ensure their continued use.
To address the ongoing issues of concrete conservation and its future viability, a team of professionals devised a Comprehensive Conservation Management Plan (CCMP) with support from WMF through a grant from the Getty Foundation. As part of the CCMP, a visual survey combined with scientific testing was conducted to comprehend the extent and causes of the problems. Evidence of physiological aging of materials and a lack of knowledge regarding appropriate repair and maintenance methods are evident, manifested through conditions such as spalling, cracks, de-lamination, surface deterioration, and water damage. Previous attempts at repair, although made in the past, have proven inadequate as they were not holistic in approach.
Following the submission of CCMP with all the studies and their results, it's shocking to learn that the Amdavad Municipal Corporation is planning to demolish the Sardar Vallabhbhai Patel. It is not the first time that a 20th-century structure is facing the threat of demolition. India has already lost some highly significant structures due to a lack of understanding of their historical and architectural significance within the context of the 20th-century modern Indian narrative. This is partially because while the conservation of structures from other periods is well-established in India, the conservation of 20th-century buildings, especially concrete conservation, remains a relatively new field. Globally, concrete conservation poses philosophical, aesthetic, and technical challenges, but despite these hurdles, many brutalist buildings have been successfully preserved through recognition of their historical significance and scientifically informed concrete conservation. Examples include Morse and Ezra Stiles Colleges at Yale University, the Salk Institute, and the Hall of Science in the United States, Dudley Zoo and the National Theatre in the United Kingdom, and the Stadium Mineiro in Brazil.
In any case, the demolition of a structure of this magnitude is an unsustainable proposition. It creates a substantial carbon footprint due to the demolition and reconstruction processes, making it an inherently unsustainable solution.
Through the CCMP, a team of conservation architects and concrete engineers established suggestions for concrete conservation to guide the authorities forward. These recommendations for repairs are based on the severity of conditions and the value of each element, grounded in scientific best practices and informed by case studies of completed projects.
All elements have been prioritized as high, medium, or low, facilitating the phasing of the execution work. For concrete conservation and repairs, recommendations include filling cracks with appropriate mixes tailored to the size of the cracks, removing and recasting loose and detached elements, and conducting patch repairs for areas with exposed and corroded bars, lost material, spalling, delamination, and previously failed repairs.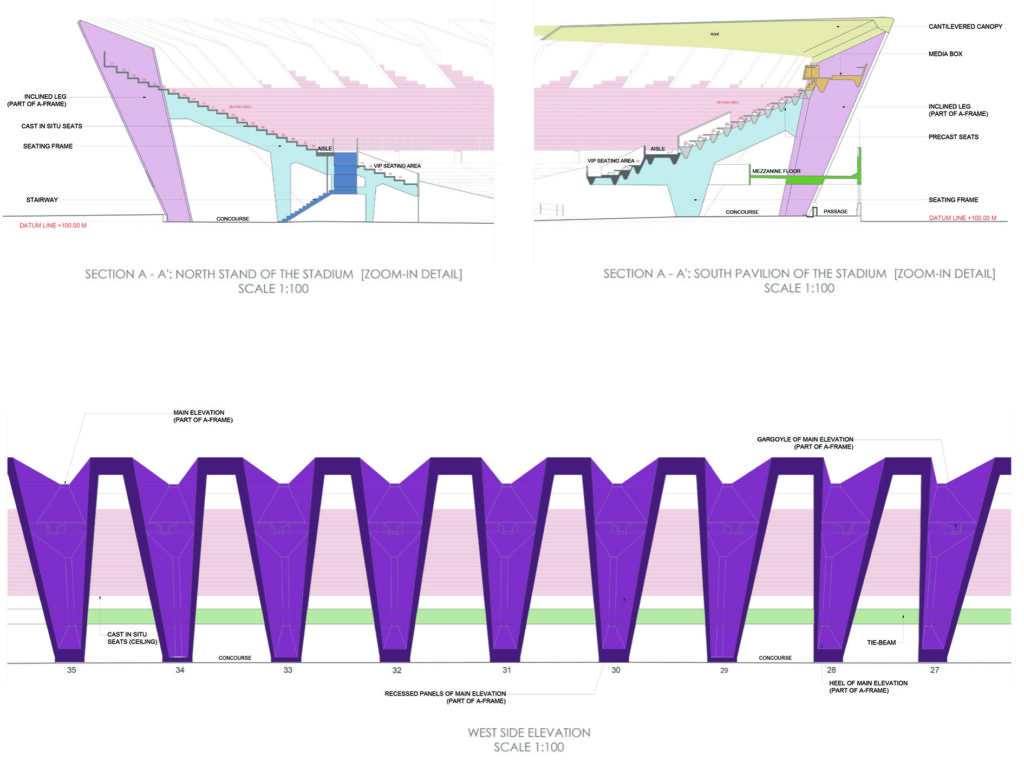 Technical concrete experts have proposed that parts damaged beyond feasible repair could be reconstructed with matching concrete and finishes to match the existing material. A cathodic protection technique using fusion anodes and galvanic anodes with surface re-alkalization has also been suggested. An innovative recommendation involves recycling areas slated for dismantling and reconstruction into concrete aggregates, thereby reducing the carbon footprint of the conservation work. In the case of the Stadium, a cyclic maintenance plan has been devised and shared with the authorities to ensure its long-term care and maintenance.
On one hand, we celebrate world heritage sites like Chandigarh under "The Architectural Work of Le Corbusier, an Outstanding Contribution to the Modern Movement," and on the other, we contemplate demolishing other national iconic concrete structures. We must exert more effort to demonstrate the social, economic, environmental, and cultural benefits of conserving significant 20th-century concrete structures having opposed to replacing them.
Author:
Bhawna Dandona is a conservation architect with a MSc from the University of Pennsylvania with a specialization in architectural materials conservation. In her practice, she has meaningfully engaged with heritage in India and the United States. Her current research focuses on 20th-century construction histories and their conservation