Abstract:
The selected thesis project is situated in I.P. Estate which can be regarded as an important parcel of land in Delhi. Thus, dealing with such lands is an important area of research. It requires careful planning while developing because it would not only deal with the neighbourhood but can contribute to the city as well. Therefore, lies an opportunity to create a development which would leave a mark on the city's identity and becomes an inspiration for the further development of the city. Thus, the Architectural Program has components which have local and regional significance including mix use functions and facilities for sustaining them leading to the built up area of 87811 sqm. on a 24000 sqm. site area. The primary objective of the project is to address the neighbourhood issues which lacks in safety, mixed use and city's participation. The project needs to be well integrated with the surrounding context and connectivity. For instance, responding to the influx of people from ITO and Pragati Maidan metro stations which lies within 500m radius circle of the site.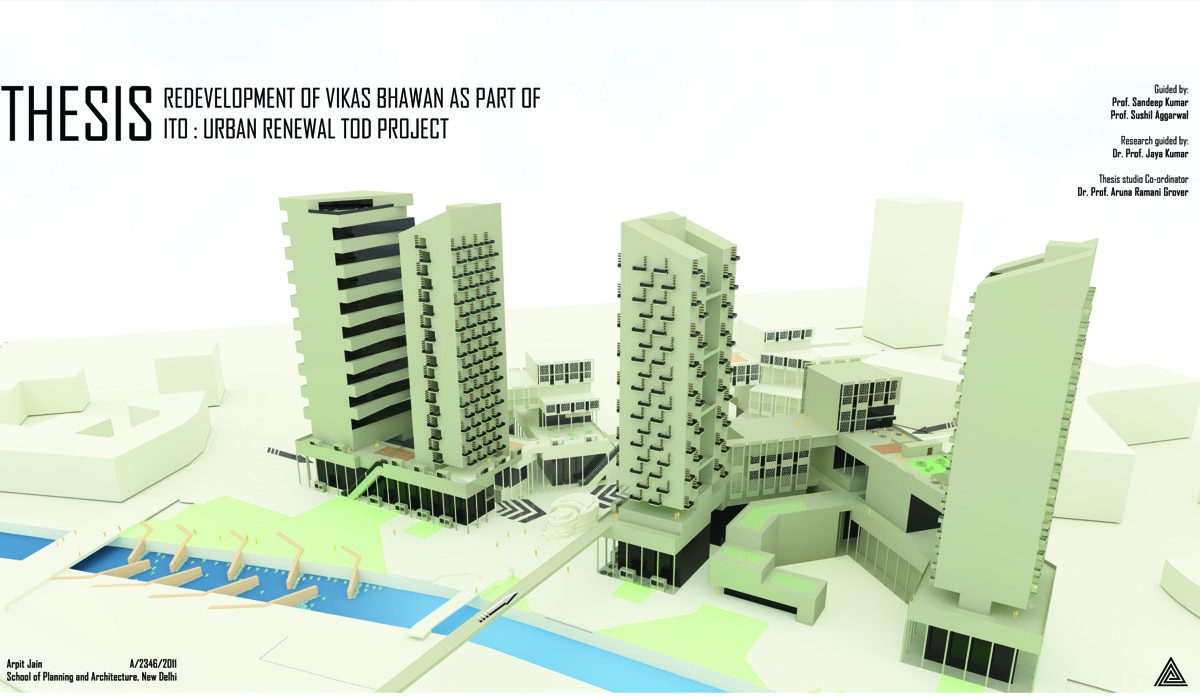 AIMS:
To create Vibrant, low carbon cities where people want to live, work and play. It is then to improve the quality of life in the public place with high densities which caters to a diverse range of user groups.- To provide easy public transport access to the maximum number of people within walking distance through densification and enhanced connectivity.
Pedestrian-Oriented built forms and land use characteristics that make it convenient and safe to walk, cycle, and use public transport. TOD brings compact, mixed-use development within walking distance of high capacity rapid transit.- To Reduce/ discourage private vehicle dependency and induce public transport use through design, policy measures & enforcement.
Sensitive site planning which allows porosity to address the strong context falls into the area of research.- To make infrastructure provisions and management techniques like recycling water/sewage locally to meet community needs more feasible with high densities.
To establish a direct pedestrian connect with the existing landscape around the site by integrating it with landscape of the site to achieve recreational open spaces. – To provide better quality of life by providing a variety of high densities, mixed-use, mixed income housing, employment and recreation options within walking/cycling distance of each other and of MRTS stations.
OBJECTIVE
So the question is "How can we redevelop underutilized parcels of land in important parts of a city to improve quality of life and disincentivize use of private vehicles?"
DESIGN BRIEF
The selected design project is a part of a Proposed ITO :URBAN RENEWAL PROJECT carried out by DSIIDC (along with UTTIPEC) on TOD Norms and guidelines.
They have been given the mandate to re-develop Vikas Bhawan, I.P. Power Station and DTC Head Quarters and Bus Depot at IP Estate. The Project will change the sky line of Central Business District of New Delhi.Vikas Bhawan hosts 23 Central and State Government offices which were constructed and housed after Independence at ITO. Thus, the construction is quite old and given the prominence of land in such a context makes the redevelopment project viable to be carried out.
Since the site is surrounded by offices where there is no facilities for public gatherings, and is adjacent to Nala that makes the area cooler makes the site full of opportunity to create a socially sustainable place.
PROGRAM
The Architectural Program has components which have local and regional siginificance.
MIX USES
Government OfficesIndividual small OfficesPrivate large OfficesResidential housingRetail shops
FACILITIES
Eateries
Nursery School
Auditorium
Meeting Rooms
Entertainment zone
Space for hawkers
Health facilitiesCreche
Sheets:
Images of the Model: