Project idea
The idea of lost history remains intact in our generation today. Along the separation of India, Bangladesh the Heroes of that time have also been separated which resulted on a conflict of preservation. Those Hero's seldom remembered, have all if not mostly been lost instead of being celebrated by every generation to come after them. Thus the rebellion against the British before the liberation war has been lost. The British had ruled our Bengal for 186 years in which many rebellions have been born and preached for what they have achieved. But today, they stand in the times of our rebellious history as long forgotten heroes. In order to hold the celebration of their legacy and bring back the energy they once had,
A Memorial for the rebels of land is being proposed.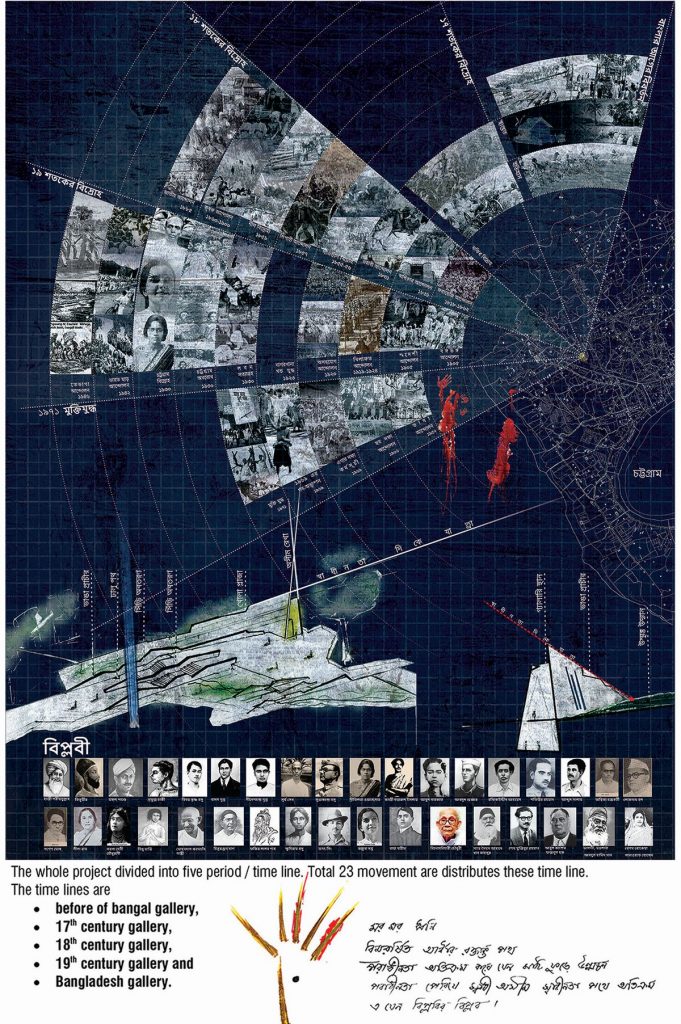 The memorial will represent the rebellion and the rebels that stood against the British and will be against the test of time.
The impactful tales of our liberation movement conceals the 200 year struggle for identity. In order to absorb the essence of 1971 we need to let in the roots of this rebellious act that accumulated and transformed into milestone changes. If we visualize the heroes of early times we come up with names of Shurjosen, Pritilota Waddedar, Nirmol sen, Khudiram, Titumir.
These are the names of warriors of that time. Their sweat and blood established their existence that grew major rebellious movements. To reflect the essence of a revolt during that time shows the true clarity of the movement. The injustice of the British rule was questioned by many rebellions but the focus is on the heroes that grew from this region, Bangladesh.
Architecture is professions that serve a nation by its service. It is an image of a nation. An ideal country can express his idealness by his architecture.
So a memorial to reminisce the rebellions & a museum for reminding everyone of their worth in our history, is the reason of the project.
Guides and Advisors: Ar. Kazi Tarannum Hossain, Ar. Sefat Sultana, Ar. Mithun Chandra Nath., Ar. Iqbal Habib,, Ar. Bikash Saud Ansary, Ar. Qazi M. Arif, Ar. N R Khan
Client :
– MINISTRY OF CULTURAL AFFAIRS.
Site location :
– Pahartali, Chittagong.
Site area :
– 10.47 acres.
– 456073.2 –sft.
Memorial Display area
* Permanent Gallery
* Before evolution Bengal
* Rebellion of 17th century
* Rebellion of 18th century
* Rebellion of 19th century
* Rebellion of 19th century liberation war' 1971
A public square
Permanent gallery
Research & Publication
Archive
Auditorium
Cafeteria
Administrative office
Technical information
Materials:- The material are very familiar to the Context,
Structural System:- composites structural.
Use railway in a slippers wood.