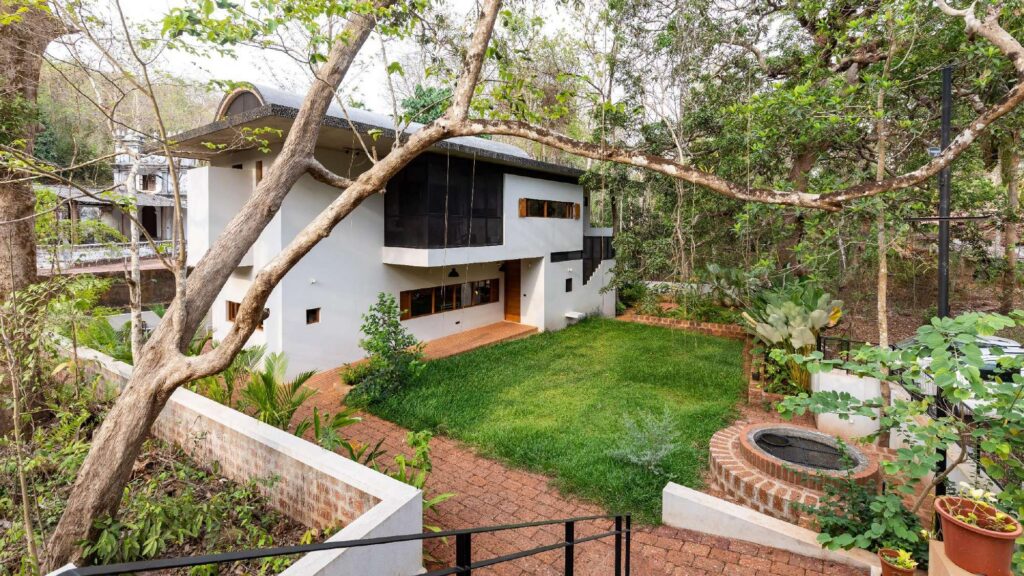 On the ground floor, a studio space flanks a kitchen and an external staircase that connects with the residence on the first floor. The staircase is designed to connect the two spaces on two different levels internally as well as externally.
Built on a concrete frame, the house hosts a nine-feet cantilevered slab that covers the staircase and the essential services towards the south. On the east, a thickly foliaged forest landscape is borrowed by the house for views in multiple spaces.
Simple materials – IPS Floor, Cudappah Steps, Timber Windows, Metal Frames, Exposed Brick and Laterite, and a Load-Bearing Vault composed of Wire-cut Bricks frames the building. Perforated metal sheets enable breeze to flow uninterrupted through the house. The building roof vault is finished in a stunning coat of Black China Mozaic – a waterproofing surface that adds a beautiful sheen to the vaulted ceiling.
Built on a very limited budget, the building uses its east-west orientation and stack-effect through the vaulted roof to remove hot air and enable comfort without exhaustive use of air-conditioning. The house borrows the rich landscape of Goa with the native trees including Mango and Teak framing the wonderful garden within and around the site.
Project Facts
Project Type: Residential
Client: Maanasi Hattangadi, Ruturaj Parikh
Engineer: Rajesh Mahambrey and Associates
Contractor: Amirchand Pandit
Electrical Contractor: Aravind Gunaji
Plumbing Contractor: Santosh Shirsekar
Carpentry: Bharat Wood Craft, Jitendra
Flooring Contractor: Arvind Pandit
Landscape Contractor: Agrohort, Gajanan
Year of Initiation: 2021
Location: Salvador Do Mundo, Goa
Design Team: Viraj Bhatt, Hetanshu Pandya, Dhrumin Patel, Rishiraj Sarkar, Ruturaj Parikh
Site Area: 525 Sq M approx.
Built-Up Area: 240 Sq M approx.
Status: Completed
Images and Drawings: Studio Matter