Student internship is a quintessential part of an architectural education. However, it is increasingly becoming an unmitigated ordeal for many within the community. Affecting both students and practicing architects, the workforce imbalance and issues of ineptitude have created an unfavourable – and often exploitative – situation.  
Inviting the opinions of architects, educators and students, we strive to start a conversation about what can be done to improve this situation. Below, we bring to you opinions from educators'and professionals.
---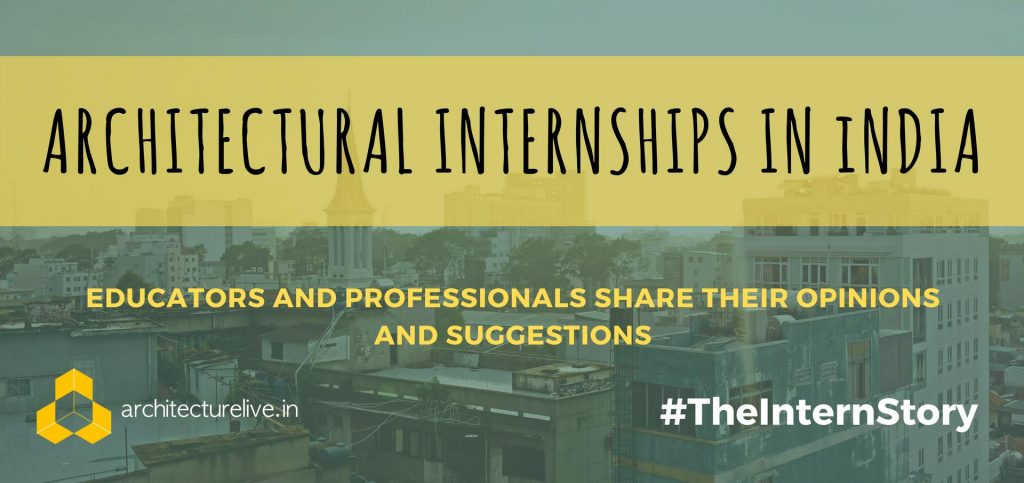 In this context, demand and supply is exactly what needs to be controlled. I feel the time and tenure of an architectural internship should also be addressed. – Anuj Gudekar, Educator
It is the college's responsibility to educate students before they join an office, as well as how to choose an appropriate office for themselves. It is, then, the firm's responsibility to provide support to the intern instead of just handing them assignments with a few references.

Most offices give work to interns expecting them to produce results like professionals, despite the latter's lack of knowledge. – Manoj Singh, Architect
Internship is probably the most important aspect of an architectural education.

I always urge interns to give it their best and take it as seriously as a job. Our expectations from interns are minimal, and everybody in our firm is willing to teach an interested candidate. Sadly, there are very few students who take internships seriously; we have started interviewing interns, as a consequence, and take only those who show genuine interest.

It's a pleasure working with them, and there is so much to learn both ways. We teach them about the profession and they teach us about the softwares that have gained prominence in recent years. The architectural profession is all about constant learning, and an internship is the very crucial first step in this process. – Aditi Pande, Architect, N+U Design Studio
Architecture is a subject, much like any other subject such as the sciences and arts. In schools, we explore its academic possibilities. It is not fair that architectural consultancies – and internship limited to these consultancies – start dictating how architectural education should be directed – or rather, limited.

Architectural consultancies are one of the professions that utilize an education in architecture. There are other options as well, such as research, academia, architectural historiography, architectural journalism, etc. that also need a basic education in architecture. Students may also go out and invent more professional possibilities. Therefore, internships need not be confined to consultancies and firms that practice commercial architecture with their own limitations. Students must be allowed to intern in varied places, such as a press that publishes architectural content, research centers, institutions, and so on. The true exploration of architecture – as a subject with infinite possibilities – could only then be possible. – Balaji Venkatachary, Educator, Mysore School of Architecture
It's a big paradox: students face difficulties in getting into a good office, and offices face difficulties in getting employable students. The biggest irony here is that design is very important and relevant in India, where optimum use of resources is a necessity.

The reason for this paradox is that education is largely diverted from practice, and the onus is on us educators. Our teaching should be based on our experience and field studies, and not only on age-old books. – Sanjay Kumbhare, Educator
---
*The names and designations attributed to the above views are as per the information submitted to ArchitectureLive! via this form.