Home is where the heART is.
When the architect couple, Neha & Gaurav, partners at LSDA, moved to a new apartment at Greater Noida, the biggest challenge they faced was to make their newly possessed home into a piece of work, which reflected their ideology and style of work and at the same time become a setting to the various pieces of artwork, furniture & accessories that the 'Art-loving" couple have custom created over the past few years.
With the constraint of keeping the civil related changes to a minimal, the plan of the apartment was optimized very creatively. Strategic location of foldable tables, collapsible bed and a "old-world" style window within the house gave them the flexibility to convert rooms to their studio & meeting room, convert the kitchen to an open one with a breakfast counter whenever the need be and connect spaces visually as and when required, alongside adding a lot of character to the interiors of the apartment.
The interiors have been visualized as a riot of colours, shapes and materials coming together as a cohesive and forming a background to the artwork the duo wanted to showcase. Few of the prominent pieces comprise of a 'Cycle sculpture' made of parts that had come out of their Santro car and Enfield Thunderbird bike, a hand-painted storage cabinet portraying the computer game 'Snood' which Neha loves to play, a light fixture made out of empty 'Nescafe' coffee jars and the favourite being the wall art named 'KC Ville' comprising of a lamppost, station clock, signposts and a feeding tray for their dog "Kalicharan aka KC".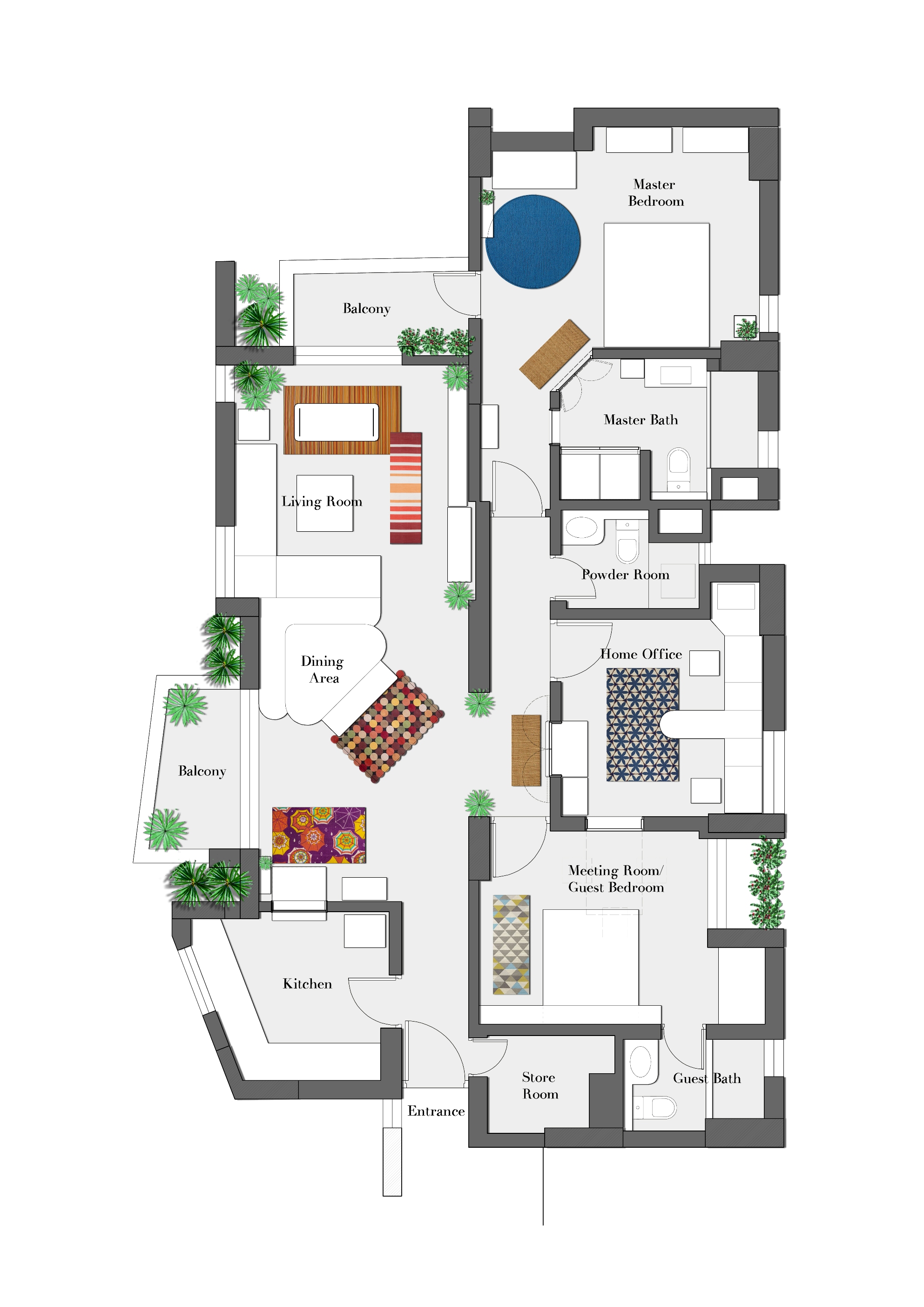 The biggest drawback of modern day apartment living is that one has to live with measly balconies in the name of open spaces. This was overcome by transforming the 40 sqft balconies into gardens having cantilevered planters all around, floating bench protruding from the walls, green wall systems and finally the gardening tools themselves becoming the pieces of visual delight.
Play Station

Gallery Wall in the Living Room

Breakfast Counter

Breakfast Counter

Murphy Table – Open Position

Murphy Table – Closed Position
For the couple, the apartment oozes happiness through its use of colour, material, incorporation of natural light, planting, quirky and pop-artish elements in its spaces and when their creative juices start flowing, the walls across the apartment painted with 'chalkboard paint' are ready to be poured upon !!
Nursery in Master Bedroom

Murphy Table – Open Position

Murphy Table – Closed Position

Master Bedroom

Entrance Door

Breakfast Counter

Bedside Art Table

Balcony

Entrance Gallery Wall

Master Toilet

Wall Art in Living Room