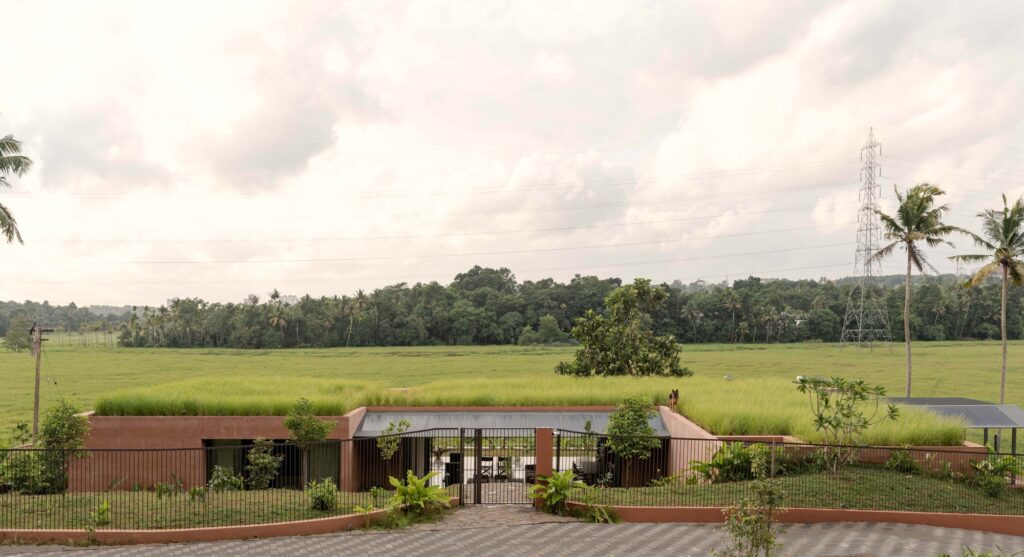 Alarine Earth Home embodies the coming together of the professional and personal lives of architect Zarine Jamshedji and Construction veteran Cornelis Alan Beuke. Jamshedji is the founder and principal architect of Zarine Jamshedji Architects, and Beuke has had many years of experience in construction.
Architect's Note:
A vision of how we wanted to build emerged instantaneously from it. The desire to have a home that 'blends in' the true sense of the word into the land and landscape, not be intrusive, or block the expansive paddy field for our neighbours in the rear.
Once the land was found we couldn't wait to live on it. We chose Stereogram's Innovative Building Technology (Schnell 3D Panel construction system) for its unmatched properties –Structural strength, high insulation, construction speed, perfect combination of prefab and in-situ. Total time for construction, interiors and landscape was 6 months, from site start to finish. Thanks to the intense partnership with everyone that worked with us.
We visited a laterite cutting workshop for a large cement-less retaining wall, for a project of ours. We requested the collection of the waste laterite paste from the workshop floors and adapted it as the wall plaster render.
Unlike a conventional home, there is no main door. You enter below an array of solar panels into a seamless communal living, dining and kitchen space and further a column-free sit out that merges ahead; uninterrupted with the landscape and the paddy.
Several pieces of furniture & light fittings are made from waste Schnell panels. An old tree root found on site was cleaned and repurposed. The plinth of an old pumping shed was converted into an outdoor landscape seating space. An old trench was enlarged to form a pond to hold water from the paddy for irrigation and be refilled from the roof water. Bio Septic tank to ensure proper digestion of sewage and the same recycled for landscape use.
The roof is planted with Vetiver (Khus, Miracle grass), for both its properties and its aesthetics to merge seamlessly with the paddy ahead. A lone dying teak tree on the property was brought back to life. Principles of Permaculture are brought into the landscape.
We believe that a good designer can create timeless beauty with any material without being obsessed with a single design language or style. Different situations call for new architecture and we must keep trying to come closer to more effective sustainable solutions."

– Ar. Zarine Jamshedji
Project Details
Design: Zarine Hoshang Jamshedji, Abhishek Suthan
Structural Concept: Cornelis Alan Beuke
Supervision: Zarine Hoshang Jamshedji, Cornelis Alan Beuke, Navin Limbani
Draft Management Coordination: Surya Narayanan, Sarah Janet Augustin
Photography: Syam Sreesylam