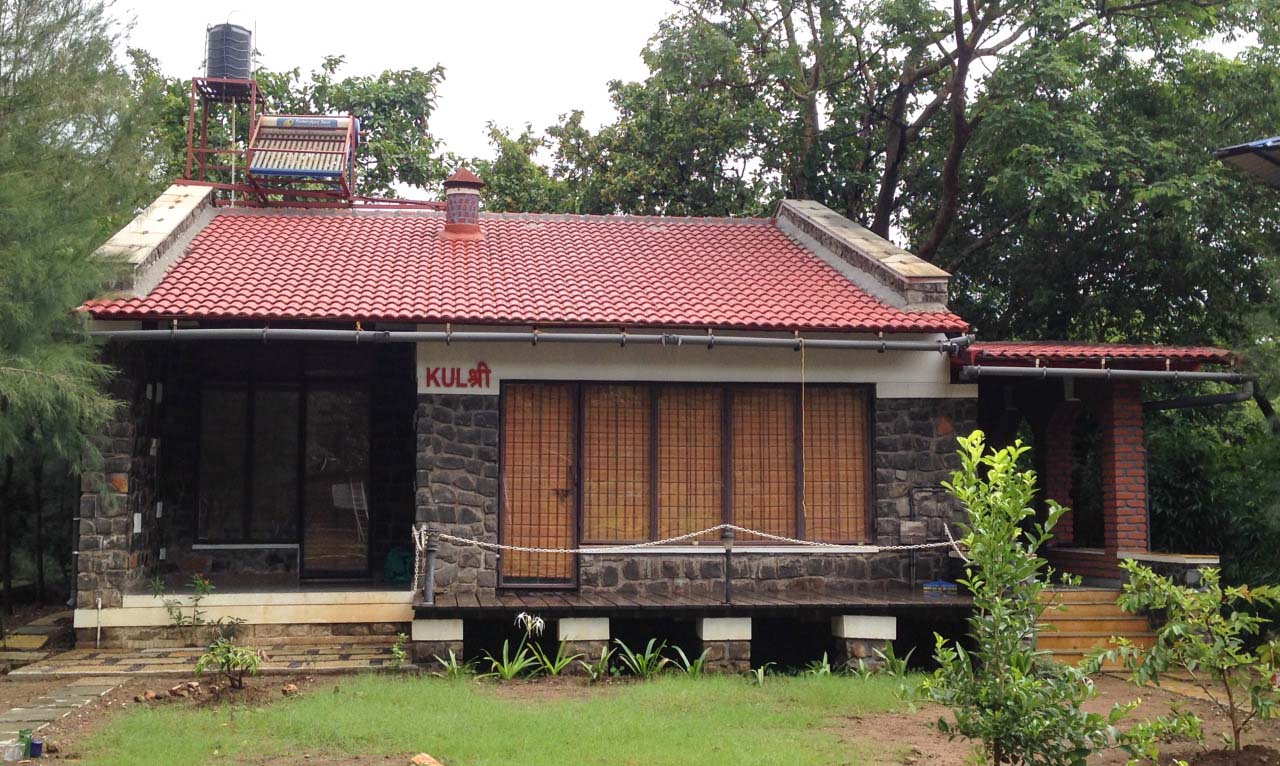 As a photography enthusiast and amateur camera equipment tinkerer and lens maker, I had gained quite a reputation in our local photography enthusiasts for this strange skill. What does it have to do with architecture, you may ask? Answer: Tweaking a camera lens actually gave me my first project.
Yes. Good things can come from strange hobbies.
A friend from our photography group once asked me if I could tweak a broken camera lens which could be used for reverse macros (Google it, you'll be surprised) and I did. A few days later he asked me if I would help him build a small holiday home. I accompanied his family to the beautiful site with a terrific view of a hill in September of 2011. Since I those were initial days of independent work for me, I did not have a workplace so we met and signed the architectural agreement letter in a popular hangout place a week after the site visit! Yay!
The house was planned as three main load bearing stone walls which divided the house into three spaces: Entrance porch, living area and a private sleeping area all of which face the hill. This beautiful hill changes colour and nature with every season and is a perfect view for this house. The house itself was pushed back towards the back of the site for an unrestricted view of the hill beyond the trees.
Being a high rainfall area, the building was planned to have a fabricated two side sloping roof with an independent roof for the porch on a lower level. Instead of clay tiles, we chose cement tiles as they were heavier to prevent them from flying off due to heavy winds. We used the height that this roof profile allowed in the living and private area to carve out a mezzanine floor under which we provided for two bathrooms and a kitchenette. The mezzanine overlooking the private space was closed and only accessed from the common mezzanine and was used as a service and storage area. The upper mezzanine opens into a cantilevered balcony with a view of the wilderness behind the site.
Experiences with the client:
The house was designed as a weekend home for a couple and their two children who love to invite their extended family and friends to stay with them in this quiet area. Being photography and wildlife enthusiasts, they were looking at something that will feel like a weekend retreat merging with the lush environment of the surroundings. All four of them visited the construction site almost every weekend. For more than a year since construction began, I've spent almost every alternate Saturday with them on site. Going through the ups and downs of construction, major budgeting concerns (crisis), delays and handling contractors with them has made me closer to the family and I'm thankful for that.
Experience with the structural engineer:
My friend recommended that I a young engineer working for a senior structural designer who encouraged him to take up the project. Mahesh sent me an entire set of building code guidelines for stone masonry construction from India and abroad to read up which I spent many a days deciphering and incorporating into the structure. Small suggestions from him like using in-situ RCC blocks instead of through stones into the load bearing walls helped in cutting costs. Having had some experience interacting with structural engineers in my previous workplace helped me immensely.
Experiences with the contractor:
The contractor was a local youngster with a small team of masons and was very enthusiastic about working on a project slightly different from the usual fare of RCC framed structure and plastered brickwork. We got him to source black basalt stone from local stone quarries nearby. One of the most challenging things for him was casting and fixing the cantilevered RCC steps. He (and I) were doing something like this for the first time, but took up the challenge head on. Together we did! Although I must say the process was so much more rewarding than the final outcome!
About the building so many years after it's completion: It merges with the surroundings so well that If you pass by, there's a chance you may not notice it at all! But once you enter the gate, it's right there. the trees planted have grown and the small plot of land has completely transformed from the grassy patch to a haven with a house, fruit trees and lovely view of the hills and the forest.
Looking back, I feel that it could have handled it all better, been a bit more sensitive, but in the end it was the best learning experience I could have had!
Drawings
Project facts
Project: Farmhouse
Built up area: 120 sq. m.
Structural Engineer: Mahesh Thakare
Contractor: Vikas Jadhav
Architect: Meghana Kulkarni