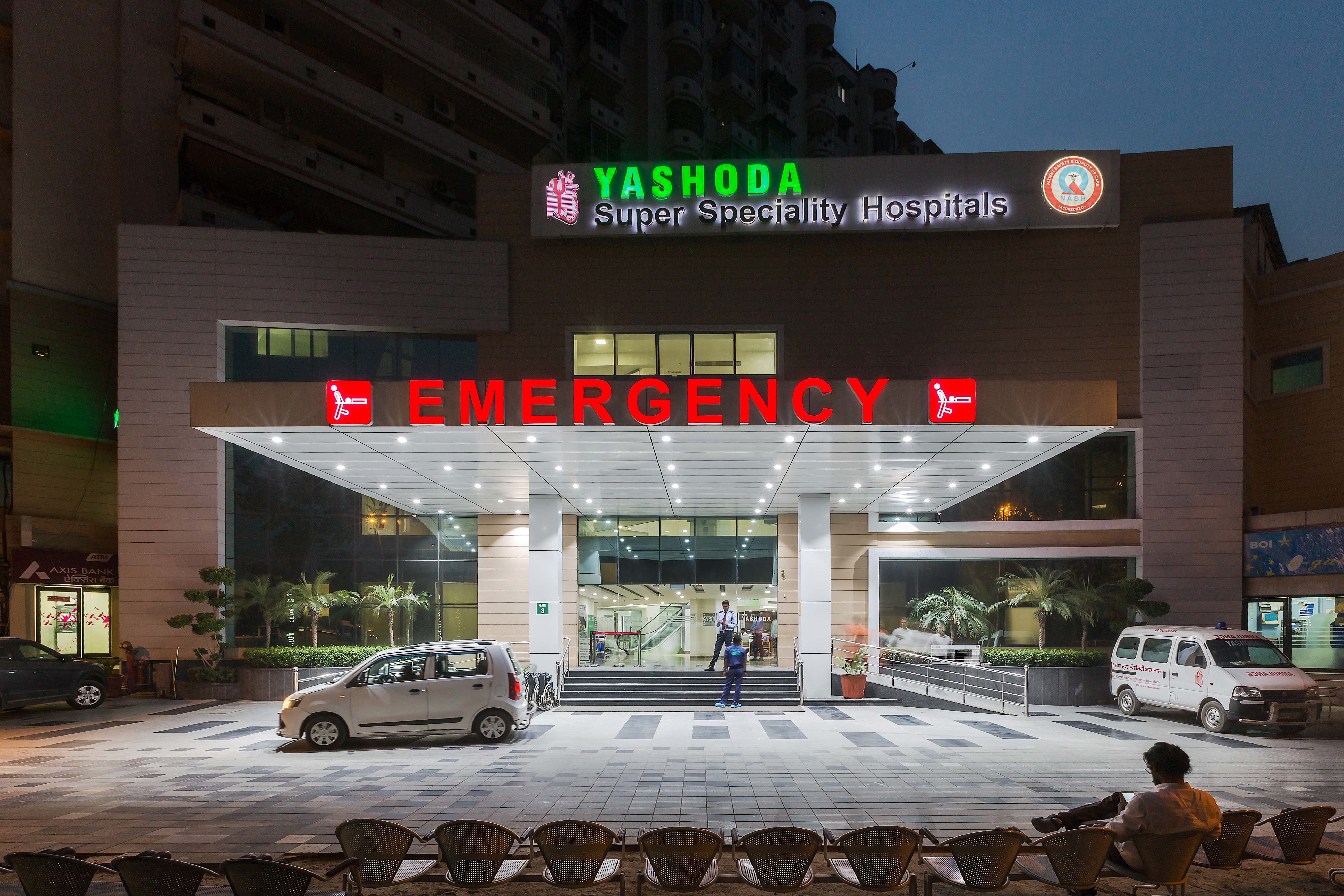 The emergence of mall culture in India and the buoyant growth trend of the real estate market led to the construction of a plethora of shopping malls. Yashoda hospital which started operation in a small segment of Shopprix mall in Kaushambi gradually expanded to the entire floor area of the mall thereby putting the building to an altogether better use. A rather challenging brown field project in terms of the transmutation of a 1.8 Lakh Sq. Feet of retail space into responsive healthcare environment was intriguing. The mixed-use nature of the existing facility with a 20-storey housing above further challenged the augmentation of services which are generally relieved upwards.
Nevertheless, the expansive mall atriums served as excellent lobby spaces with fantastic visual connects across most departments. The two available entrances were tactfully re-organised for the visitors and emergency. The massive floor plate allowed the entire out-patient department, radiology, emergency and the day care facilities to set-in making the patient and visitor navigation much easier. Every department of the ground floor transits into another through a multi-height space, further enhancing the patient experience. Moving up, there are designated elevator cores separate for hospital staff, visitor's and the service staff to augment explicit vertical movement.
The statement entrance lobby with a coffee shop is made to elevate the patient experience and dilate the notion of healthcare facilities as serious realms. The interior palette is pre-dominantly in white, which is associated with tranquillity and calmness. The browns are also evident at a number of places, complimenting the whites and adding warmth. The triple-height emergency atrium boasts a circular skylight to enhance the indoor light and air quality. The existing mall elevator is made adaptive to the visitors heading towards the preventive Health Check-up on the first floor.
With all the substantial rebuild happening on the inside, The exterior too, had to be revamped in such a way that the existing conventional mall [glass-ACP] exterior breathes into something which is more sensitizing and healing. The exterior palette is a homogenous composition of white and beige making the understated exterior look elegant and inviting. The large cantilevered emergency canopy adds grandeur to the building. The transition is evident and socially befitting.
This revamp also tries to highlight the stellar environmental and financial upsides of brown-field projects in terms of substantially minimizing the embodied energy that goes into the development of the infrastructure and also reducing the turn-around time compared to that of a green field construction. A significant epitome of adaptive-reuse in attempt to strike an equilibrium between the ever growing requirement for infrastructure and the dire need to prevent depletion of natural resources and combat global warming.
Project Facts
Project name: Yashoda Super Specialty Hospital, Kaushambi
Project location: Kaushambi, Uttar Pradesh
Architect' Firm: Creative Designer Architects [CDA]
Website: www.creativedesignerarch.com
Architects: Mohanbir Singh, Maninder Kaur, Ravideep Singh
Project Engineers: Gurpreet Singh, Anurag Shukla
Interior Design Team: Sanju Nim, Gaurav Khanna, Usman Ali
Completion Year: 2017
Gross Built Area (square meters or square foot): 180,000 Sq. feet
Photo credits: Suryan // Dang