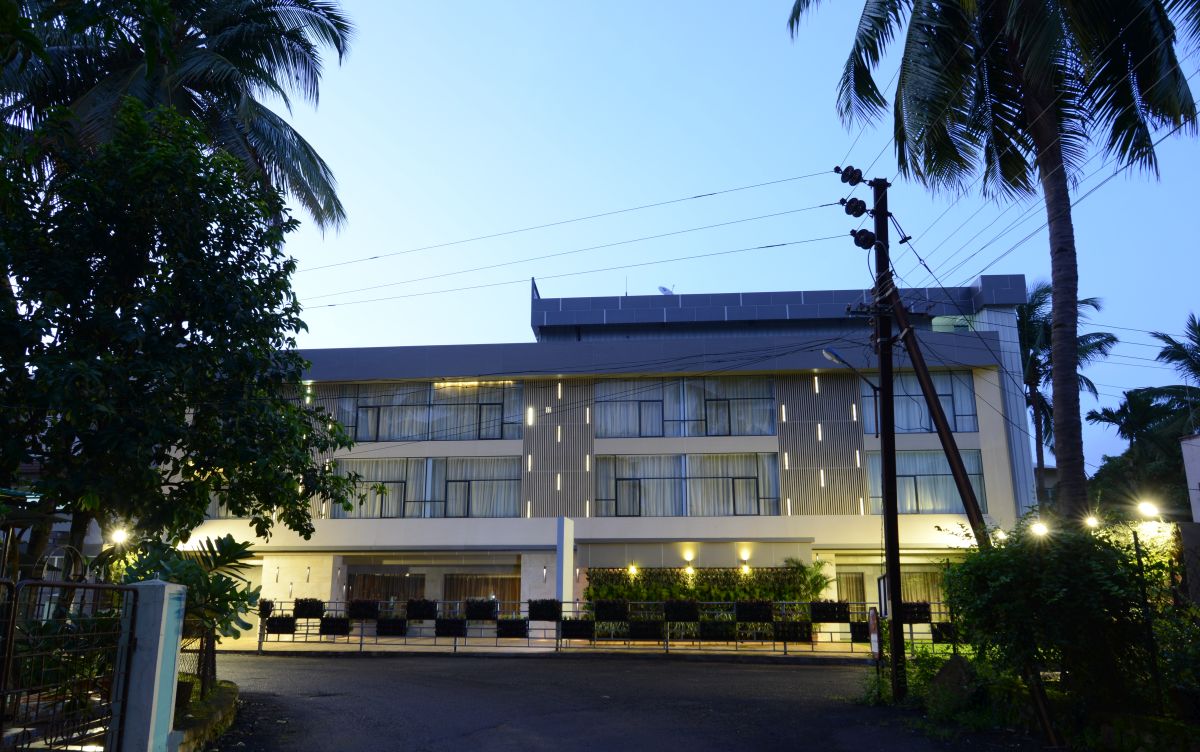 Located at a tourist destination a few hours away from Mumbai, this hotel serves as a perfect weekend gateway. The design is stark and simple with all functional areas well defined. it has a lavish entrance lobby overlooking the indoor swimming pool, a spa, a restaurant, 22 guest rooms, and 2 suites. It is a boutique hotel hence the design approach was to keep it minimalistic yet unique. The semi covered pool adds to the aesthetics of the space as well as lets in diffused light and ventilation.
THE STORY
This was a defunct building when clients approached us with a requirement of renovating the structure and converting it into a Boutique Hotel'  located on a one and a half acre of land abutting the Mumbai-Alibaug highway. Alibaug is a weekend gateway destination near Mumbai. The idea was to rework the site and make additions and alteration to the existing building and to come up with a fully functional hotel. The existing structure was aligned to the main approach road by a small open piece of land behind it. The requirements were worked out such that the property would live up to the client's expectations of a perfect Weekend Hotel.
The process meant doing the structural check and identify damages and leakages before we actually started the designing. Realigning of the service areas, functional rooms etc would suffice to make space for the restaurant, reception and a terrace garden area. After us often visiting the site, we realised that the portion of land behind this structure was perfect to accommodate and add value to the hotel by means of amenities like a banquet hall, spa and a semi-covered swimming pool. The rear walls of the existing structure were opened out so as to have a view of the swimming from the planned reception area. It added dynamism and life to the otherwise closed reception.
The amenities were divided into two blocks of trussed structures built with tubular section pipes, and open to sky courtyard between them letting in some mild daylight and ventilation. This structure with truss is covered by insulated G.I roof to ensure the space below remains cool even in extreme summer. The banquet hall overlooks the swimming pool area as well. The kitchen and other service areas like the laundry room, store room, admin areas are perfectly cordoned off and have a separate entrance. Considering the tropical climate there solar panels have been installed on the roofs which generate the electricity for all common areas and take care of hot water requirements for the entire property. A separate rain water harvesting tank has been installed which adds as a available water resource takes care of the water requirement off the hotel.
The overall design approach and material selection imparts a contemporary and earthy yet classy look to the façade and overall property, comfortable and chic rooms, well planned and easily accessible amenities make it one of the most sought after hotels in the region
Drawings –
Project Facts –
Area: 28,000 sqft | Type: Hospitality | Place and year : Alibaug, Raigad  2017 | Client: PNP Resorts and hotels Pvt Ltd