ADVERTORIAL
"Architecture is really about well-being. I think that people want to feel good in a space…On one hand it's about shelter, but it's also about pleasure." These words by the renowned architect Zaha Hadid, is in a way a fitting introduction to VK Group. Recognised by their commitment to user-centered designs and insightful innovations, VK Group's presence is global, but rooted in the local context.
Building design process and the role of architects have become way more complex over the years. Today, the projects are larger and demands much higher, and the need for a more integrated approach is paramount. This means that architects must collaborate with other professionals such as landscape architects, interior designers, urban planners, and environmental experts to create a holistic solution that meets the needs of the client, the environment, and the community. VK Group of companies has recognised this need, and has embraced it wholeheartedly. Headquartered in Pune and having offices in Mumbai, Ahmedabad & Dubai, the multi-faceted, award-winning practice has evolved into an architectural ecosystem with the 5 verticals – VK:a architecture, VK:e environmental, VK:i interiors, VK:o operations and VK:u urban – working in tandem with each other.
Legacy and Evolution: The VK:a architecture Journey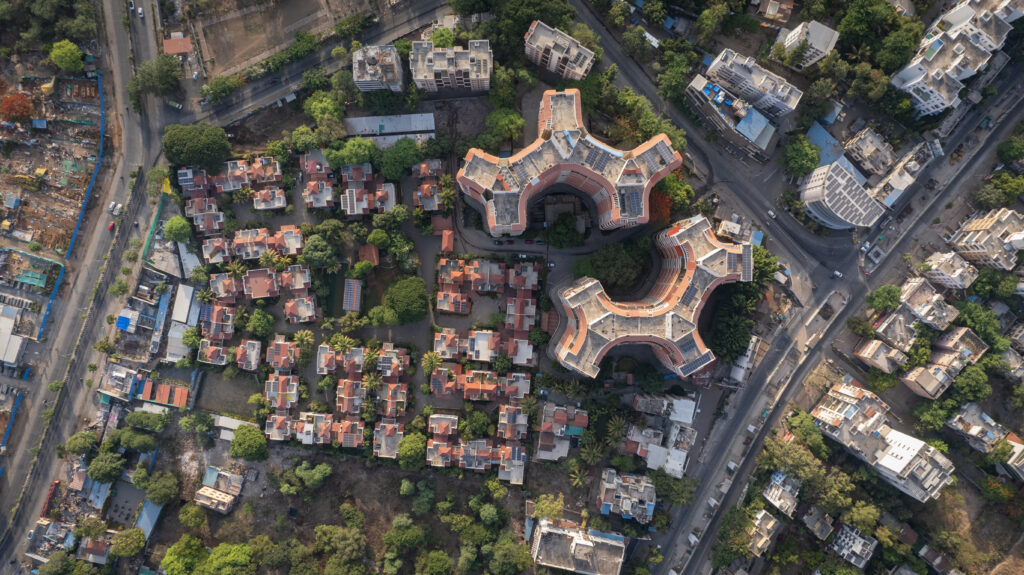 Most people still recognise VK:a by the name 'Vishwas Kulkarni Architects'. What began as a humble practice founded by Ar. Vishwas Kulkarni way back in 1973 in his Maama's wada (uncle's house), has stood out from the crowd through hard work, dedication, and his foresight to change with the times.
"The initial days were tough but exciting," chirps the now 73-year-old, "I made drawings by hand and took ammonia blueprints using sun printing. I used to rent a bicycle on which I went to the corporation to submit those." Being one of the oldest and largest firms in the region, the firm has undergone numerous transformations, challenges and achievements.
Fondly recalling those times, he shares, "When the people hired to work on these proved unsatisfactory, me and late Mrs. Deshpande [long time Director], attended programing classes and developed plugins to AutoCAD which made drafting much easier and accurate. Many architects purchased this from us as well." As their work gained recognition, the office underwent several relocations to accommodate the growing number of projects and team members.
The distinctive dynamism of the firm was further enriched by Ar. Hrishikesh Kulkarni, Vishwas Kulkarni's son, who brought in his post-graduation insights and work exposure from London. VK:a initiated a significant collaborative venture in 2006 with Ar. David Rhodes from London, solidifying its position as a stalwart in the realm of architectural partnerships in India. Holding the Directorship in all VK companies, Hrishikesh is the central thread in the verticals of the Group. As the Lead Director for various projects he governs the design delivery as well as technical expertise, accomplishing success in every project. Under the stewardship of Hrishikesh, VK:a initiated a team structure, enabling each team to autonomously handle projects, a transformation that further enriched the resilience of the firm.
By guiding their clients through all stages – starting from envisioning the project with feasibility reports to bringing it into reality through construction and post-construction consultation – they have executed many successful projects in residential, commercial, educational, recreational and public sectors. As the projects diversified, specialised teams were established, including VK:i interiors in 2010 and VK:a Landscape team in 2021. With a large number of redevelopment projects in Pune, they have also initiated Intelligent Project Delivery Solutions (IPDS) in 2021 to assist the process.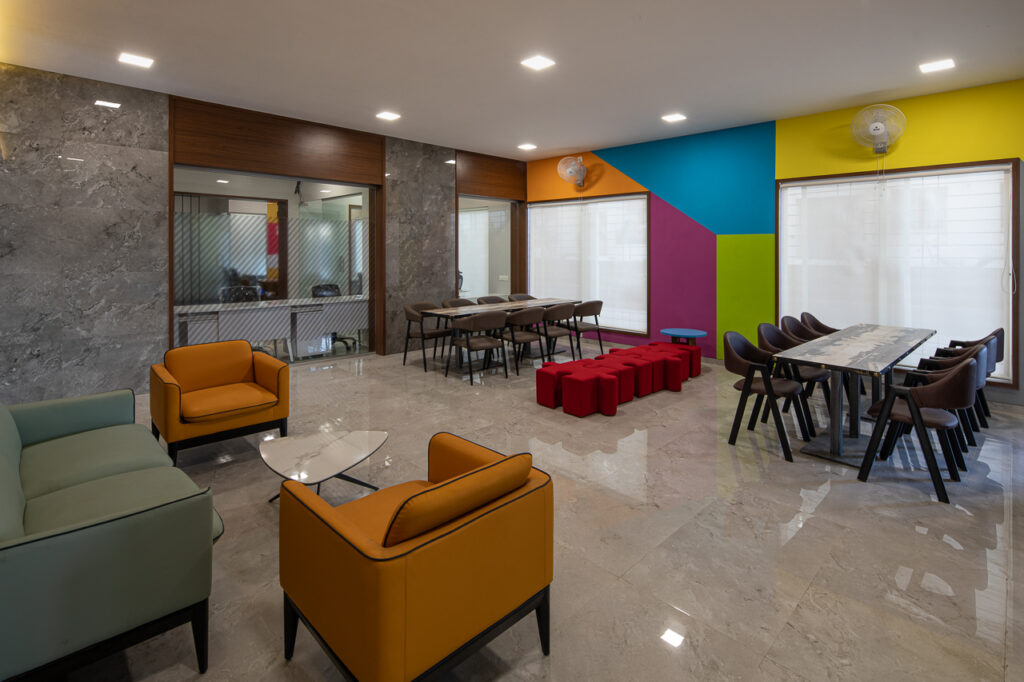 Sustainability as a Driving Force: VK:e Environmental
When the Green Building Movement was just kicking off in India at the beginning of the millennia, Ar. Anagha Paranjape-Purohit (an environmental planner, GRIHA Trainer and IGBC Evaluator) and Dr. Poorva Keskar (LEED AP, TERI GRIHA Evaluator and Trainer and ECBC Master Trainer) recognised the need for a consistent and systematic guidance to ensure projects aligned with the emerging rating systems. As a qualified Assessor in BREEAM (Building Research Establishment Environmental Assessment Method), UK, Hrishikesh brought in the expertise in energy efficient designs and built environmental simulations.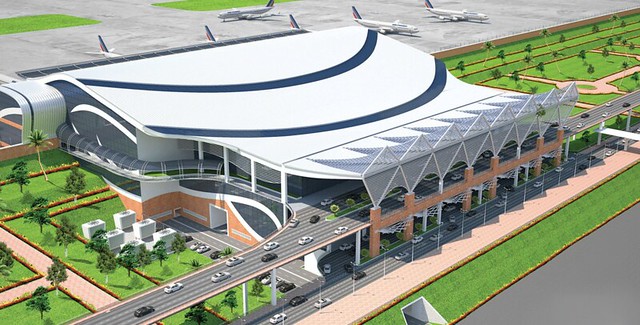 In the past 15 years, VK:e has been instrumental in raising awareness about sustainable practices within the sector, with a portfolio encompassing over 650 projects, including the 1st IGBC Green Homes Platinum Project in Maharashtra, 'Oval Nest', Pune. Their remarkable contributions have earned them the IGBC Green Champion Award 2019, for the largest Green Building Footprint as Consultants. Beyond feasibility and facilitation of Green Building Certifications VK:e also specialises in ESG (Environment, Social and Governance) Reporting, Life-cycle assessment and environmental product certifications. This allows VK:e to offer a one-stop solution for green and energy-efficient buildings, products and services.
The organisation's dedication to a greener future is amplified through Sustainability Initiatives (SI), an NGO that works to create a strong network of researchers, academicians, and professionals who could help develop meaningful research in the environment and energy sectors that could further be applied towards resilient city planning. Through trainings, outreach, advocacy and publications, SI hopes to enhance the urban quality of life.
Transforming Urban Spaces: VK:u Urban
The common will to get involved in large-scale masterplanning, regional planning and public sector projects that could have a long-term positive impact on the city and its people, instigated the partnership between Ar. Hrishikesh Kulkarni and Ar. Vijay Sane. This led to the inception of VK:u urban in 2015, focusing on masterplanning, urban rejuvenation, and transformative urbanism. Armed with global experience and real estate knowledge, Vijay's expertise has been instrumental in overseeing the successful delivery of townships, smart city developments, mobility infrastructure and industrial projects.
Their involvement in projects like the Pune and Solapur Smart City plans reflects their dedication to creating meaningful urban spaces. "These projects are very painstaking as it takes 3-4 years for them to materialise after conflicts with different stakeholders, contradictory requirements and political pressure. The process can be intense, with moments of self-doubt. Yet, seeing these projects executed on-site and witnessing people using the spaces as intended brings immense satisfaction," says Vijay Sane.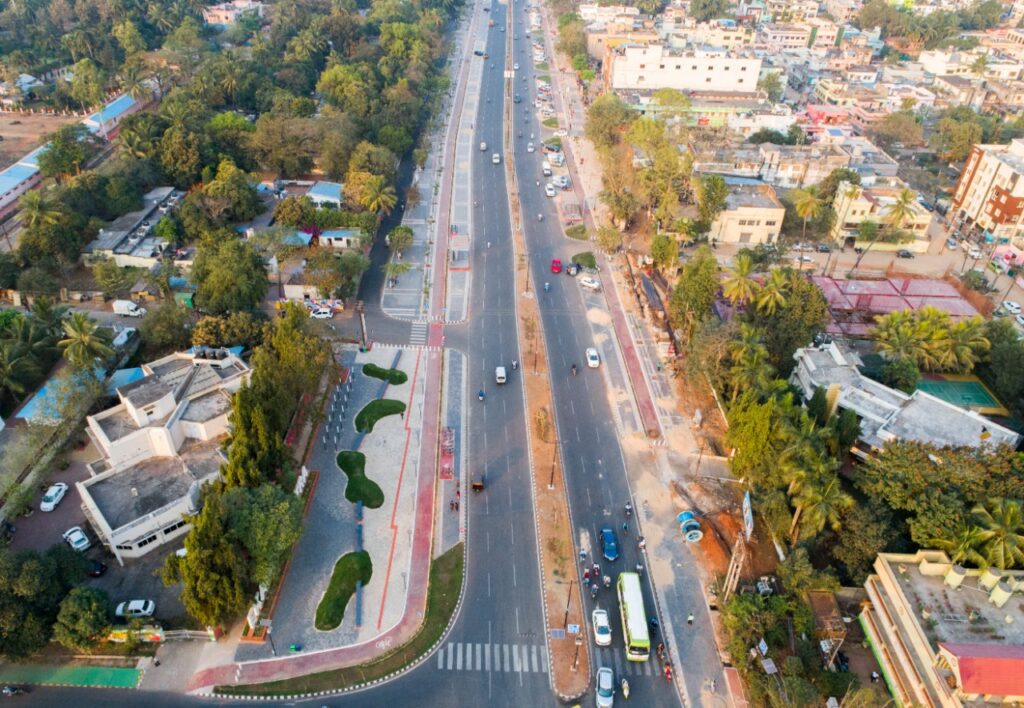 Efficiency Through Management: VK:o Operations
There is a general consensus that "architects are bad at business." Good business operations require continuous improvement and a commitment of resources to examine what is and isn't working. "Our greatest strength is a robust operations system, which is very often not there or talked about in architecture companies," remarks Ar. Dwaipayan Chakravarty, Jr. Partner at VK:a. VK:o operations, headed by Apoorva Kulkarni and Deepa Bokil handle the entire breadth of backend operations like HR, quality control, Accounts and IT. Maintaining a system in the organisation and having the acumen to segregate core competencies and operational requirements has allowed the architects and designers to concentrate on producing best solutions to the clients. This has allowed scalability, with VK:o handling trainings to nurture new talent and built aptitude into the work culture with new joinees.
Work Philosophy: Polyphony
In the architectural realm, a familiar pattern emerges where a single principal architect's voice takes center stage, guiding the firm's vision and projects. This traditional approach resembles a homophonic musical composition, where one dominant voice prevails while others are simply elaborate accompaniment patterns.
This ethos is exemplified in VK Group's organisational structure, where multiple partners head various verticals, and team leaders oversee teams within each vertical.
The in-house engineering, quality control, liaisoning and MEP (Mechanical, Electrical and Plumbing) teams work along with the verticals to form a thriving architectural environment that supports each other. Every team works like a separate firm, with architects, draftsmen, technicians and support systems which helps eliminate dependencies, enabling projects to progress more seamlessly. Reflecting on this approach, Ar. Raksha Kapley shares, "While we get the necessary support from the directors, we get the freedom to handle our projects from start to end – from talking to the clients, till supervision on site – so we get 100% involved in it and it becomes fun to work. As an Associate Architect here, now I feel like I am running my own firm rather than working for someone else!"
Ar. Dwaipayan Chakravarty emphasises the sense of ownership that emerges from this autonomy. He notes that individual personalities contribute to the company's unique flavor. This approach fosters an environment where each person's working style is encouraged to flourish, all while prioritising success for developers, contentment for end-users, and timely, budget-conscious project deliveries. These principles are not just imposed, but rather ingrained through constant discussions and conversations.
Competitions push architects to explore beyond the ordinary and how to successfully represent those visually. Especially in India where architects are not allowed to advertise their work, competitions and awards become a platform to showcase expertise or to venture into a new area of work. For VK:a, such proposals also became a gateway into the realm of Government buildings and projects, from the first Government Project won in 1992. With a keen interest in experimenting in design, Ar. Vishal Deshmukh, Jr. Partner at VK:a, was instrumental in establishing the Design Cell under VK:a in 2015. It comprises of a few talented architects dedicated to working on competition projects and developing innovative proposals. "The lack of restrictions allow a free-flow of ideas beyond the constrains of material, form, structural possibilities, service requirements and budget" he says, "which often limits the imagination in the real world practice." But beyond that, competitions have exposed VK:a to different ways of design, approach presentation, and to take inspiration from fellow practices. Internally, it has improved coordination between multiple teams and the research done always spilled over into the on-ground projects, enriching their output.
VK Group's collaborative spirit extends beyond its internal teams to international architects and design consultants. Collaborating not only on international projects but also serving as their local partners in India, VK Group gains exposure to global standards and practices.
Nurturing a Positive Work Culture
In the fast-paced world of architecture, success is not solely determined by the grandeur of designs but also by the people who bring these visions to life. With employees who have been with the firm for decades, it's evident that VK Group's positive work environment fosters loyalty and growth. Ar. Anurag Mulay, a team lead at VK:a, reflects on his nine-year journey with the company, remarking, "I never thought I could work at one place for more than a year or so, but I'm still here and I don't think I'm going anywhere. There's always something new happening and new to learn." Recounting her own trajectory, Ar. Raksha Kapley takes us back 16 years when VK Group consisted of around 50 architects working in an open office. This arrangement provided freshers like Raksha, the remarkable opportunity to directly engage with senior architects, thus fostering professional development and growth, which continues even today.
Bandu Fuke, who started as a technician 20 years back, shared how VK Group recognised his potential and supported his growth: "Seeing my involvement and interest in quality control, I was made the Quality Control Manager. I am happy to work where I'm recognised and my work is valued." Sachin Doshi's 14-year voyage with VK Group echoes a similar narrative. Having transitioned from a junior engineer to an Associate, Sachin underscores the approachability of all members, from Directors to support staff.
VK Group's enduring commitment to its employees' growth and well-being serves as a foundational element of its continued success. By fostering an environment of acceptance, learning, and support, VK Group not only creates remarkable architectural achievements but also nurtures a community where individuals flourish and reach their full potential. This distinctive culture, characterised by mutual respect and a spirit of collaboration, has become synonymous with VK Group's identity and remains a cornerstone of its ongoing achievements.
A Collaborative Spirit for the Future
What had started as a firm with two employees has today grown into an architectural ecosystem with 270+ qualified architects, urban designers, planners, landscape architects, environmental experts, civil engineers, valuers and business managers under one umbrella. VK Group's success story is a testament to their distributed leadership, collaborative ethos and innovative approach, positioning them at the forefront of architectural practice in India and beyond. They understand the importance of incorporating the latest technologies and materials to create buildings that are not only are functional but also sustainable. They have also recently published a collection of some of their unbuilt works over the years, 'Unbuilt.01: unrealised explorations by VK:a architecture'.
ADVERTORIAL