Challenges
The challenge was refurbishing the existing office café, which goes with the office theme. We had to work under given constraints of furniture, structure and spatial design. Another challenge was to execute the café under a given time as the company had no other place for lunch and the café had to be delivered on new years 2020.
The design challenges were creating elements which matched the existing theme of the office and to make the place more functional and durable.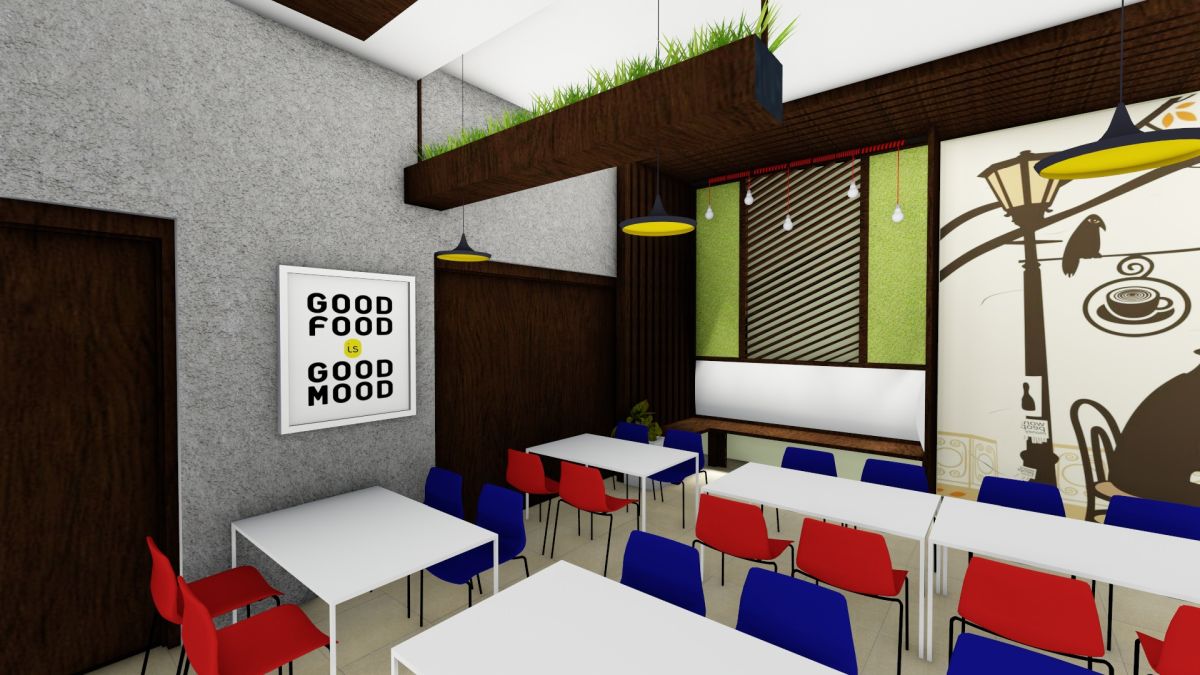 Our Idea
Starting with the spatial planning, we wanted to give a new designated place in the cafeteria for informal seating, a sofa with a table where people can take a break from a busy place and read a book, lie down for a while or chat with the friend. The same seating could also be used as extra seating during lunch time. We wanted to create a place designated for handwash and keep the wet area separate from the café but still be a part of it. The idea was to light up the space, make it more cheerful and introduce greenery inside the café, to provide a relaxing feel. The wall on the right had existing louvres which became the source of our inspiration to make a café with variation of louvres which can bring a transparency and uniqueness to the place.
What we Did
We created an informal seating at the back of the café, which had a L-shaped Sofa, with a cushioned back and louvers on the side. The wall on the right had existing louvres which became the source of our inspiration. The similar louvres were continued on the ceiling and the wall in front to enclose the informal seating that was created. Also, louvres were then continued on the ceiling in the wet area. One of the side walls were decorated with abstract pattern of hexagons which blended in the louvres on the side. The other wall was textured painted as to keep it clean during the time of service. The color combination used were grey, brown and white. We created hanging installations which also contained lights and helped to light up the entire place. The installation was of a grass planter on the ceiling with a downward light on the tables. The service counter was created with statuario (white) stone and black granite on the top. We hanged a louvred jail similar to jail on the informal seating on top of the service counter to create a resemble the louvres on the ceiling and the walls. The entrance walls were painted in strips, the idea to create louvers with the paint on the wall. It also created an illusion while entering and highlighted the company's logo. A Similar louvred jaali was created on the entrance to give the sense of entire theme while entering the café. Conical hanging lights were developed to break the monotony of straight lines in the space.
Project Facts –
Title of Your Project : Hexa Louvred Cafe
Name of the Principal : Aayush Chaudhary
Name of the Firm : ACad Studio
Project Status: Completed
Project Location: Carrier midea, Sector 32, Gurugram, India