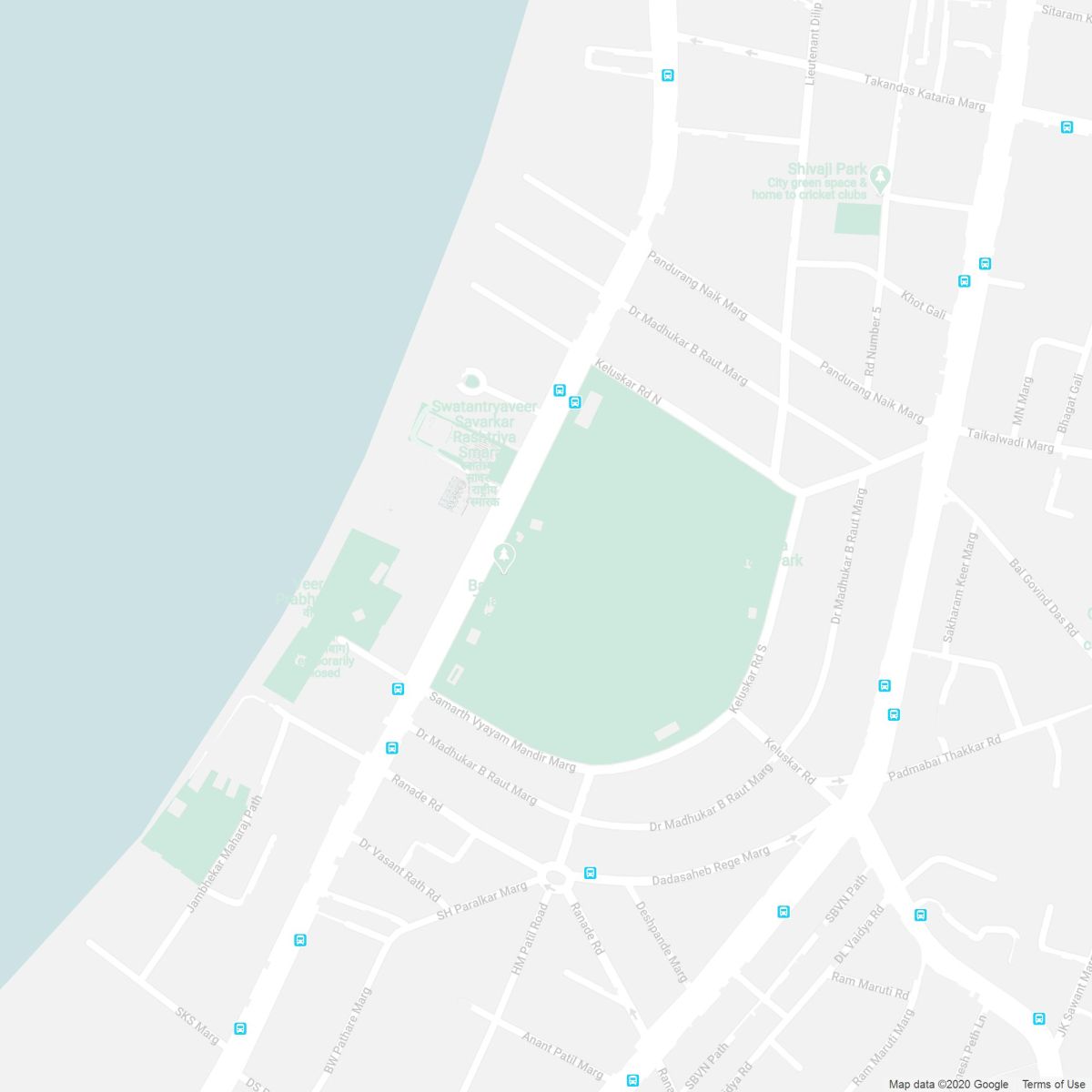 Chhatrapati Shivaji Maharaj Park is the largest park in Mumbai; situated in the residential area of Dadar. This park along with its several cultural and historic values has a great green space where on a given day, folks come to walk, jog, run, play, exercise or even sit on the low boundary wall called katta. It is a popular hangout for all age groups. For running, there are paths of 1.2km on the perimeter of the 28 acre park. The walkway is lined with large rain trees.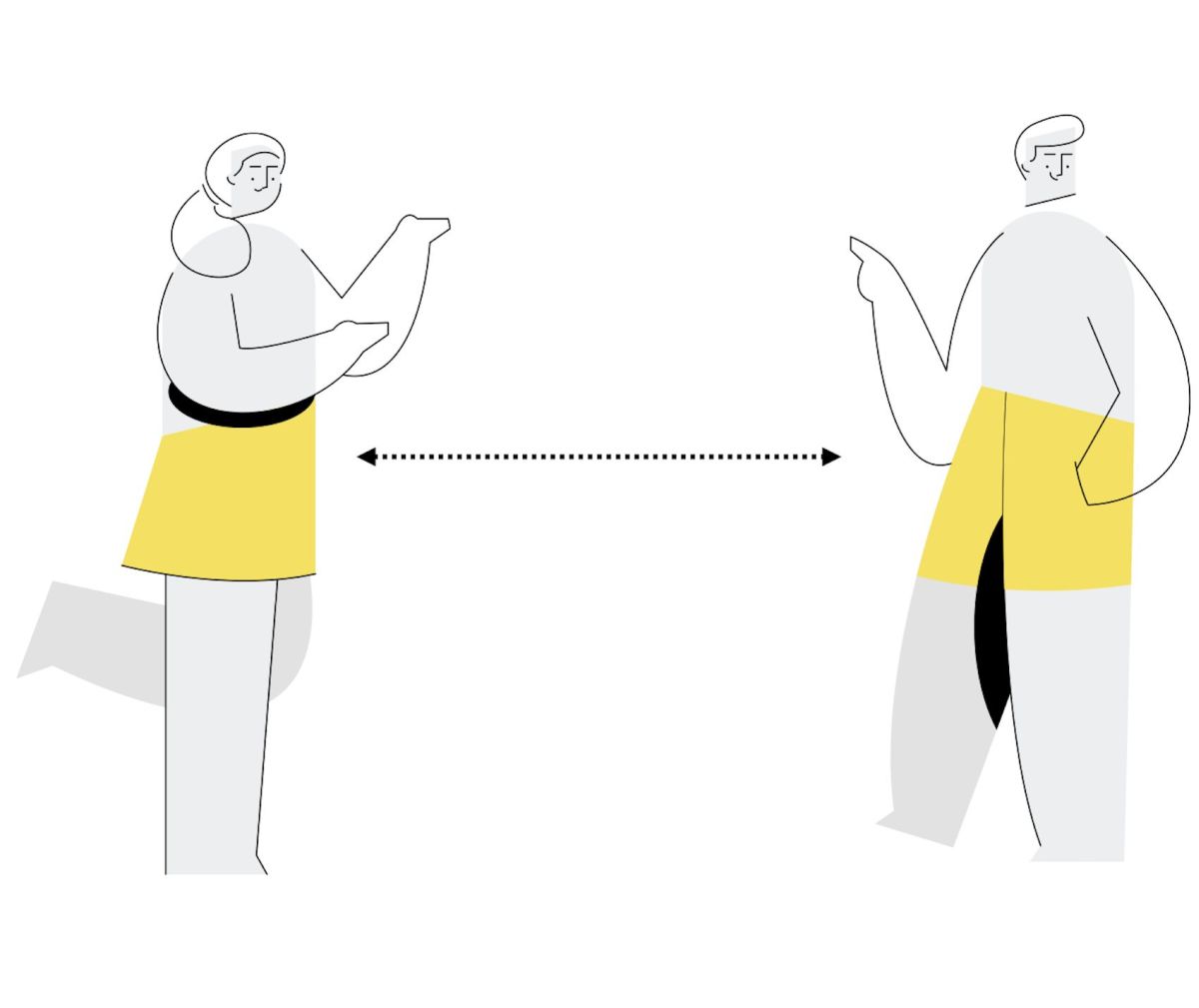 It is important for people to start living in a world with coronavirus in it, at least till the time a vaccine is formed for the same. With the 'new-normal' in order, it is also important to re-think certain spaces to fit with the current situation. With unlock 1.0 in operation in Mumbai, public spaces are opening for public, and so is Chhatrapati Shivaji Maharaj Park. Shivaji Park being the largest park with diverse culture and activities practiced on daily basis, it is essential to re-think how to operate the park activities with social distancing and safety, in order to prevent people to get sick. It is also important to prioritize people's mental and physical health. Exercise and relaxation — both of which are crucial activities for maintaining both physical and mental health.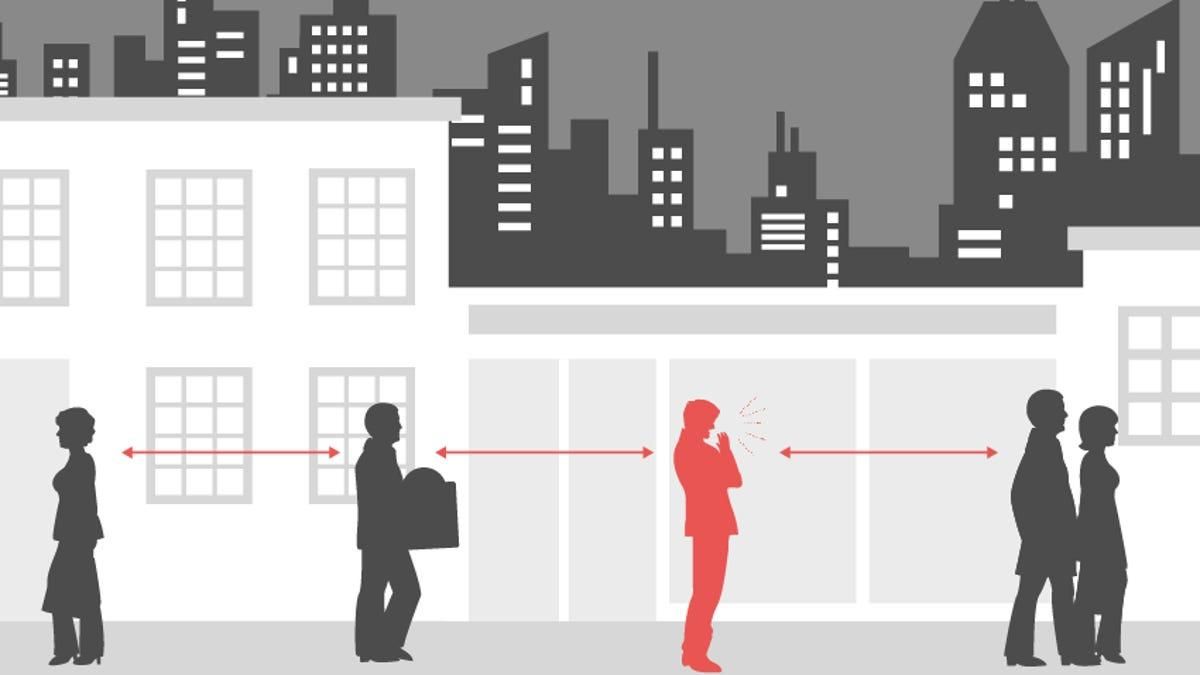 Activities At Shivaji Park:
Walking
Jogging
Running
Cycling
Exercise & Fitness
Yoga & meditation
Simply sit
Talk in groups
Sports
Aim
To re-think public space in a way that it keeps public comfortable as well as safe.
Objective
To develop a hyper-local model by implementation of social distancing.
Creating more safe, roomy option for walking.
To generate a sense of responsibility among public.
CREDIT: COUNCIL FOR RELATIONSHIPS THE PROPOSAL
THE PROPOSAL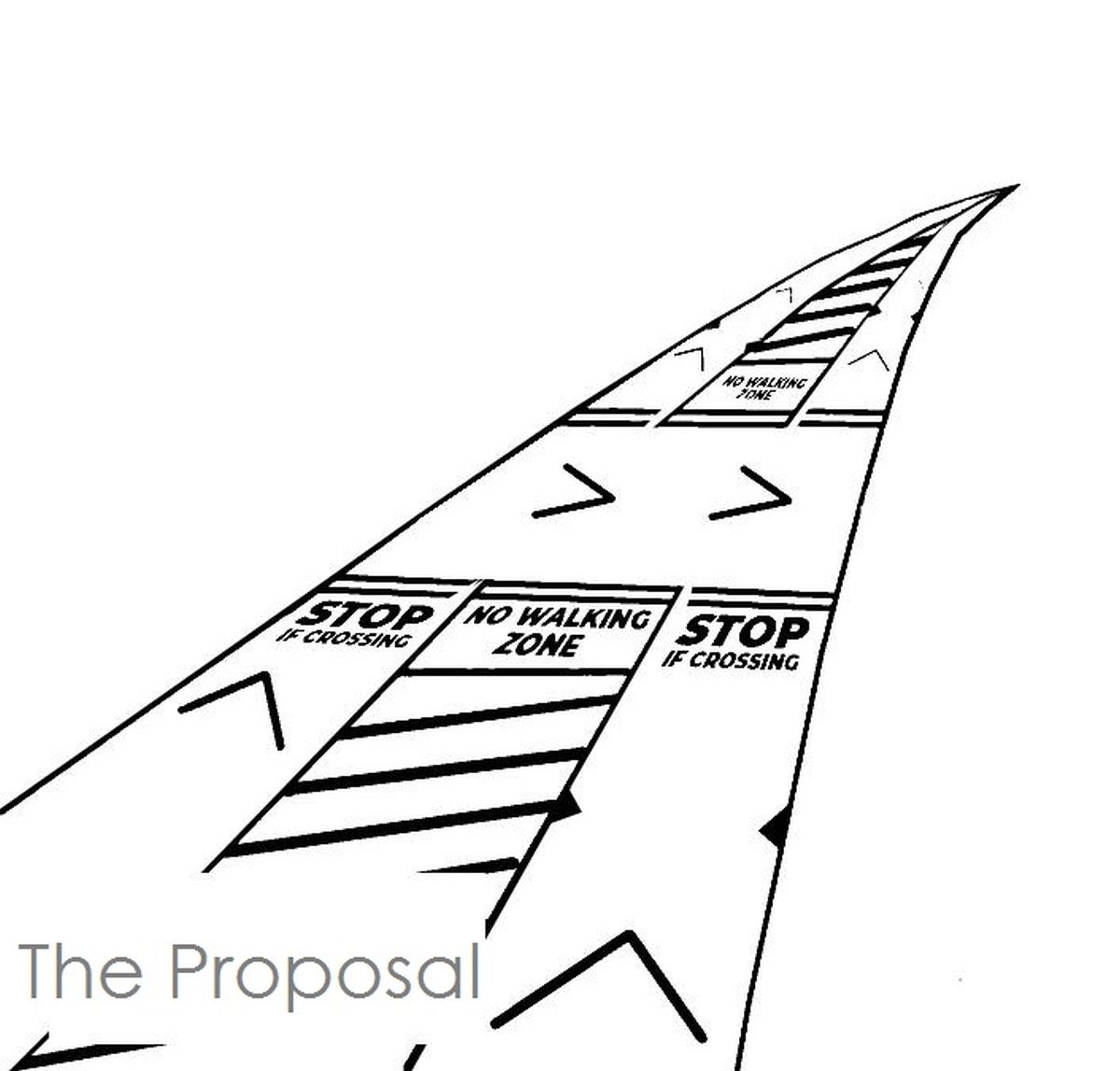 Aspects of the proposal
Segregation of pathways into tracks for walking and jogging.
Making the tracks uni-directional.
Adapt hyper-local programming for safe, physically distant norms by creating a physically distant block between tracks.
Apply social distancing of 6 feet rule to these tracks.
'X-ing' out the spaces on benches.
Marking Safe spots to sit on undisturbed seating like 'katta'.
Posting wayfinding arrows and significant signages for people's awareness.
Dedicating selected portions for senior citizens only
SITE PLAN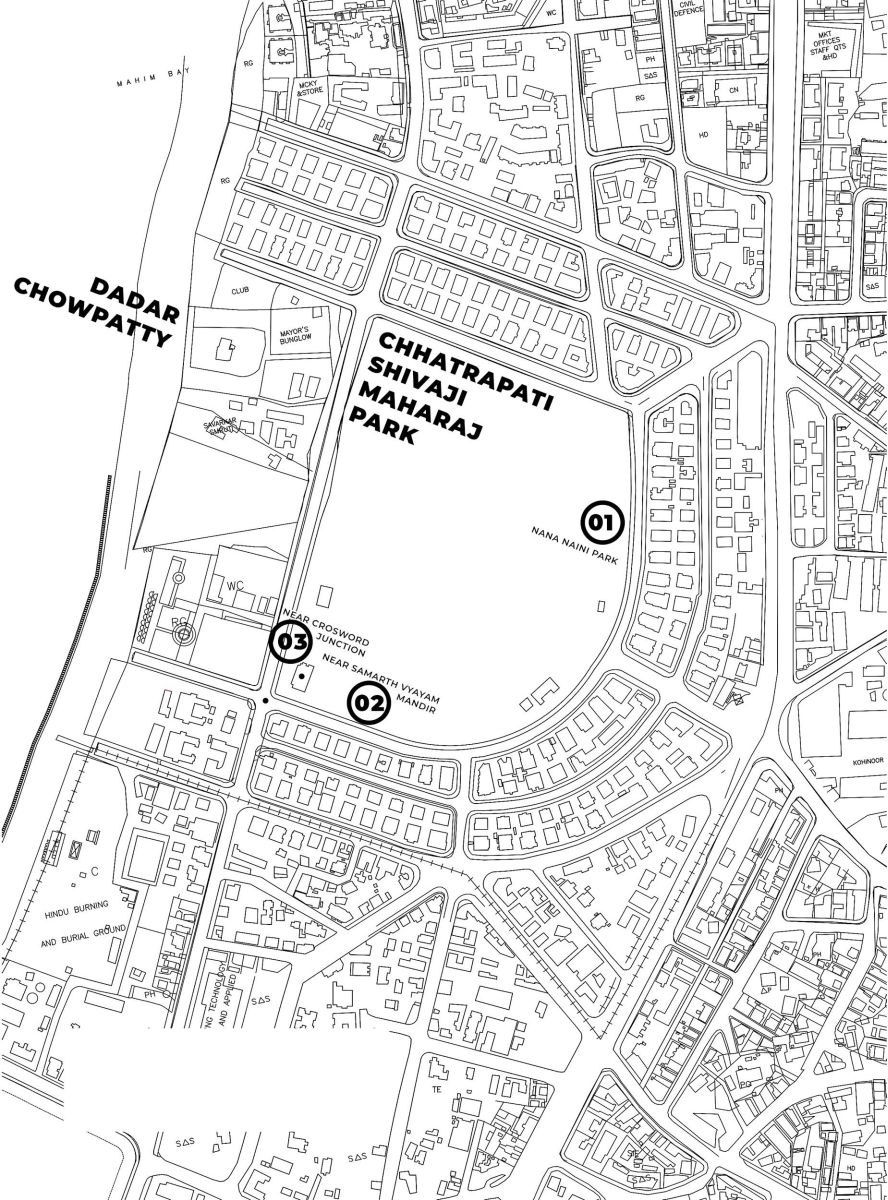 The proposal has been developed as a model for a public park where people can walk, jog or sit without coming into contact with one another. The idea of the design is to split the existing 2 pathways which are separated by the katta into 4 tracks, such that it forms 2 unidirectional tracks each; allowing people to enjoy the park while also following social distancing guidelines. Each track procures scales with 6 feet markings, organised alternatively in adjacent lanes. Only one person is ideally allowed into the 6 feet space at one time. Such design is important because our habits are triggered by cues built into our physical environment. If everything looks and feels the same, we will habitually revert to old behaviors.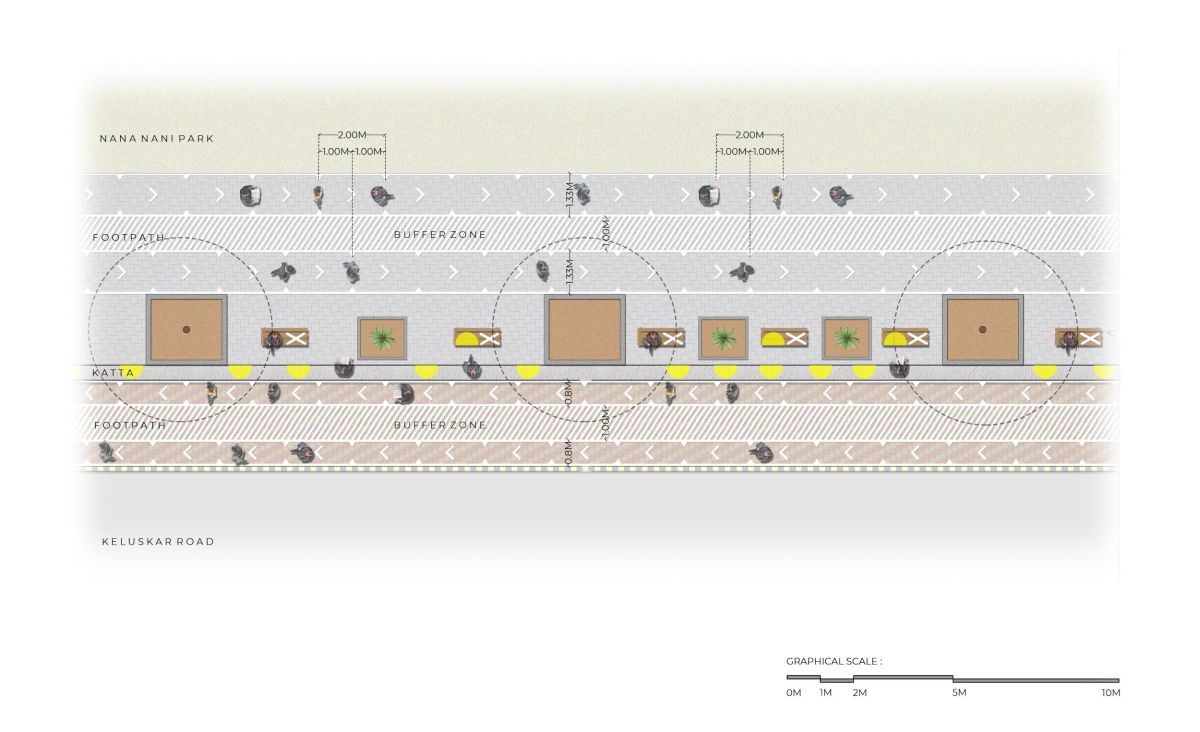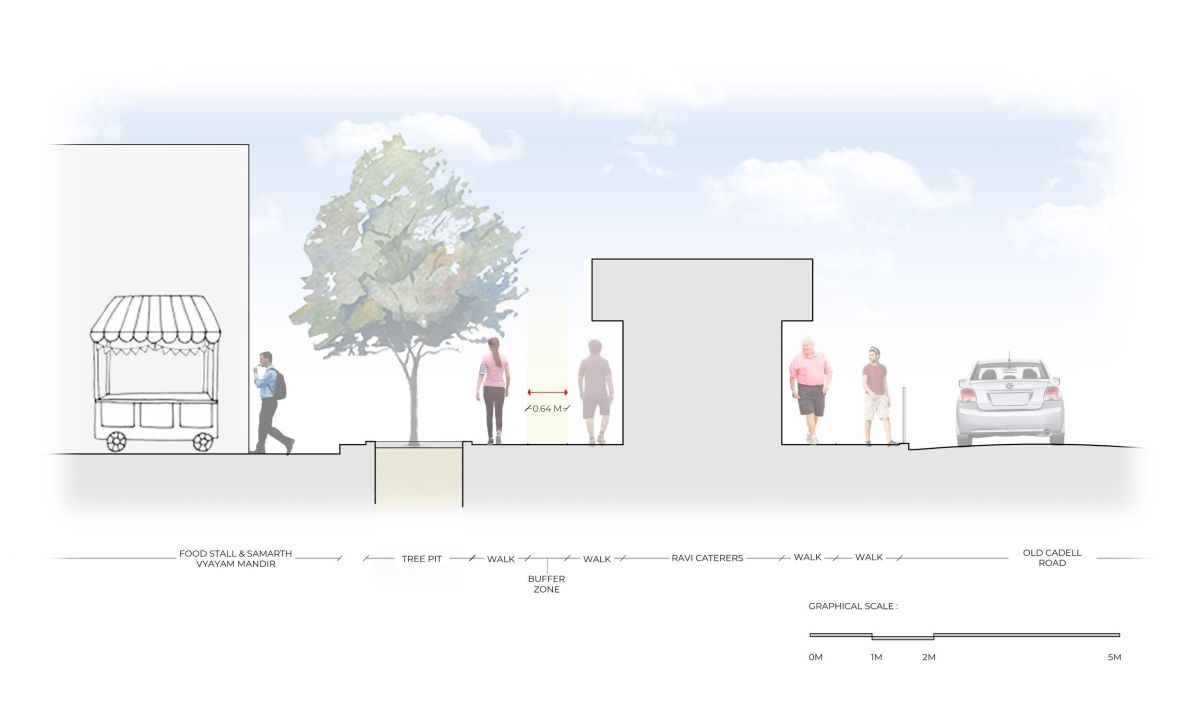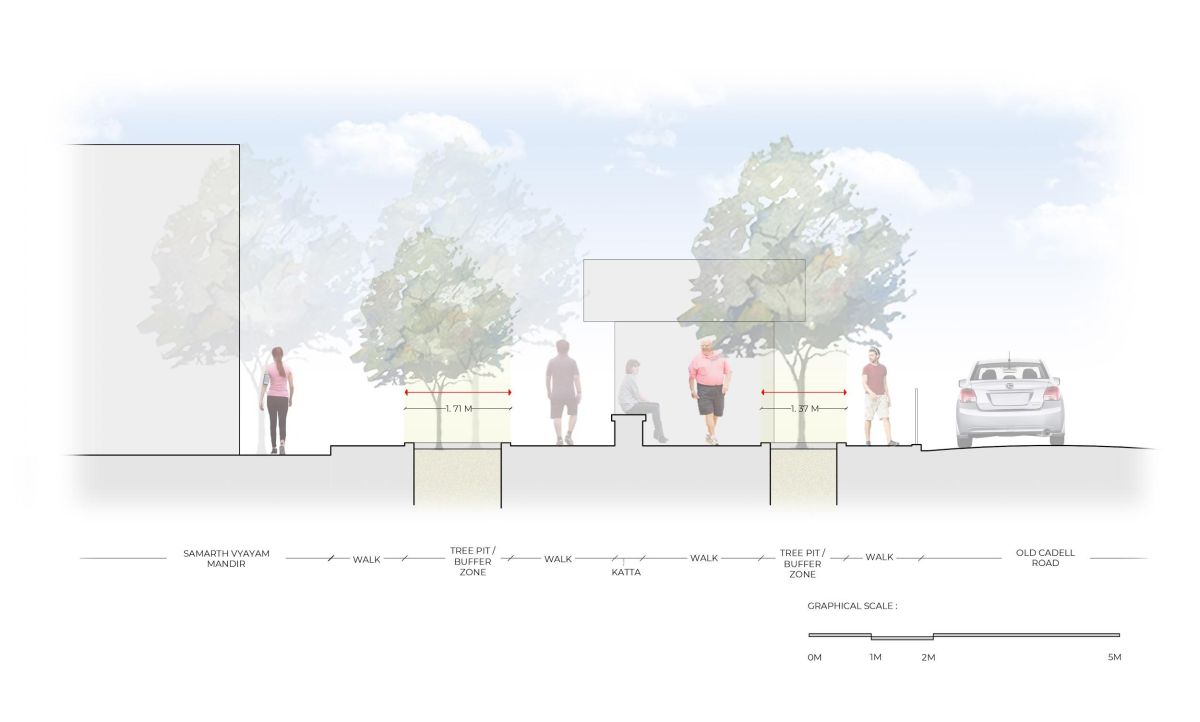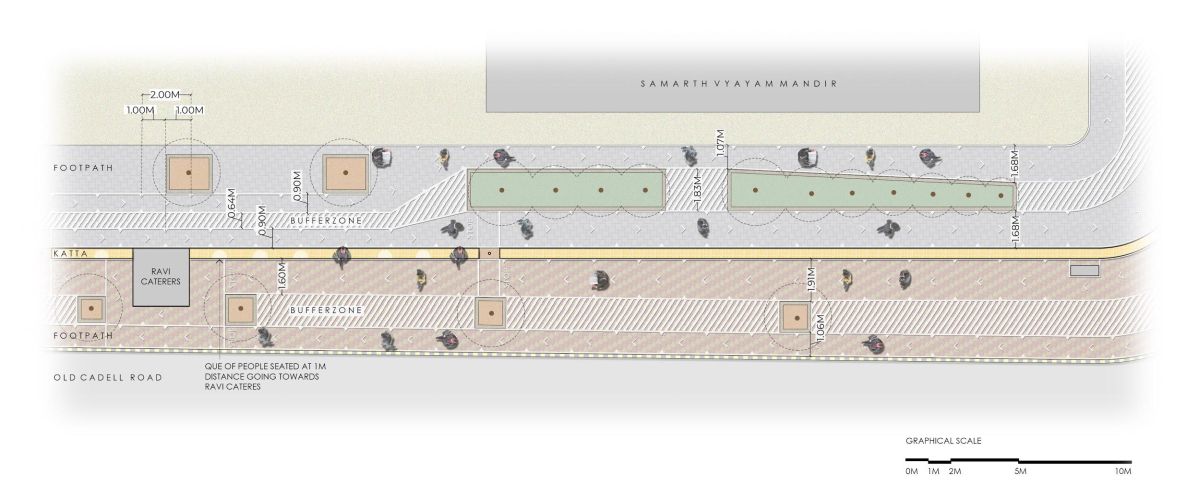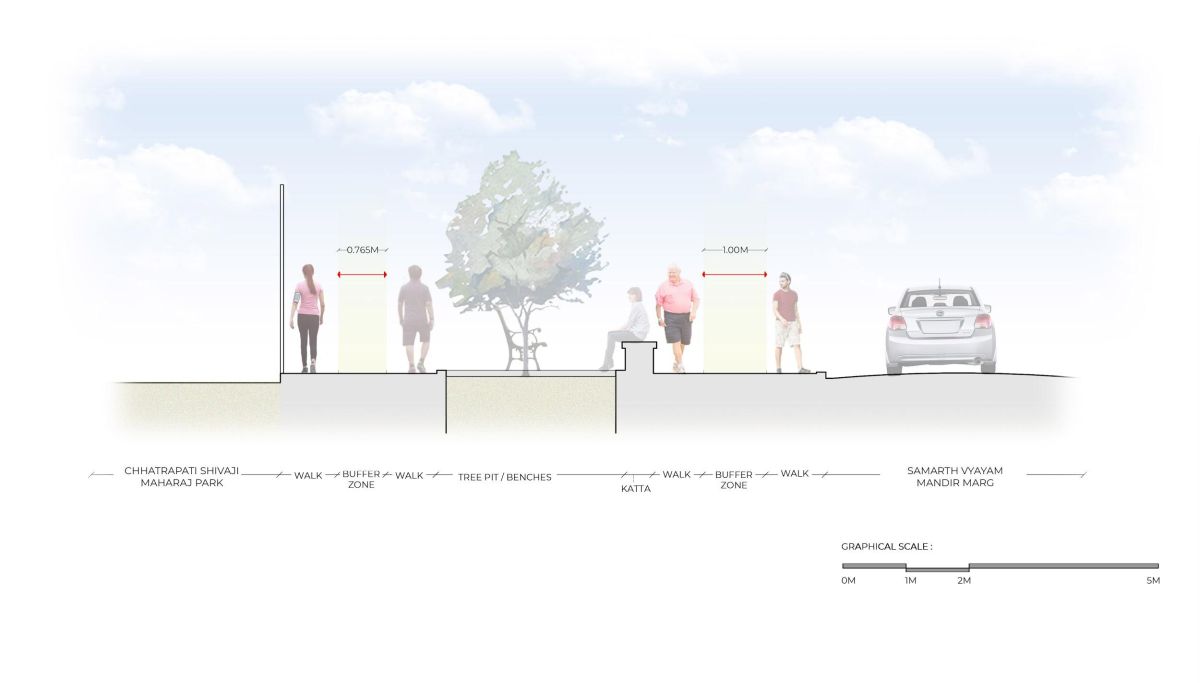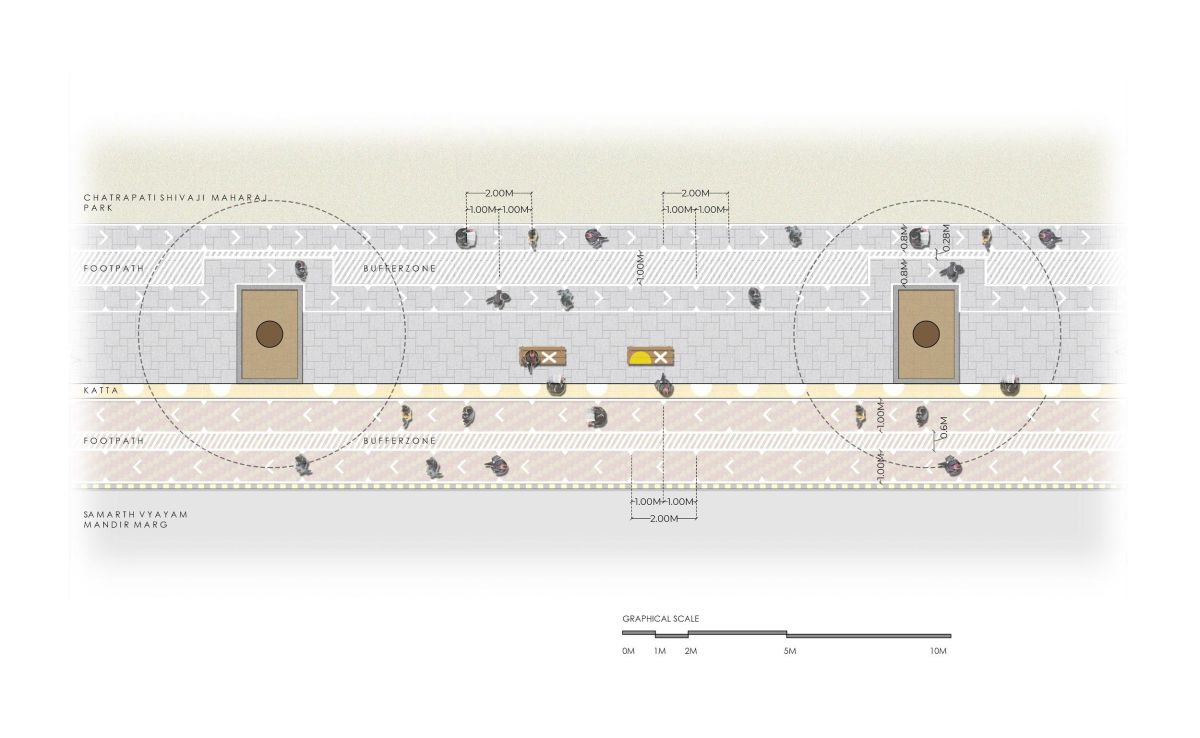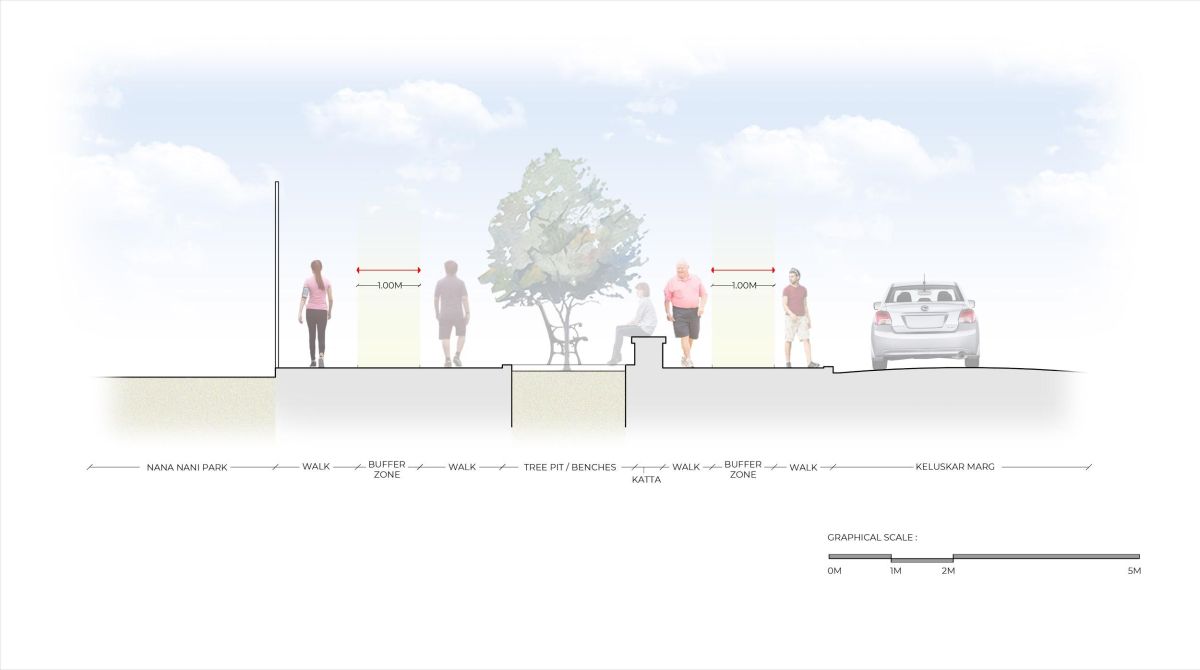 PROPOSED SITE IMAGES
SIGNAGES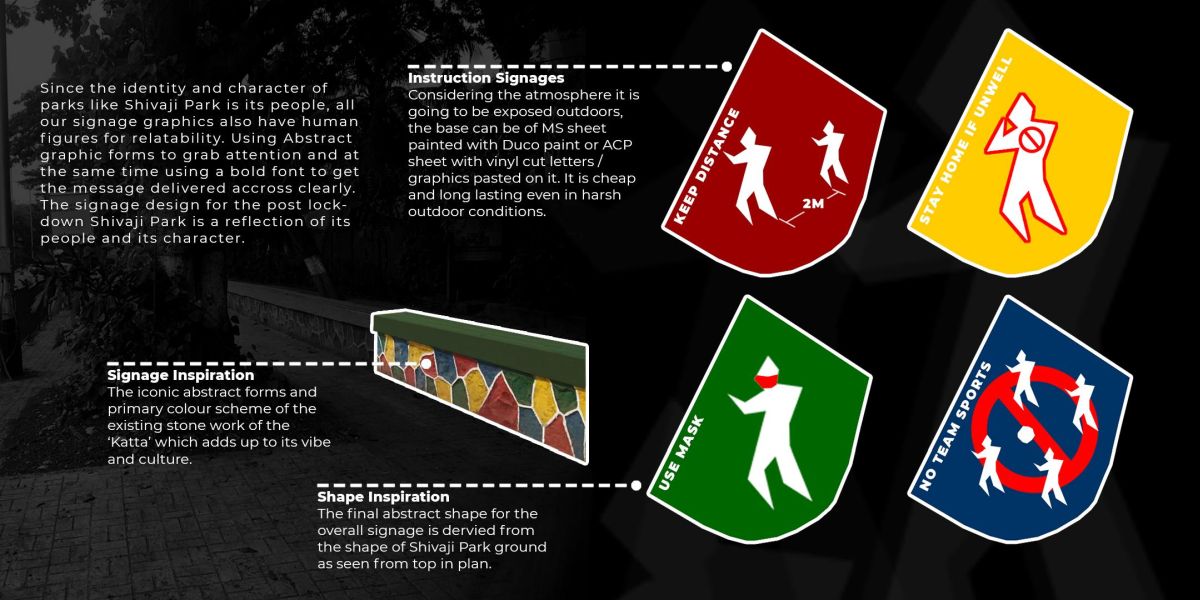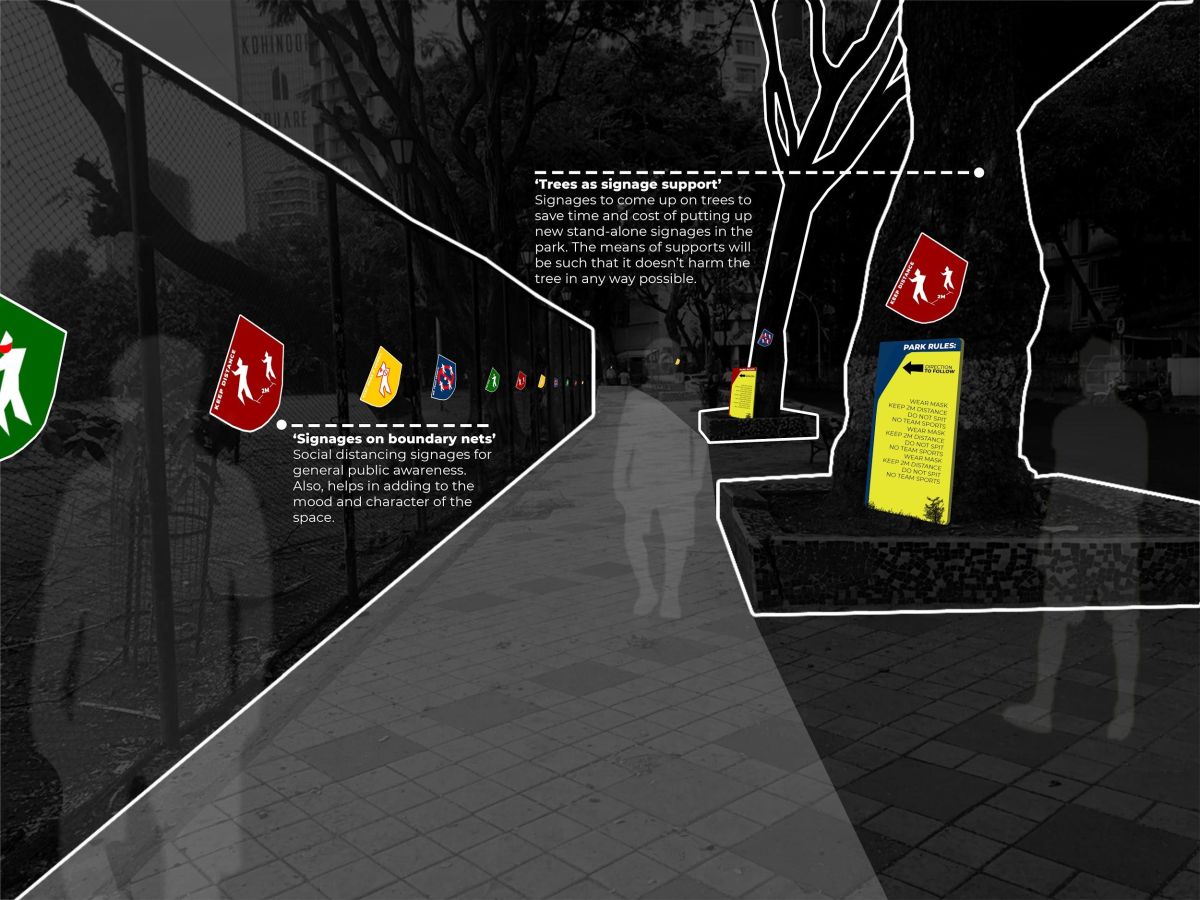 In difficult times like these, signages plays an even bigger role than before. It is necessary to use the signs to communicate in a friendly way and not induce stress among people. For that matter, the colour palette and typography of signage is of utmost importance. When selecting the signage system, it is important to fully consider what is most important to the people who are returning to these spaces. It should be considered introducing friendly messages like 'welcome back, 'lets wash our hands to protect each other' or 'let's wear masks'.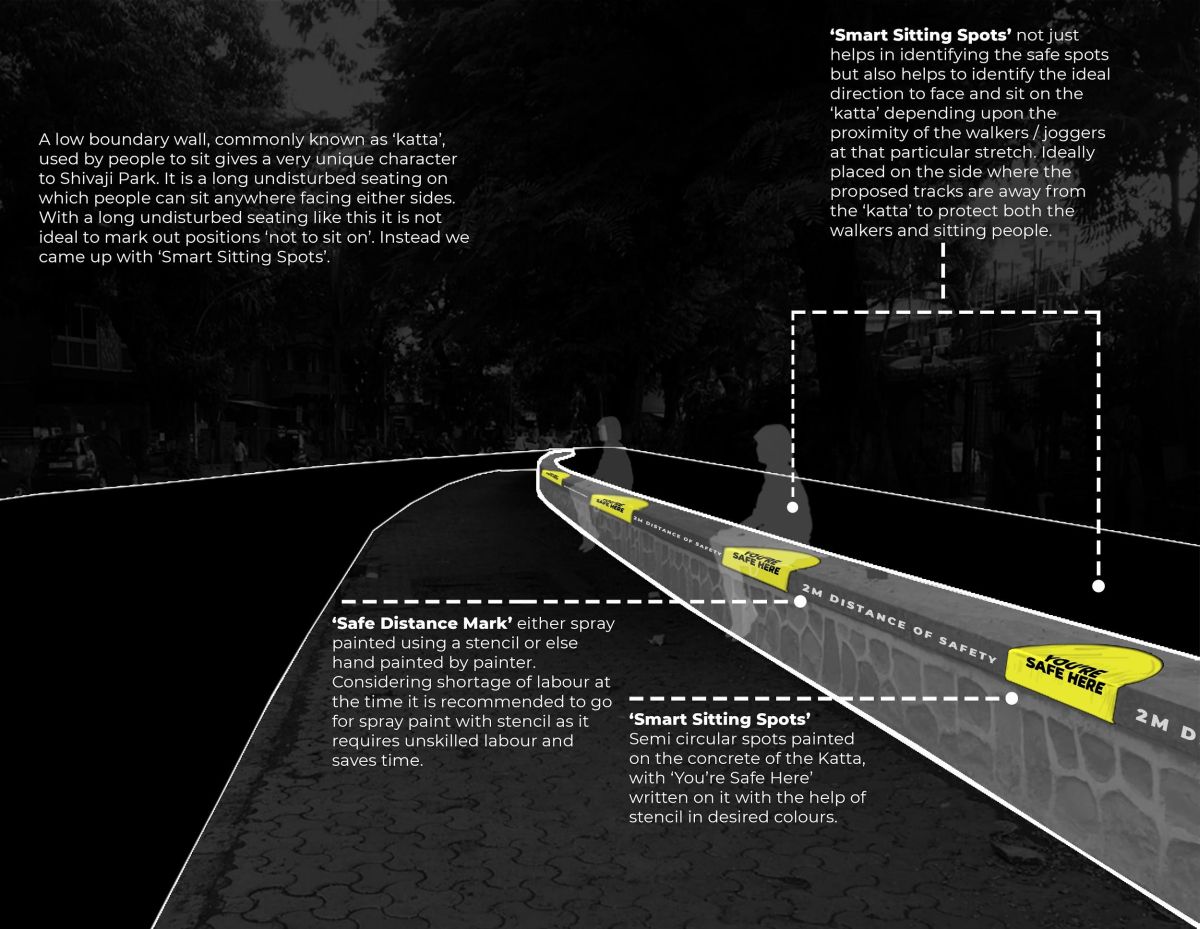 There needs to be constant reminder of the situation in order to keep the people aware. Signages like smart sitting spots must be implemented to direct people. Helpful signages like these makes people know that new measures have been implemented.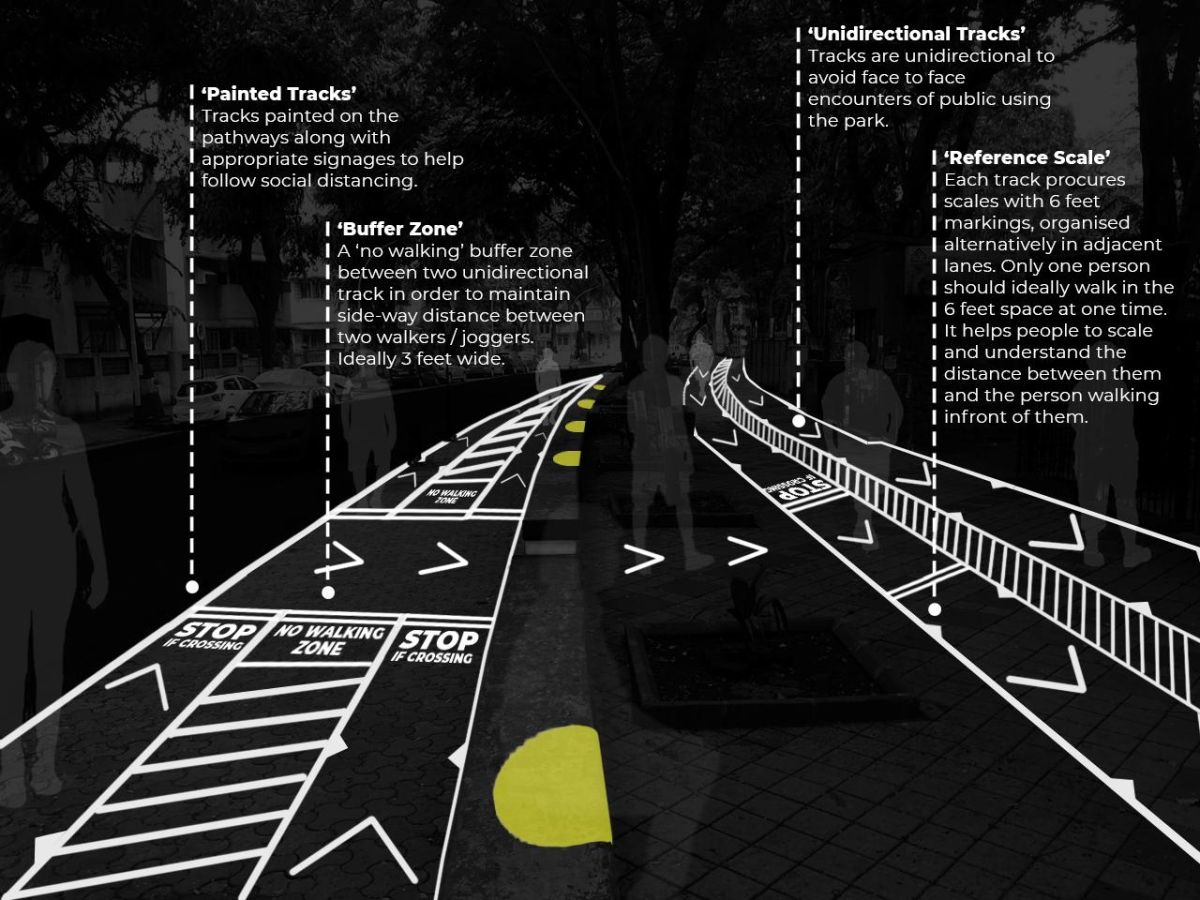 SIGNAGES When used correctly, instructional signage, positive messages, and iconography can enhance the user experience. New signage and wayfinding graphics, when thoughtfully implemented, can encourage practices to help people navigate in this new world.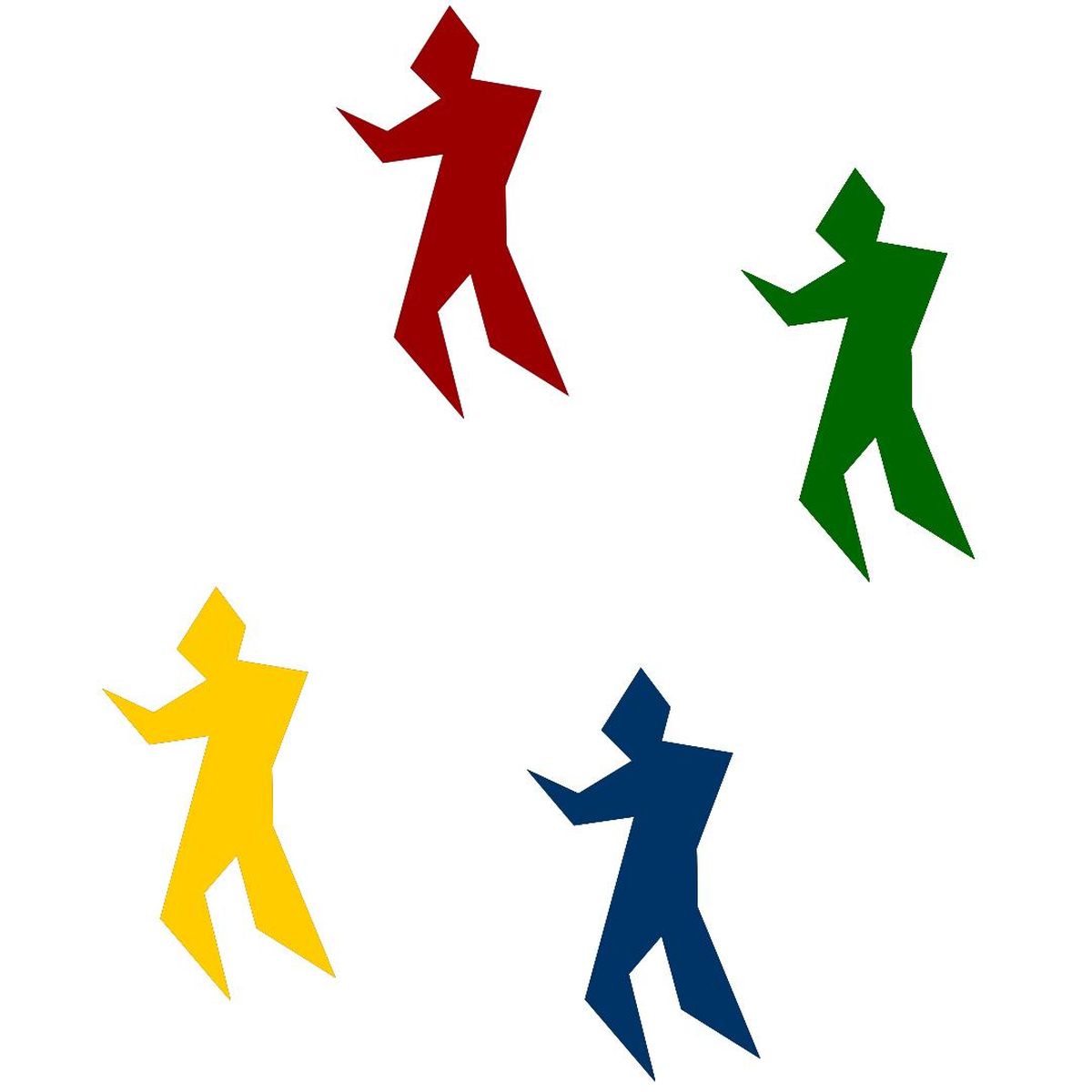 The concepts of inclusion and social distancing seem contradictory. Despite today's very real health need for us to keep physical distance from one another, psychologically – we need to be and feel connected more than ever to continue carrying out our philosophy of "people helping people." In a city like Mumbai, social distancing is an oxymoron. But we can – and should – be social at a distance, especially right now. New Chhatrapati Shivaji Maharaj Park is going to be the place for exercising, decompressing, and socializing at a safe distance — especially for those at greatest risk of isolation and infection. By focusing on the user experience, we can ultimately transform this challenge into an opportunity, creating more enjoyable and connected places for everyone.