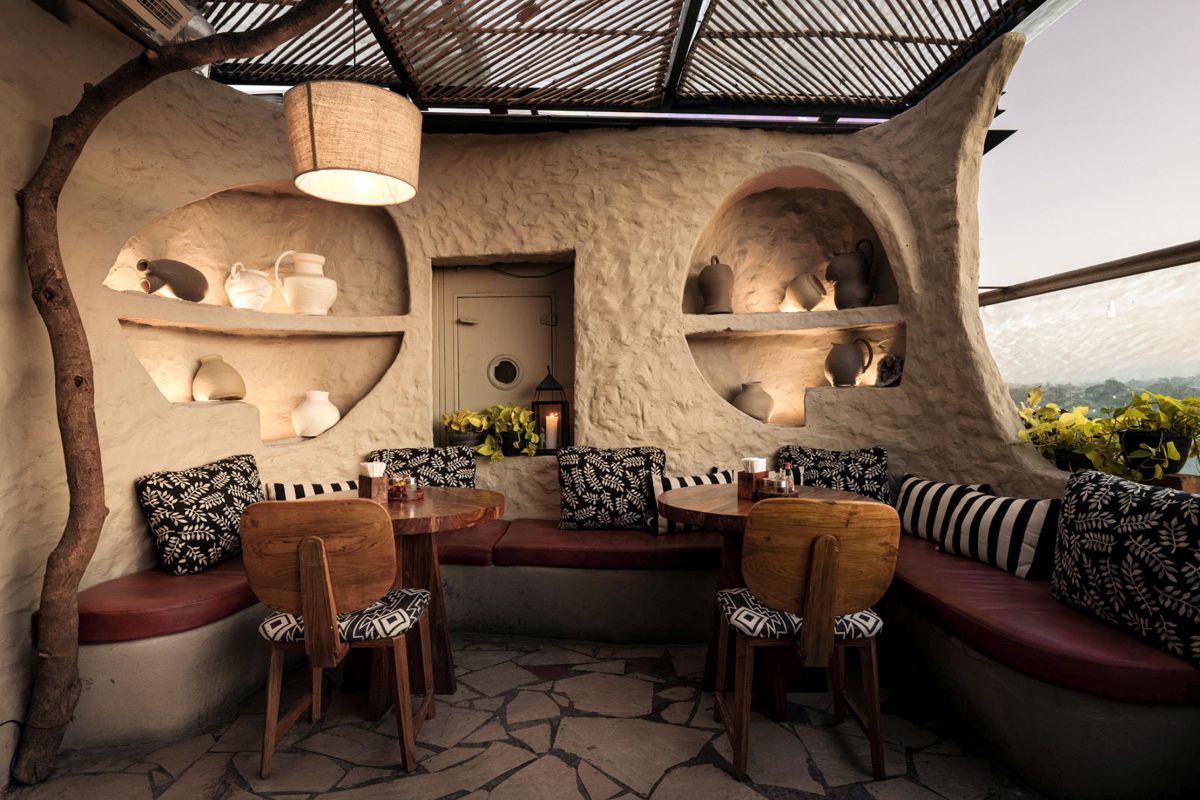 Tulum is an experimental paradox in the brutalist context of Chandigarh. It is a rooftop restaurant that offers panoramic views of the city skyline. Drawing its inspiration from the Mexican getaway destination by the same name, Tulum is curated as a superfluous, green and vernacular oasis. The design reflects a natural and an earthy undertone that comes together in a systematic fashion using natural stone, bamboo, terrazzo, wood, cane, plaster and greens.
The story starts unfolding from the entrance atrium adorned by bamboo wainscotting and ethnic abstract ornamentation. A shower of cane light fixtures from the ceiling creates a surreal vibe as one moves closer to the restaurant. The entrance axis is a sensory and an experiential bliss that comprises of a water cascade and a bamboo arched passage that frames and encompasses the view. The narrow bamboo gateway opens up into a cozy and dynamic seating area. The dreamy set up consists of freestanding cane umbrella structures supported on actual tree trunks that create a semi permeable super structure above.
The envelope is an architectural and an aesthetic injection to the space and fulfills its function as a shading device to cut down the sun. The restaurant has an open pizzeria and a bar on opposite corners that are created using an organic material pallette of mosaic, stone, cane and wood. A section of the restaurant is designed as a cave like corner that has undulated walls created in mud plaster.
The curvilinear walls warp the rigidity and create a free-flowing volume where surfaces transform themselves into niches and benches. The corner radiates its own energy yet coming together in a fluid fashion with the rest of the space. Tulum is an ode to nature and the vernacular with an aim to create a different eating experience for the people of the city.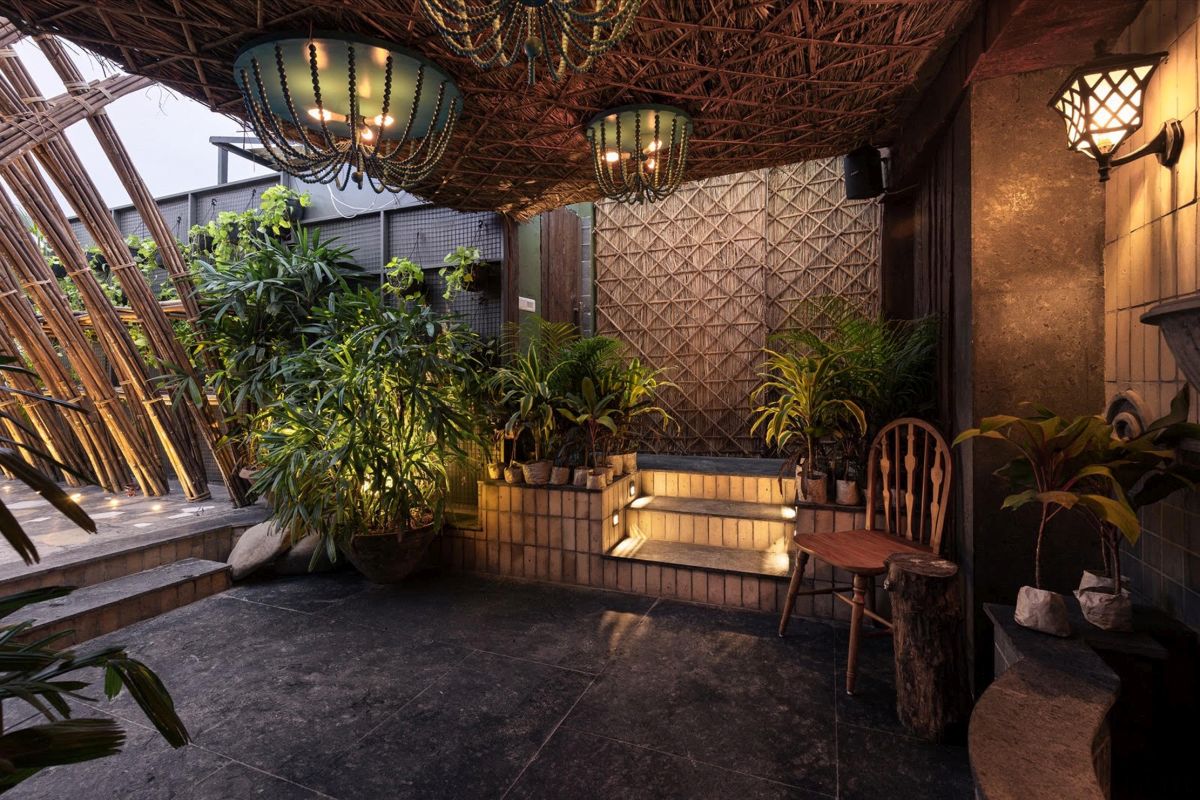 Layout –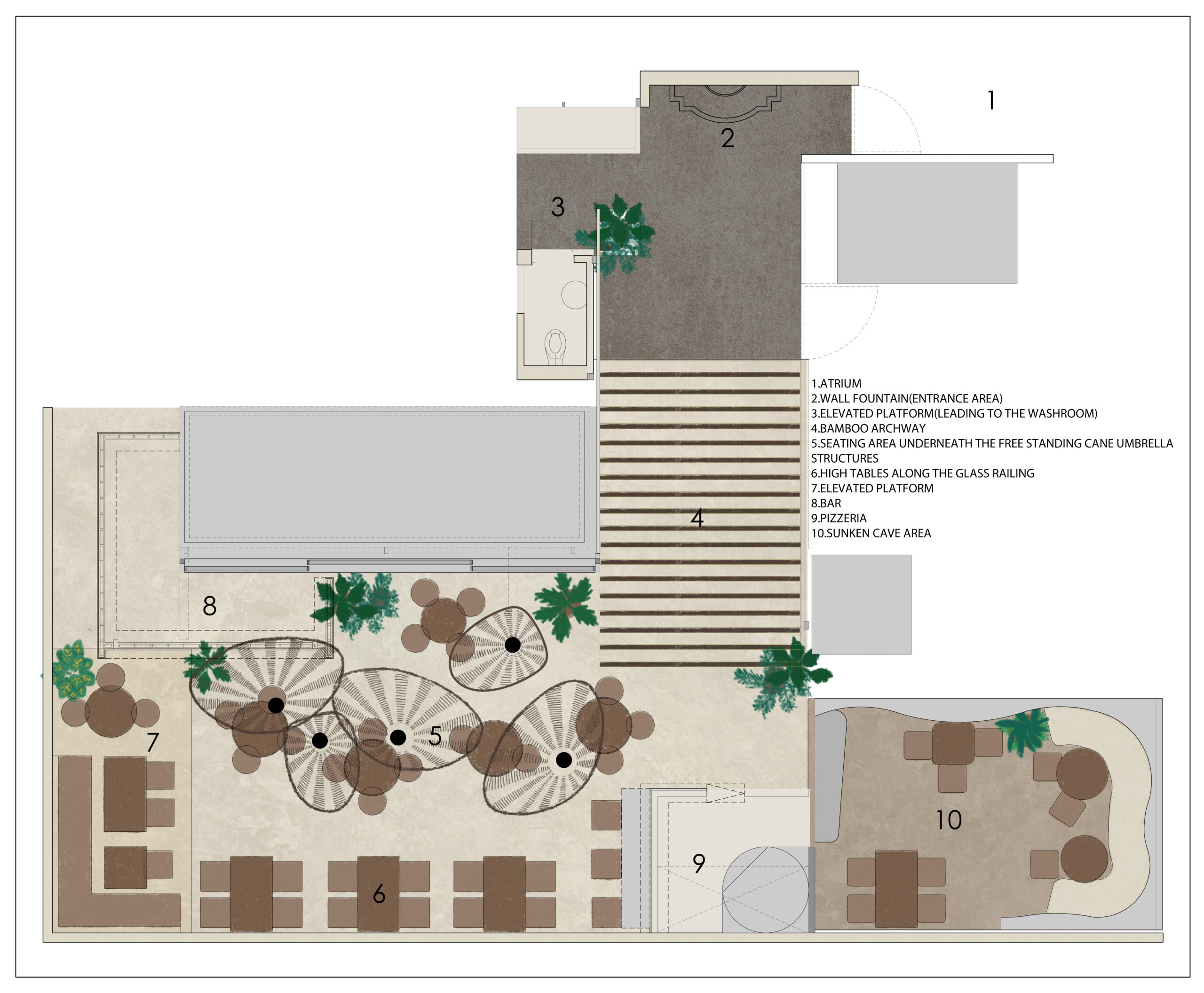 Project Facts –
Design Firm: Loop Design Studio
Lead Architects: Ar. Suvrita Bhardwaj, Ar. Nikhil Pratap Singh
Location: Chandigarh, India
Architects: Loop Design Studio
Area: 1750 sq. feet
Year of construction: 2020
Photography: Purnesh Dev Nikhanj
Client: Saanya Verma and Akshay Verma