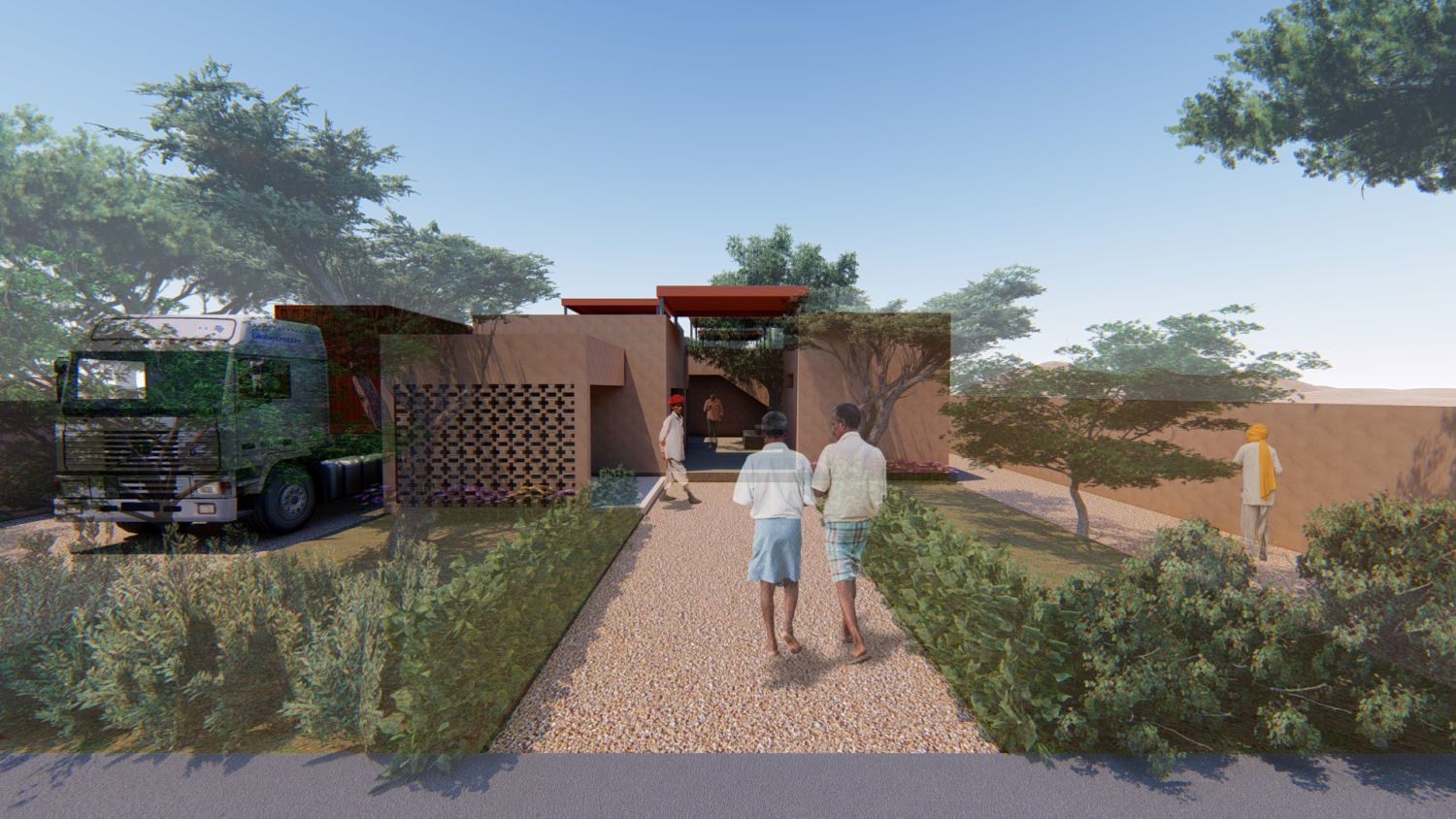 WHAT
Transient housing is an attempt to create a place for the truck drivers' community to feel at home when they are away from their homes, a place for them to relax – rejuvenate – recreate. The project attempts to create a series of homes, connected through courtyards, passages and a common recreational space. In addition, there are ancillary facilities like a grooming centre, chai shop, departmental store and ATM that can be accessed by common people.
 HOW
The transient housing has emerged from a need of the truck driver's community. The housing complex has a series of homes with shared facilities. The plan of each house is a T Shape module with a central court. The opposite sides of the T has rooms that are equipped with bunk beds accommodating 4 drivers in each room. The third side has a toilet and bathing facilities and the fourth side is an open wall to enter and exit. The T- shape unit forms two clusters, each for 24 drivers, collectively accommodating 48 drivers at a time. The two clusters are separated by large recreational space for dining and tea supported with an open kitchen for the drivers to prepare their own food. This zone of the site has recreational spaces where the truck drivers can engage themselves in a game of cards or carrom or a casual conversation. In the late evening and at night the roof adds to another layer of a recreational space where a group of truck drivers can access the roof for leisure.
WHY
India's trade and transportation relies heavily on trucks and truck drivers, a profession that has seen rapid decline in numbers, due to negligible amenities and excessive responsibilities. At present, truck drivers have little to no restrooms or pit stops during long distance journeys. In 1982 for every 1000 trucks there were 1300 drivers available, this number has reduced to 750 by 2012 and predicted to be 450 by 2022. In other words, 50% of country's trucks remain stranded on road due to shortage of truck drivers. We need truck drivers to make goods available to the door step of the shop. If this trend continues cities will fall short of food and groceries.
Drawings:
Projects Facts:
Project name: Transient Housing for Truck Drivers
Location: Sarjapur, Rajasthan
Project Commencement Year: July 2022
Site Area: 1.5 Acres
Built up area: 6000 sq.ft
Architecture firm: RC Architects
Architect: Rohan Chavan (Principal RC Architects)
Design team: Rohan Chavan, Rahul Ciby