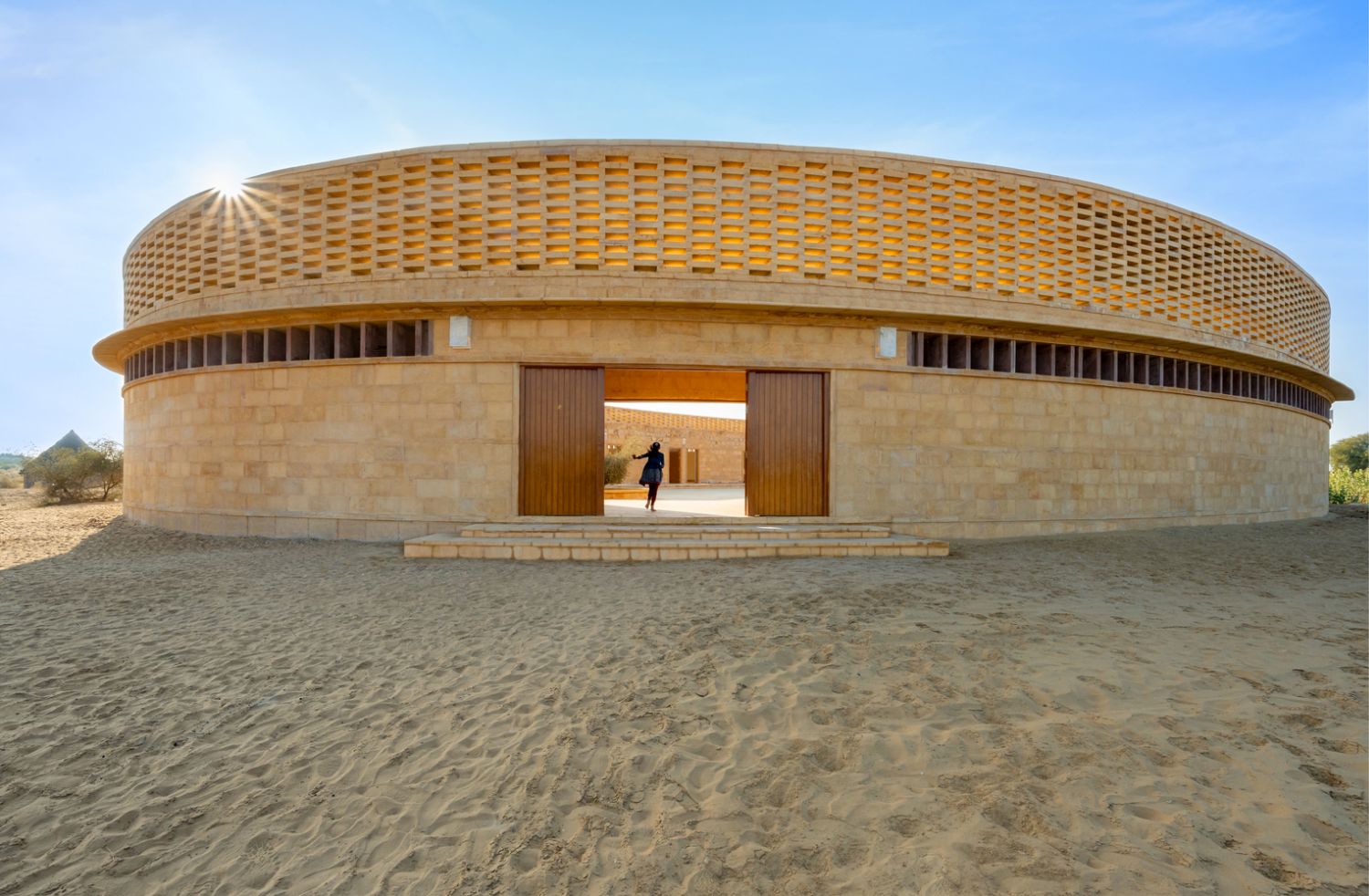 The state of Rajasthan usually acquires the lowest positions in comparative literacy rates (especially female) which leads to a lag in societal development and even continuation of feudal practices and constraints on women especially in remote areas and villages.
A school is a hope for a bright future and a push for the progress of the community. It is a collective which widens thoughts and is a harbinger of equality and wellbeing. The Rajkumari  Ratnavati girls' School is one such instrument of change in a remote Kanori village near Jaisalmer amidst the infinite shifting sand dunes. It is oval in shape like Mother Earth's womb/ an egg welcoming her daughters and fellow women to nurture and embrace them.
It is designed by Diana Kellogg Architects, a New York based studio. It is one-third of the Gyaan Center with Medha (a performance and art exhibition space with a library and museum) and the Women's Cooperative (center for skill learning between local artists and women) as the other two parts yet to be built. Though designed for a climatically, and economically challenged situation it is an innovative and region specific contemporary initiative rather than a western idea of a school.
It is a monumental yet minimal architectural marvel in harmony with its surroundings and visually engages one through its colours, textures, and slowly diminishing edges of the curvilinear form. The spaces surrounding the central vast courtyard gives a complete enclosure to user, a sense of protection and warmth horizontally along with a feeling of freedom and openness towards the sky vertically. The yellow sandstone walls act as a canvas for the shadows of dancing and running girls all around the space, with the cinematic view of jali projections changing positions and shades with the sun.
The beauty is enhanced by adapting local references like the yellow sandstone, engaging labour from the community, jali's referenced from the forts of Jaisalmer which have been designed similar to the knots and weaves found in locally designed baskets, so as to provide partial views, offer privacy and comfort to the working women in harsh climate. Apart from its aesthetic qualities, it is a climate-responsive design providing an ambient and pleasant space for the students to study even if the temperature outside rises to 50 degrees in summer and a spacious courtyard to study in open soaking the sun during winters eliminating the need of any artificial or mechanical climate control devices. Lime plastered walls, higher volumes with vents at higher positions for warm air to easily escape keeping the space cool against the scorching heat in Rajasthan. More arrangements for tapping natural resources like rainwater harvesting systems and a canopy of exposed solar panels have been provided. The cobalt blue panels placed against the yellow sandstone, interest the user, as well as the canopy provides shade.
Such a composition of a nonprofit – CITTA foundation's initiative, Architect's mindful and kind effort, the contractor's skill and beauty of execution of the project attracted and convinced institutions such as NID, fashion designers such as Sabyasachi and Anita Dongre to be a part of the initiative. Such an opening of hope would inspire people to become more generous and kind towards humanity.
Photography credits- Vinay Panjwani