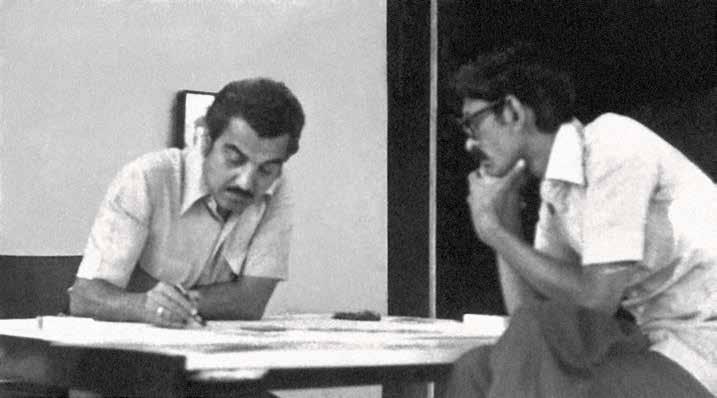 [button-red url="http://amzn.to/2cX9pZF" target="_self" position="centre"]Click here to buy the book from Amazon[/button-red]
When Hasmukh C. Patel returned to India from his postgraduate studies at Cornell in 1959 the architectural profession in the subcontinent was just establishing itself as a respected occupation. e educated public assumed only engineers designed buildings of any magnitude or importance. To many people architects were foreign artists who created public monuments, capitol complexes and large campuses. Architects were thought to be a whimsical tribe of people whom only princes, governments, and industrialists could afford to engage. In fact, in those days of newly independent India most buildings were indeed laid out and constructed by traditional craftsmen, and anything a bit complicated was given to a civil engineer, who could draft the plans, clear them with local authorities and see that the plans were used to construct buildings in a sturdy and waterproof manner. Famous foreign architects were, in fact, engaged to create iconic, public buildings and campuses.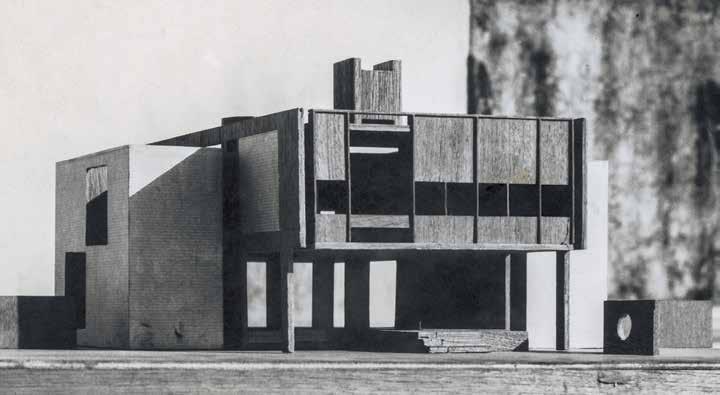 In this milieu the newly set up, post-Independence architectural studios had a great deal of leeway as to how they would position and brand themselves. In large cities young architects were looking at the huge mercantile opportunities that building a new nation would o er, and some of the more flamboyant personalities saw a path toward being charismatic gurus, who knew the secret magic of creativity.
Perhaps it was the ethos of hardworking Charotar Patels that moulded Hasmukh bhai's character, or the demeanour of his engineer father, Chandu bhai, who instilled working values into Hasmukh bhai as he visited his father's construction sites. Cornell University surely helped him put those values into an applicable pattern of thinking. While Cornell was an elite, Ivy League institution, its professional schools of medicine, engineering, hotel management and architecture were very pragmatic in their approaches to serving the public good. Instead of returning from abroad wanting to ape international models, Hasmukh bhai returned with a strong work ethic, a desire to evolve new professional standards and and a drive to employ rational working procedures.
Working with Atmaram Gajjar, an early practitioner of architecture in Ahmedabad, and then facing circumstances wherein he was forced to take over the rm at a young age, surely tempered his character further.
Hasmukh bhai clearly wanted to be a great architect, but he had a vision and a path toward that dream, that was steeped in professional principles and working processes. He saw the meaning of greatness as gifting the entire profession a role model of what an architect should be. He knew the word professional meant to profess values unique to the practice of architecture. Illustrating those values through work, writing down those professional processes, and practising them in a role that would become a model, seemed to be clear objectives that tempered his every move.
Studying his early work one sees threads of ideas and principles that evolved and matured into a sophisticated weave of distinct themes and agendas. It became clear that Hasmukh bhai was not trying to create high drama, attracting attention. It became clear that Hasmukh bhai was not out to establish o -the-shelf templates that could be employed as quick turnover commercial prototypes! On the other hand, he was surely cognisant of being original and of standing on his own feet financially.
He was aware of the need to create intricate spaces that stimulate the mind, and he knew the evolution of rational prototypes could lead to the creation of better urban patterns. He had clear ideas of sustainability and of integrating the exteriors and interiors of buildings into holistic environments.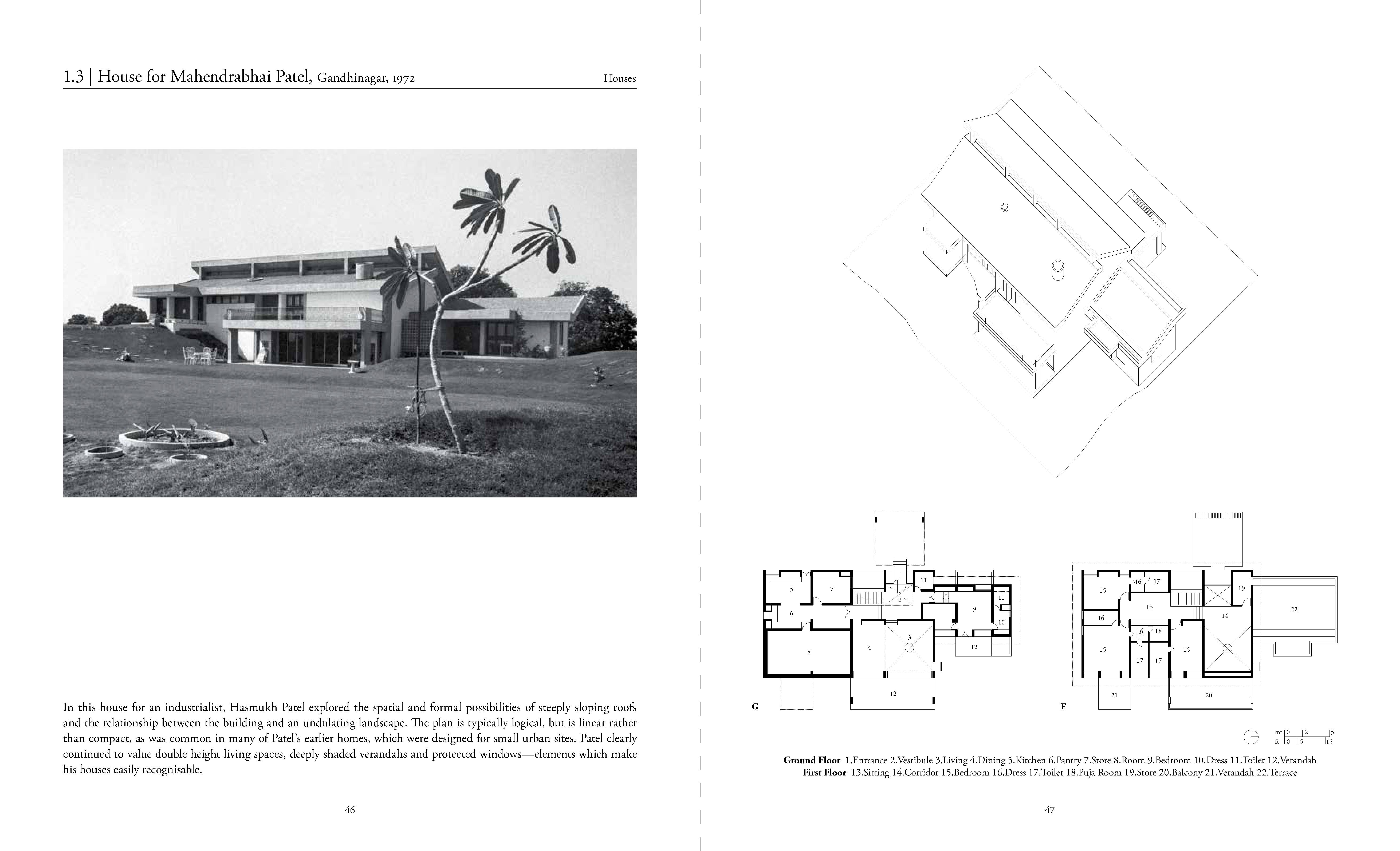 So one can observe a young professional, with a mature mind, who quickly assessed the societal environment he was entering, and drew a personal road map that would navigate him around perilous paths of pitfalls and potential wrong turns. Early on he had a clear vision of how he would serve the community for the public good: he would transform both the charismatic and the mercantile architectural personas into a single persona that was highly committed to professional values, which would become the public label of what a professional architect is.
e seeds of a great architect were sown in his soul! ey sprouted and unfolded almost naturally through the application of principles to practice. rough quiet demonstration he created an identity of what professionalism is and means.
One can decipher from Hasmukhbhai's early work formative elements that have persisted throughout his lifetime as a charter of values and principles. These principles include working within the limits of clients' briefs, respecting their budgets; devising a practical and contextually appropriate architectural style, expressing an emerging sustainable society; building with local materials, craftspeople and appropriate technologies, while improving the culture of construction; being sensitive to human scale and proportion; integrating exterior landscapes with interior spaces; clearly defining deliverables and schedules and openly monitoring those with all team members; creating spaces that gift user groups new and meaningful emotional experiences, without creating hyperbolic stunts at the cost of clients for his own celebrity status; having clear commitments to a triad of professional contracts between: (a) himself and his clients; (b) himself as a businessman in a hurry, and himself as a creator giving himself time to strive for perfection; (c) and, himself, an architect, with the public at large, seeing his professional responsibilities as working within the public realm. These three "contracts" clearly grounded the way Hasmukh bhai worked, designed, built and lived.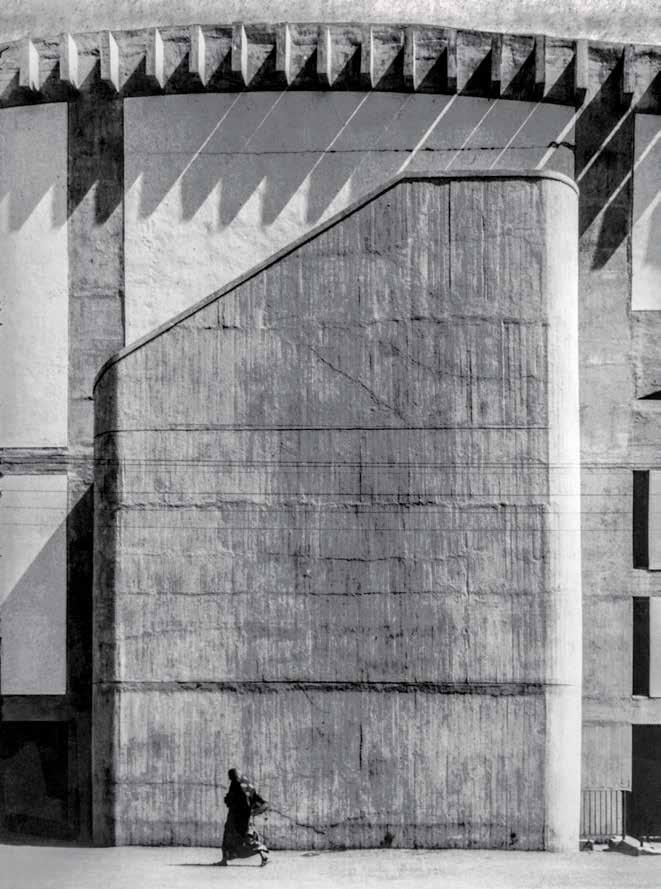 rough his extensive commitment to teaching and institution-building he ampli ed this model into the public imagination. He grounded this model into the work culture of the students he taught, into the minds of the hundreds of young colleagues who passed through his studio, into the working habits of his contractors, construction managers and into the spirits of those of us who are his friends, observing him over decades. In his own lifetime he has become a celebrity architect and famous professional. He mastered the integration of nature, function, structure, light, space, mechanical equipment and building form to create truly iconic spaces, campuses and work places.
His creations are important and remarkably beautiful places, yet they do so without blatant attempts yearning to appear in books about great architecture. at was never Hasmukh bhai's objective. His career has not been about fame or fortune or what is called "signature architecture". It has been about how you make good cities by getting the small things right, in the urban fabric, that adds up to a greater whole. In today's context that is the important benchmark in architecture. It is the founding principle of regional modernism in India.
---
Foreword from the book, The Architecture of Hasmukh C. Patel – Published with permission from the author/s of the book.