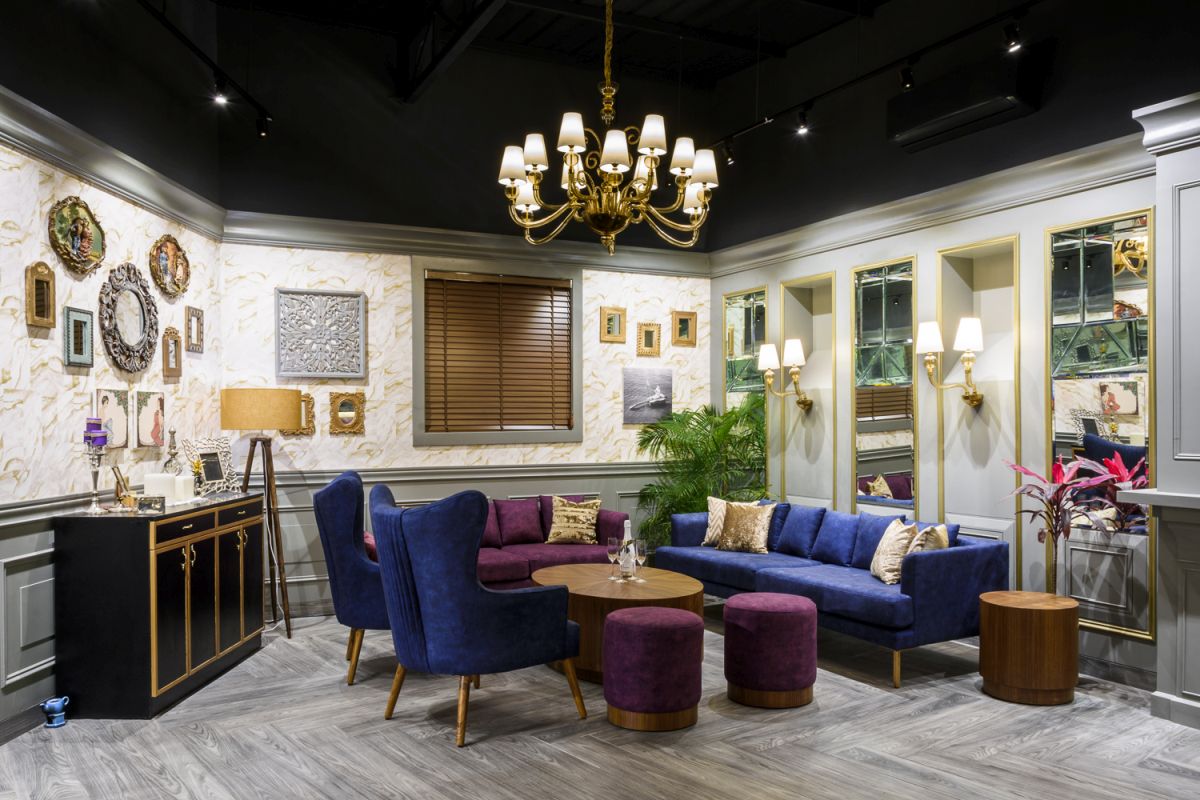 The Lounge
It is very rare that you find clients who have so much faith in you that they give you a free hand in deciding what should be done with the concept, even the name and use of the property.
ESSEX Farms in New Delhi is one such client for us, having been in association for many years now. They came to us with another exciting and special project which also is inside the campus of Essex Farms. This time, it was a small area that had to be converted into a small banqueting space.
The studio started working extensively at developing a space which would be a visual break-through and speak miles about the eclectic sense of luxury and comfort.
The development of the space kick started after the design team conceived the idea of having a living-room kind of a set up for formal parties in place of a cliché banquet. The challenge was to convert a dilapidated industrial shed, ageing almost 50 years, into an uber-luxe formal lounging space and the task was taken up in high spirits.
The floor plan was resolved by creating clusters of seating with an elaborate fire-place as its backdrop and subsequently tucking the formal buffet counter in a dedicated space. The two areas are segregated by a row of elegant pendant lights rather than a divider or a partition to have a feel of an inclusive environment.
The space was visualised with the want of sophistication taking relevance from classic European vibes which translates into the choice of finishes and colour story. A running traditional wainscoting ties up the place together which is finished in an alluring taupe shade of colour.
A distinctive take on French panels was evolved by abstract cohesion of multiple reflective surfaces which becomes the highlight of the space.
In order to bring a sense of warmth and homeliness, an intricately detailed fire place was introduced which is adorned by vintage hand-made ceramic art work.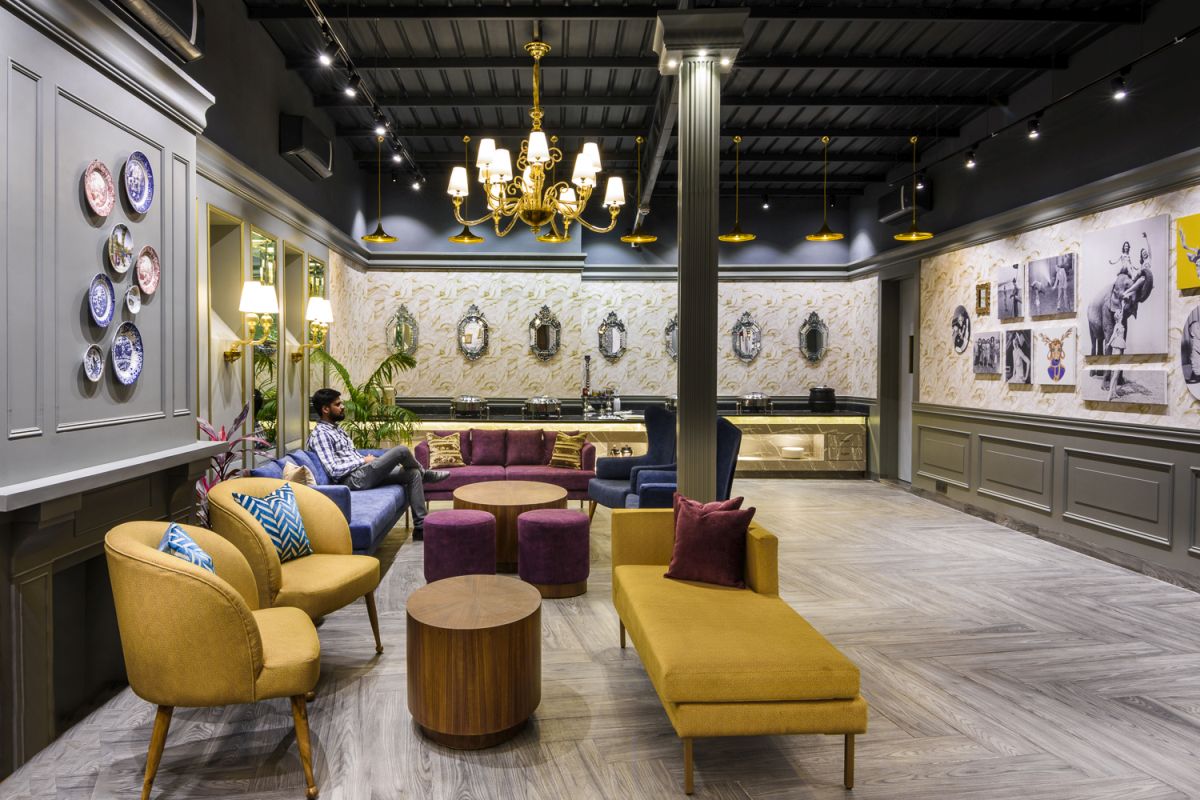 A series of art collections and frames were handpicked to dress up the walls and an exquisite console keeping the reminiscent of the vintage European set up in the forefront.
Lighting of the space is consciously designed by highlighting the features and disregarding the industrial metal sections in the ceiling above. Massive chandeliers and wall lights do not fall short in bringing spunk to the space.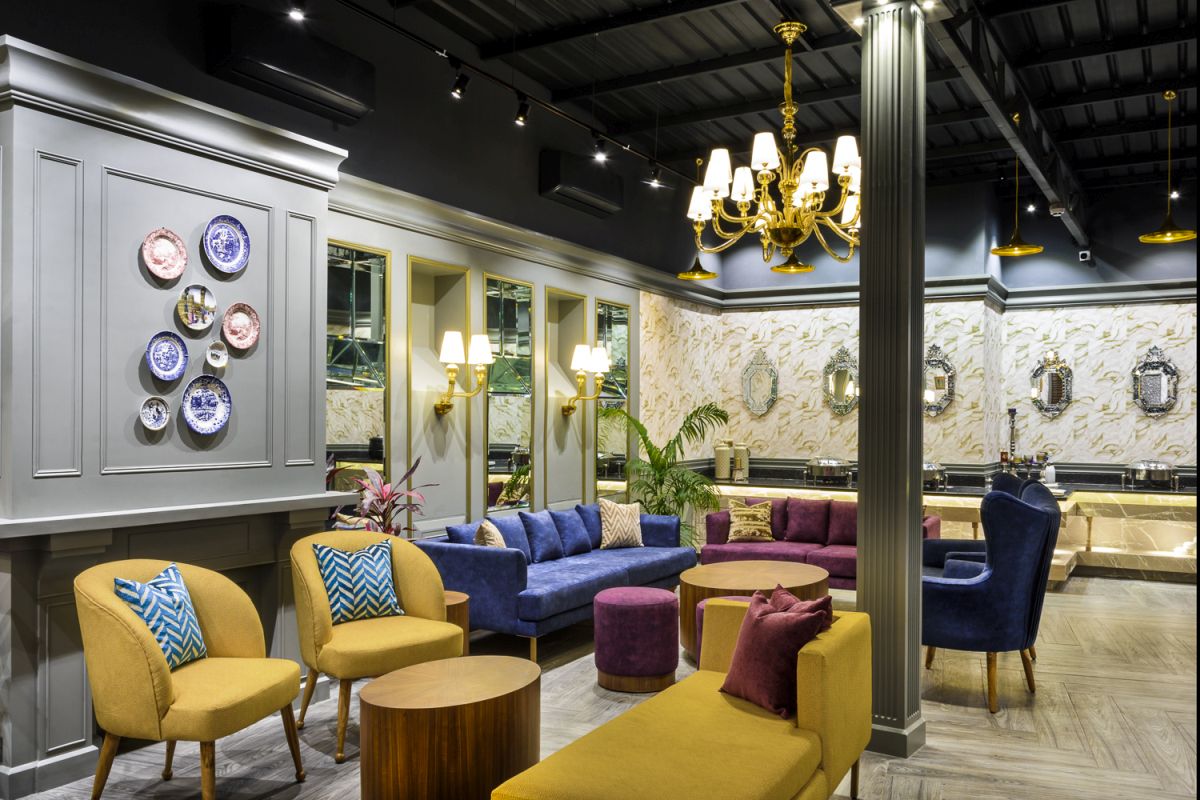 INFORMATION ABOUT THE PROJECT
Title of Project – The Lounge at Essex Farms
Covered Area – 1000 sqft.
Project status – Built
Project Category –Interior Design
Execution Time – 60 days
Location – New Delhi
Design Firm – Design Ethics Architecture Studio
Design Team – Ar. Poulomi Dhar, Ar. Jatin Gupta