Images: Matharoo Associates Text: Pulkit Soni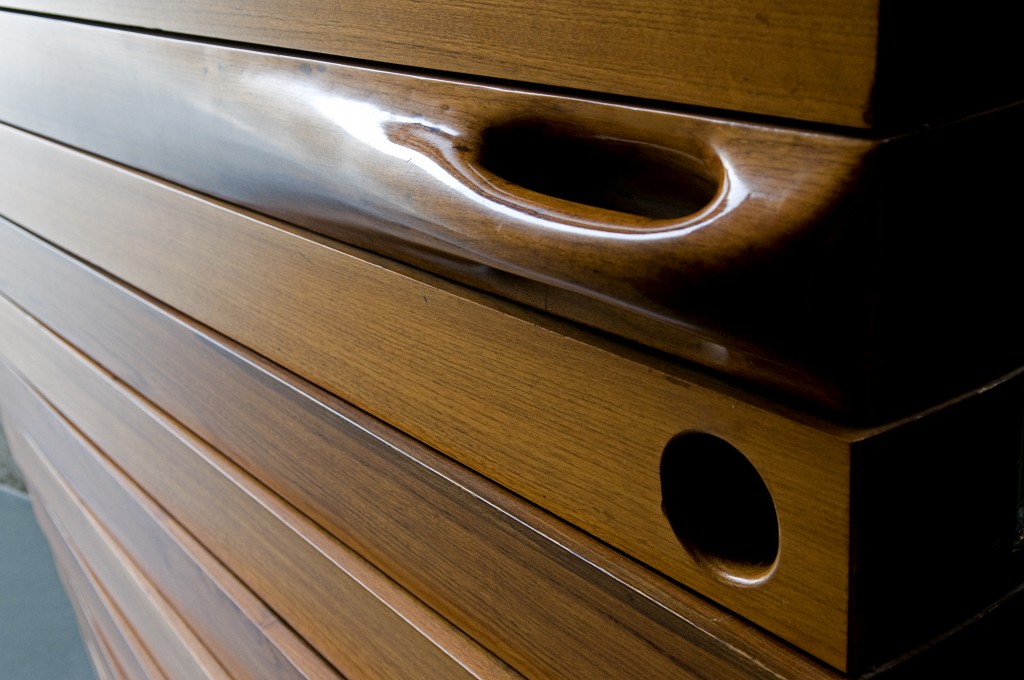 Ralph W Emerson said "God enters by a private door into every individual", then this door must have been the door of gods. The 'curtain door' as this massive piece of art has been called, is brilliant in itself. This 8.84 Sq.M door has been talked about much more than the 1700 Sq.M. that lies beyond this stack of timber. Designed by Matharoo Associates for a client in Surat, the impressive door has been recognized and awarded as an icon of excellence in design at international level. Don't be taken by the floor to ceiling grandness, the door is feather light to operate. It is made of 40 sections of thick Burma teak (254 mm thick); each section has been carved to incorporate 160 pulleys, 80 ball bearings, one wire rope, and a hidden counterweight. From a distant sight the door appears to be a stack of wooden logs but one push opens up the endless possibilities design can offer. A peculiar meandering opening is created just like a fabric curtain. The play of staggering sections creating the sinusoidal curve is a spectacular event, it ought to be called an event because of the sheer wonder and appreciation it generates. The door has been carefully set amidst dull features such as concrete walls on both sides and grey flooring leading your attention right to the spot where it is needed and creating a mysterious, dramatic effect. The enormousness of the door can be judged from its dimensions; 5.2m high and 1.7m wide.
Some images – Click on images to enlarge them.
The amount of detail that has gone into making this thing is just incredible. The handle has been beautifully carved into one of the sections creating minimum possible distractions. The key to the feather light operations lies in the complex mechanics of the pulleys and counterweight system. What binds the sections together and yet allows the free, meandering form of the opening is the wire rope. A door being awarded the AR Emerging International Architecture Award where all sorts of buildings were in the arena, is the testimony to geniuses of the design.