Team Vº, from Visvesvaraya National Institute Of Technology, Nagpur won the Office Building Division and the Grand Prize. Their team was composed of fifteen students from the third to fifth year in Architecture and Civil Engineering programmes. Their faculty lead was Prof. Meenal Surawar, who is a researcher in Urban Heat Island studies.
They designed a Smart Police Station at Punapur for the Nagpur Smart and Sustainable City Corporation. They placed a strong emphasis on using innovative technology and data-driven solutions to enhance the efficiency of public services, reduce environmental impacts, and improve the overall livability of the city. Police stations are typically intimidating and uninviting for people, making them inaccessible, and limiting their usage. Team Vº developed a design to align with the principles of the Smart City initiative, which includes making government buildings accessible and open to the public, designing sustainable buildings, and utilising smart technologies to promote good governance.
Team Vº reduced the water consumption by 43% with efficient fixtures, and achieved a net-zero wastewater performance by using harvested rainwater and treated greywater. They tapped into the existing infrastructure of the fire station on the adjoining site to use the water storage facilities, effectively reducing the CapEx for water tanks.
They prioritised thermal comfort, capping maximum temperatures at 32º Celsius for resilience during heatwaves. This was achieved with an external bamboo skin and shading device to reduce cooling loads, and was supplemented by passive downdraft cooling, evaporative cooling, and stack effect in courtyards. The team worked with Punarnava Ecological Services as an industry partner to design the external bamboo skin and strike a balance between practicality, technology, cost, and performance at every step. They grouped mechanical and naturally ventilated spaces, optimised window areas (total WWR of 18%), used daylight and natural ventilation with an insulated fly ash brick envelope, and achieved an EPI of 79kWh/m2, a 69% reduction from the GRIHA benchmark. Their building has a 162 kW rooftop PV array.
Team Vº proposed two innovations as a part of their project. One was a peer-to-peer energy system for neighbouring buildings based on Power Ledger's system, that improves resilience by reducing dependency on the electricity grid, and mitigates carbon emissions while providing potential revenue for those buildings. With smart metering and sharing surplus electricity, neighbouring buildings can have access to cheaper and renewable energy during peak periods. A holistic design strategy coupled with these innovations results in a net-zero energy and water building that significantly enhances the quality and status of police station buildings.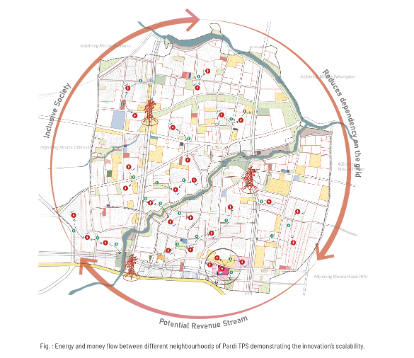 Peer-to-peer energy system innovation by Team V°