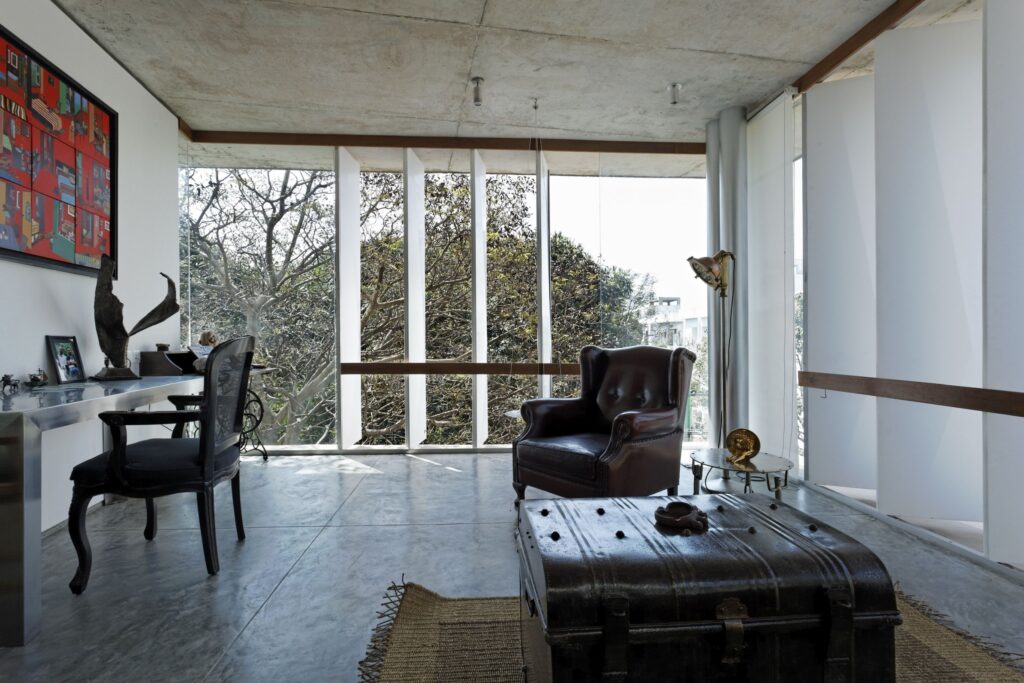 Studio For Nirvana Films, Bengaluru by SJK Architects
A Box Out of the Box
The Studio for Nirvana Films is an office space for an ad film production company that thinks out of the box. Their films are a surprise – an unexplored humane perspective on a product. Their workspace is based on the thought that the connection of synapses creates ideas – not privacy or isolation.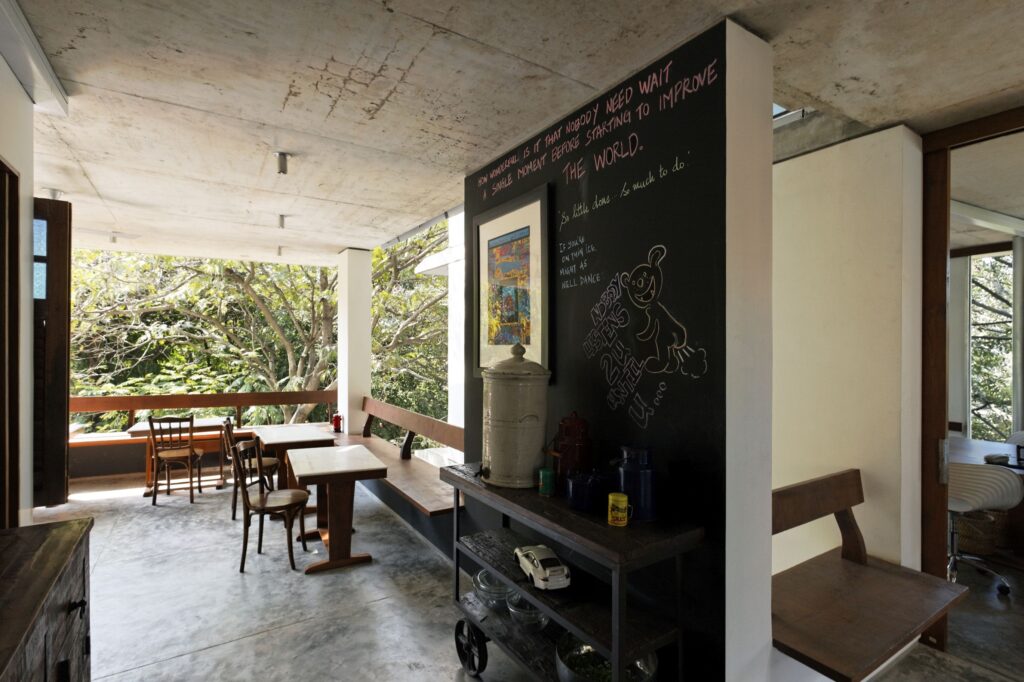 The "box" for Nirvana emerged out of a small corner plot in the heart of the busy neighbourhood of Indiranagar in Bengaluru. Optimizing space, site setbacks, and allowable FSI for a commercial project result in 8000 sq. ft. of built-up area on a site of 3000 sq. ft.
However, this project explores the possibilities inherent in a commercial building despite the constraints of real estate. The resulting urban typology overturns all norms, using almost no electricity for lighting or ventilation.
The core of this box is the north-south connector staircase that slices through the building with a huge skylight above, suffusing it with sunlight and natural ventilation, much like a courtyard would in another typology.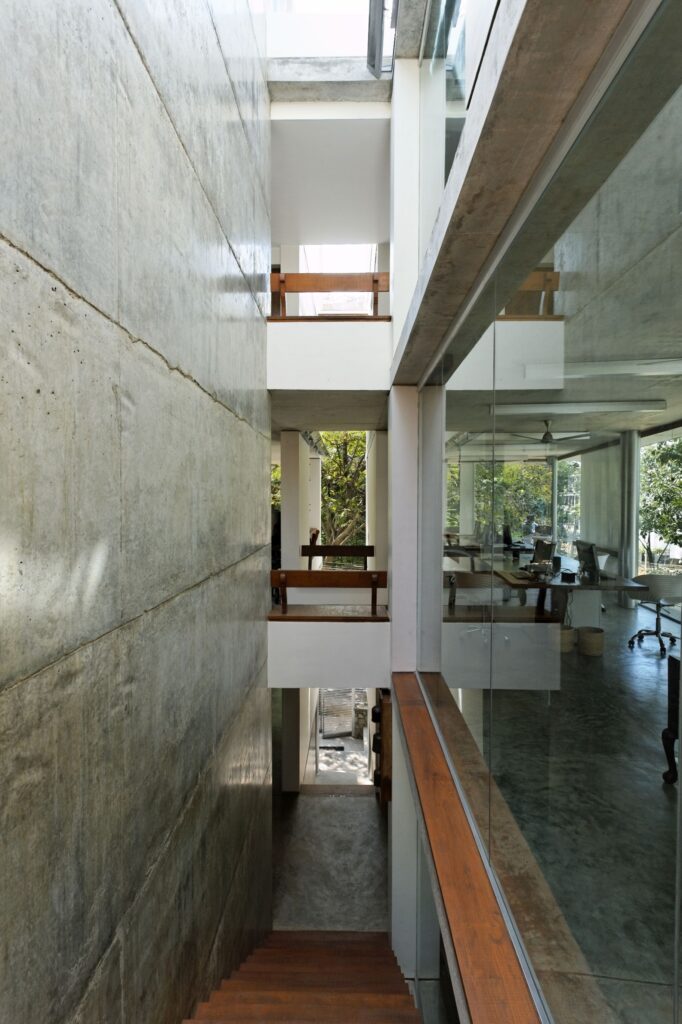 The divisions of work and non-work, as well as the outside and the inside, are obliterated by the presence of the staircase core. The façade further facilitates the connections to the outside with the solid glass and openable acrylic louvres.
The solid, opaque louvres open in unison to allow the breeze in, modulating light, wind and rain. The notion of the wall and the window is interchanged, leading to a dynamic façade. These louvres, built of 100% acrylic solid surface sheets, have been customized and used as an exterior element for the first time in India.
The staircase core needed a permeable flexible device to allow light and ventilation and yet, block out rain and peering neighbours. This 18-foot-high, wood and clear acrylic "jaali" is actually a set of 6-inch wide louvres interlocked into each other, capable of moving in unison again and opening to ventilate the stairwell.
The solid black bathrooms, the only space that demands privacy, were created to contrast completely with the suffused light quality of the rest of the building.
The studied lightness of structure with no beams, and that of the three materials – wood, concrete and glass, produce a building where light and shadow, and thought and interaction become the protagonists.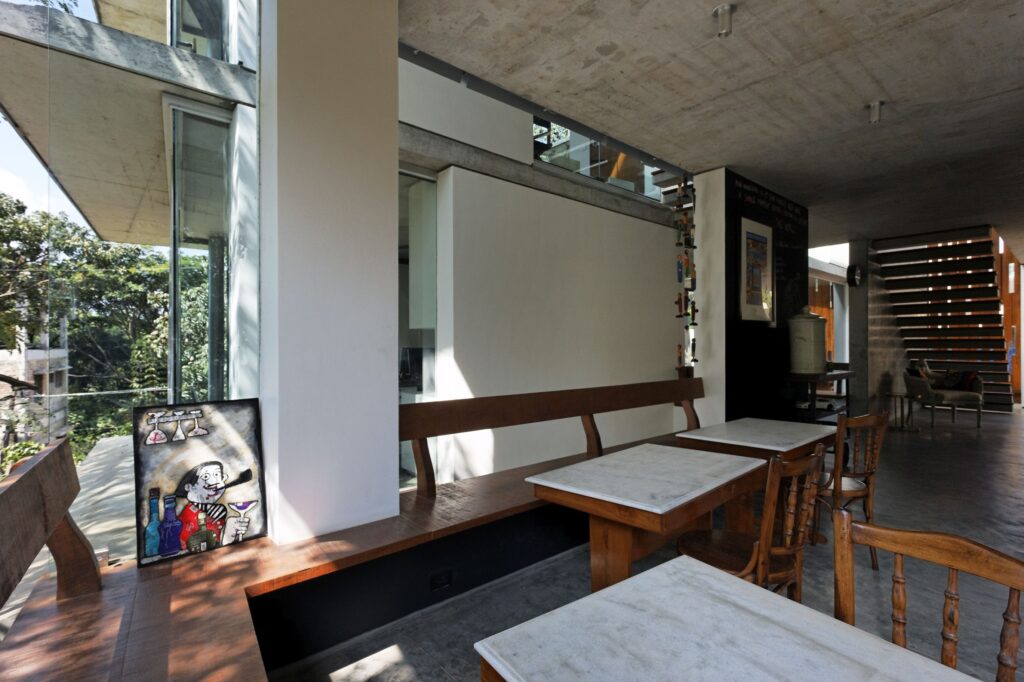 The Studio for Nirvana Films is a contemporary building that ignores any "isms" and stands for innovation, sustainability and plurality.
Gallery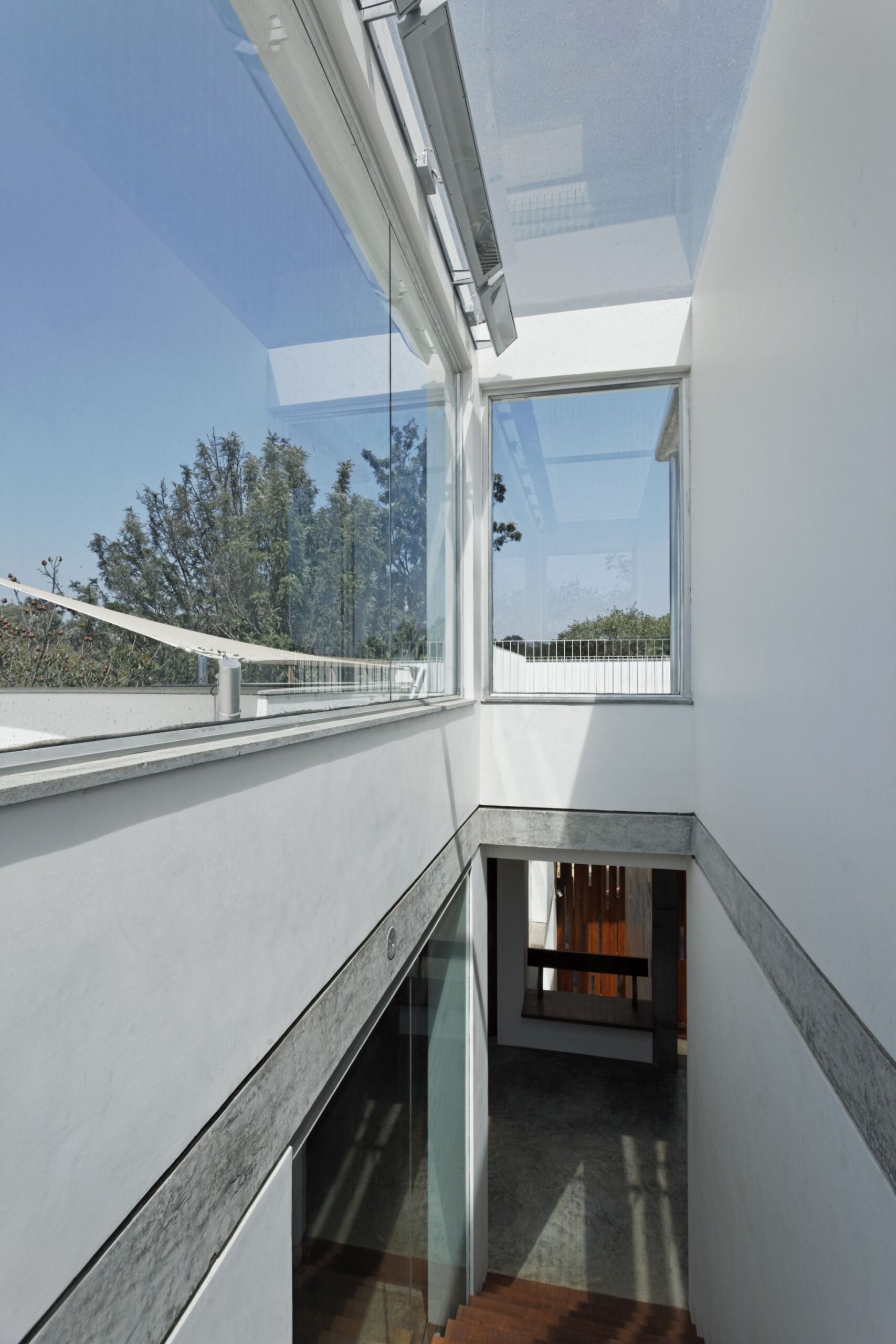 Drawings
Project facts
PROJECT FACT FILE- NIRVANA FILMS' STUDIO, BENGALURU
PROJECT TYPE & LOCATION: Office Building for M/s. Nirvana Films, Indira Nagar, Bangalore
AREA: Built-Up area: 8,000 sq.ft
Site Area: 3,000 sq.ft.
PROJECT DURATION (Construction): Jan'10- Sept'11
PROJECT TYPE: Greenfield (Architecture & Interiors)
MATERIALS USED: Exposed concrete, wood, 100% acrylic solid sheet shutters, glass.
DESIGN TEAM: Shimul Javeri Kadri; Sarika Shetty; Poonam Sachdev, Bangalore.
STRUCTURAL CONSULTANTS: M/s. S & S Associates, Bangalore.
Mr. Shivanand
SERVICE CONSULTANTS:
M/s. MECA Project Engineers Pvt. Ltd.
Mr. Charan Dev
CONTRACTORS:
M/s. Disha Engineering, Bangalore. (Civil, Carpentry, Façade, Plumbing & Electrical).
Mr. Thimmaraju & team.
M/s. StoneArts , Mumbai
Mr. Sadanand Shinde (Fabricators for Acrylic Solid sheet façade shutters).
PHOTOGRAPHER:
Mr. Pallon Daruwala