Sonali Rastogi
Senior Partner, Morphogenesis
B.Arch, GradDipl (AA), GradDiplDes (AA) (London), FRSA, FIIA
Graduated from the School of Planning and Architecture (New Delhi) and The Architectural Association (London) with a graduate diploma in Housing and Urbanism and a second graduate diploma in Graduate Design, Sonali is Co-Founder and Senior Partner of Morphogenesis, one of India's leading award-winning Architecture and Urban Design practices based out of New Delhi, India. Morphogenesis has been ranked yet again, for the third time running, among the Top 100 Architectural Design Firms worldwide by Building Design Magazine, UK in WA100 2014. The practice is the recipient of over 54 awards and has featured in over 340 publications, both International and National. Morphogenesis works with some of the best names in the industry such as Tata Housing, Reliance, Piramal Indiareit, L&T, Punj Lloyd, Ambuja Realty, Mahindra Lifespaces and the Intercontinental Hotel Group to name a few.
Issues related to the environment and sustainability are at the core of Sonali's design attitude, and her experience and expertise in Architecture/Interior design has been recognized by way of numerous awards and accolades including the YFLO Woman Achiever of the Year Award, and recognition as one of the 10 leading women architects in India by A+D (India's leading architectural journal). Other magazines such as India Today, Femina and Elle Decor have featured her as a pre-eminent Indian woman architect.
Sonali lectures extensively throughout the country and has been a part of various academic and design juries including The GRIHA Conference 2014, India Design ID 2013 Symposium and Trends for Architectural Excellence Awards, 2010. She has been invited as a speaker at various events such as Women Leaders in India Conference & Awards (New Delhi), Pecha Kucha (New Delhi) etc. Sonali is also a founder member of manthan; a cross-cultural creative platform for creative exchange, aiming to be a voice to the Indian creative community.
Professional qualifications:
Architectural Association, School of Architecture, London 1995
Graduate School
Master of Architecture (Design)
Architectural Association, School of Architecture, London 1993
Graduate School
Master of Architecture (Housing and Urbanism)
School of Planning and Architecture, New Delhi 1991
Bachelor of Architecture
Professional experience:
Morphogenesis, New Delhi 1996-Present
Senior Partner
Affiliations:
Member, Building Byelaws Review Committee, Delhi Urban Arts Commission, New Delhi
Royal Institute of British Architects (Part II), U.K.
Registered Architect, Council of Architecture, India
Fellow, Indian Institute of Architects, India
Fellow, Royal Society of Arts, London
Member, Architectural Association, London
Founder Member, SPA Alumni Association, New Delhi
Her Projects:
GYS Vision, Gurgaon, Haryana
A commercial development comprising of three high-rise corporate office towers in one of the prime suburbs of  Gurgaon, being the hub of emergent urbanism in India influences the design intervention, where built form moves away from the typical office typology, aiming to provide an alternative with interweaving open social spaces, and closed workspaces.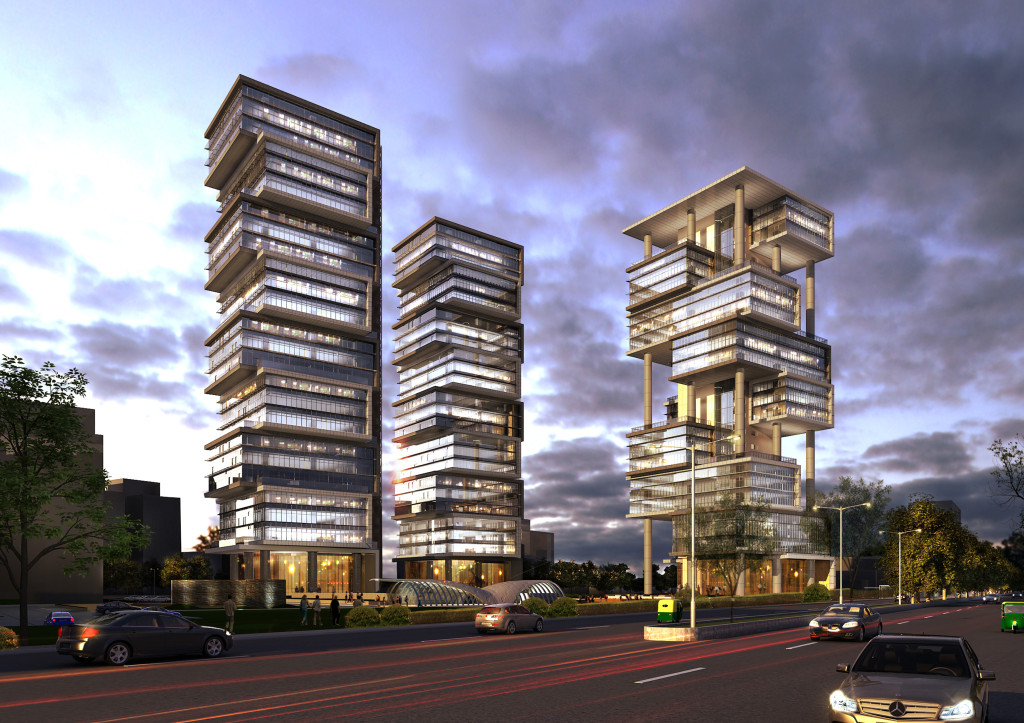 Read more about this project HERE.
DS Group Factory and Offices, Noida, Uttar Pradesh
The Factory and Office complex takes a holistic approach to architectural design by  integrating energy conservation, occupant participation and economic performance as part of the building life-cycle to make it truly sustainable. The proactive approach to sustainable design demonstrated in this project is radical in the modern Indian context especially in the way it blurs time-honoured distinctions between design and the post-design phase.