Photography: ©Sagar Chabbra(talkingthroughlens)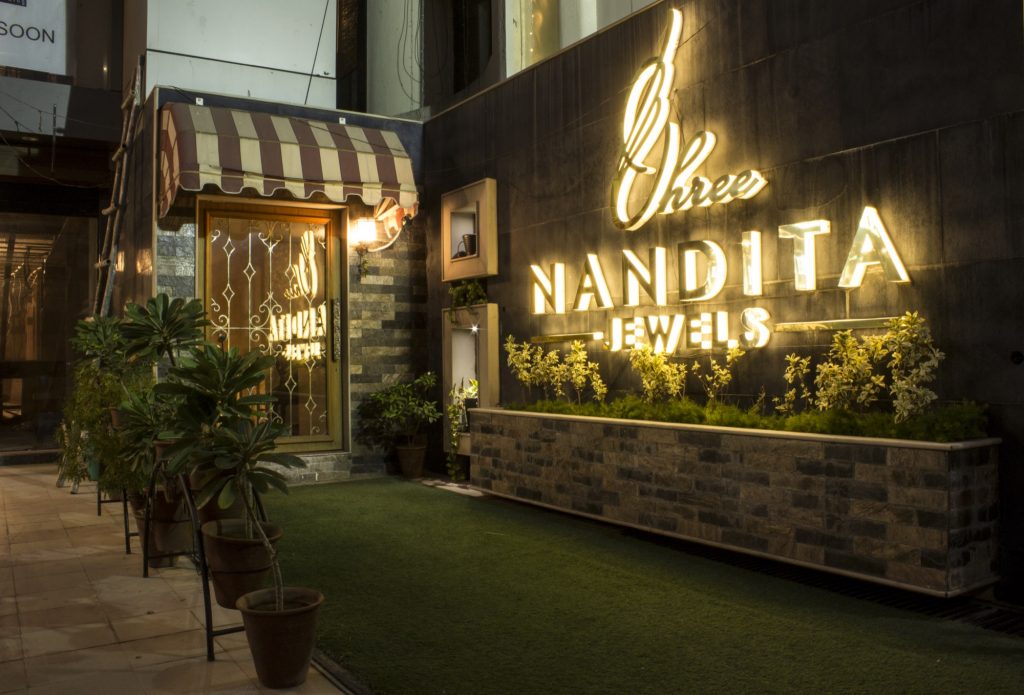 Shree Nandita Jewels started in April 2017 with a deadline of one month.
The clients have such belief that there was full freedom for us to experiment and create something very different for them.
During this process we came across few challenges one of which was to put up the showroom in a basement of a commercial building (Floor area-3000 sq ft.)with a long narrow staircase as its main entrance. Though, the building had a prime location, yet pulling attention and creating an inviting entrance was important.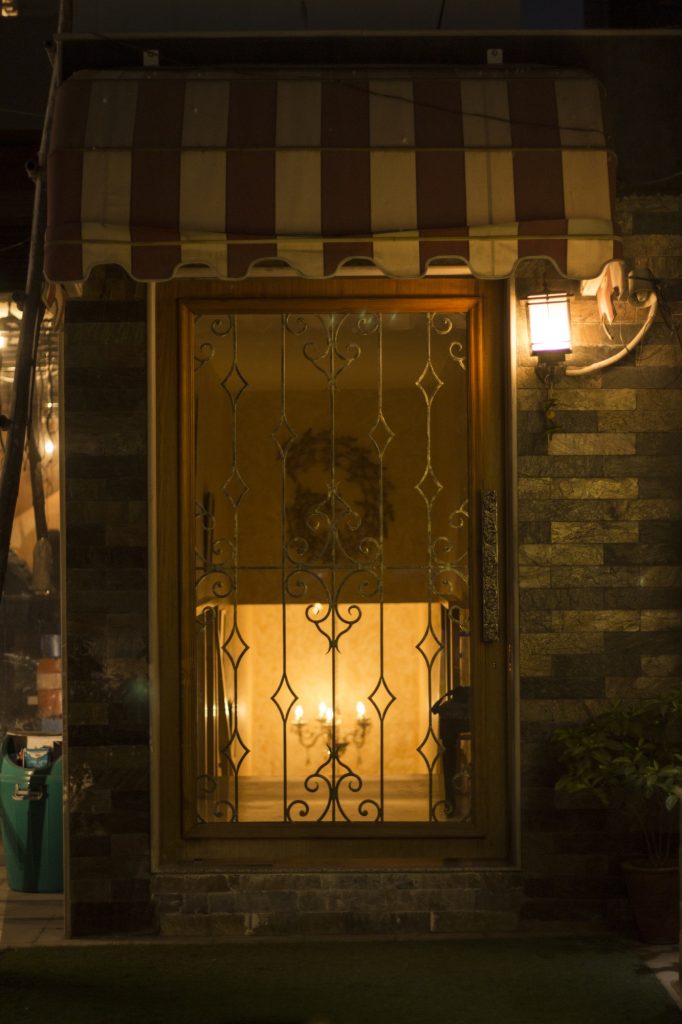 We played with the approach wall and created it into a nice feature wall with the signage of the brand. The stairway wall were painted white and added golden texture to enhance the look and to make it more inviting. A small entrance reception had a specially crafted light fixture designed especially to catch the eye of anyone who enter the zone of glam and glitz.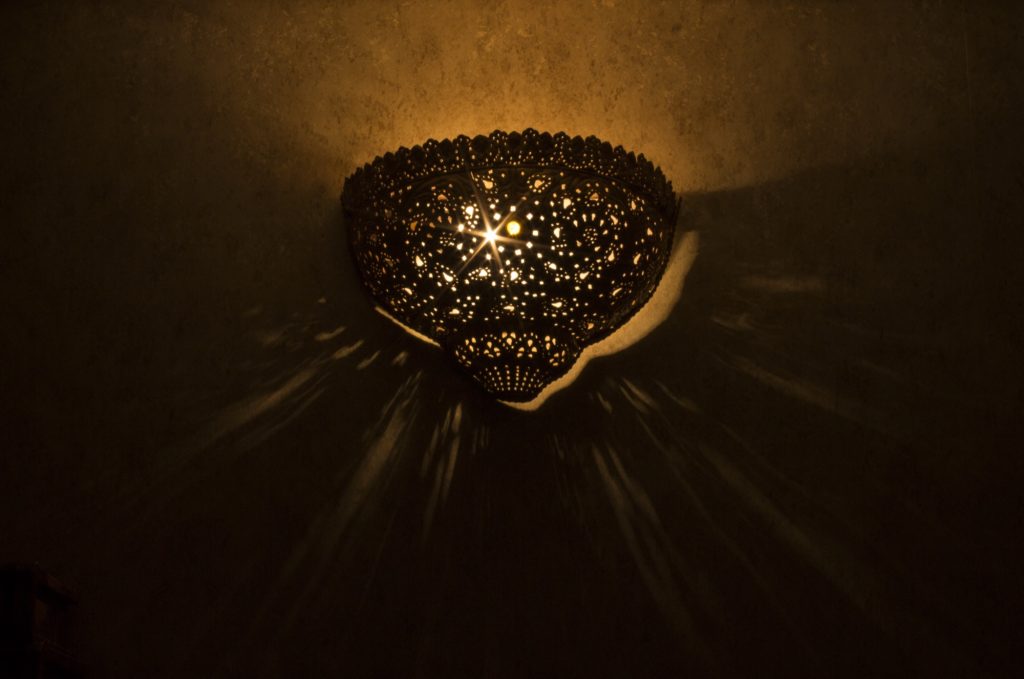 The Jewellery Lounge: We wanted to create three zones in the main hall- The lounge, The Display area and the retail counter. Since the clients wanted a free flowing zone, we created this area as an interactive zone, the junction and the heart of the showroom. Division of the area is solely done using few furniture pieces – a round chandelier in the center with a teak low table beneath, to create a visual demarcation between the retail area and the lounge area.
We got the display zone customized in Moroccan style. To keep the traditional look of a jewellery showroom intact , most of the display was enhanced with the famous rajasthani Jali Patterns.
The Den: The Director's room was designed in a dramatic style ,keeping in mind the persona of the client. A special seat was designed – high back velvet chair, upholstered in Red and Black and co-ordinated the visitor's seating accordingly- black Chesterfield sofas in rich velvet for a classy look.
This room particularly "overdone" in terms of the material usage. One of the walls had panelling in raw silk textured mica creating a backdrop to the main sitting. Pendant lights on the south-west corner became the highlight of the room.
The Wine & Cheese zone: Our clients are fond of entertaining people hence, they had a special request to create a little party nook where they could often put up an ultimate Wine and Cheese get-togethers for their clients and acquaintances.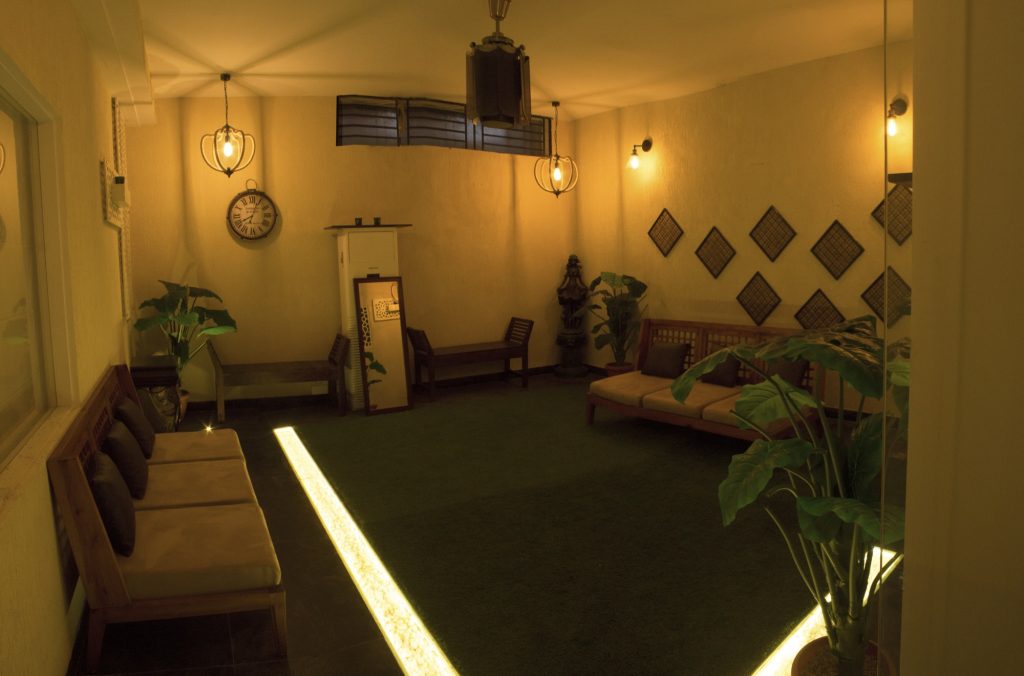 We merged the idea of having a green zone with the party zone and came up with this beautiful oasis amidst all glam and glitz.