The Shiv Nadar School Faridabad (SNSF) is the third school of the group to open after Gurgaon and Noida. The SNSF is the largest campus among the three, built on 13 acres with 2 football fields, a 400 m running track and a cricket field. It is located behind a public green belt of 30 to 50 m deep.
As a linear plot of 600m long, separated by a middle road, the South side is dedicated to pre-primary pavilions of small scale around a courtyard extending to the primary, the middle and senior school building as a L shape linear building with porous qualities on the north side. The orientation of the building is similar to the Hauz Khas complex that faces the dominant winds of North and West from October to June for optimal cross ventilation from the green belt and fields.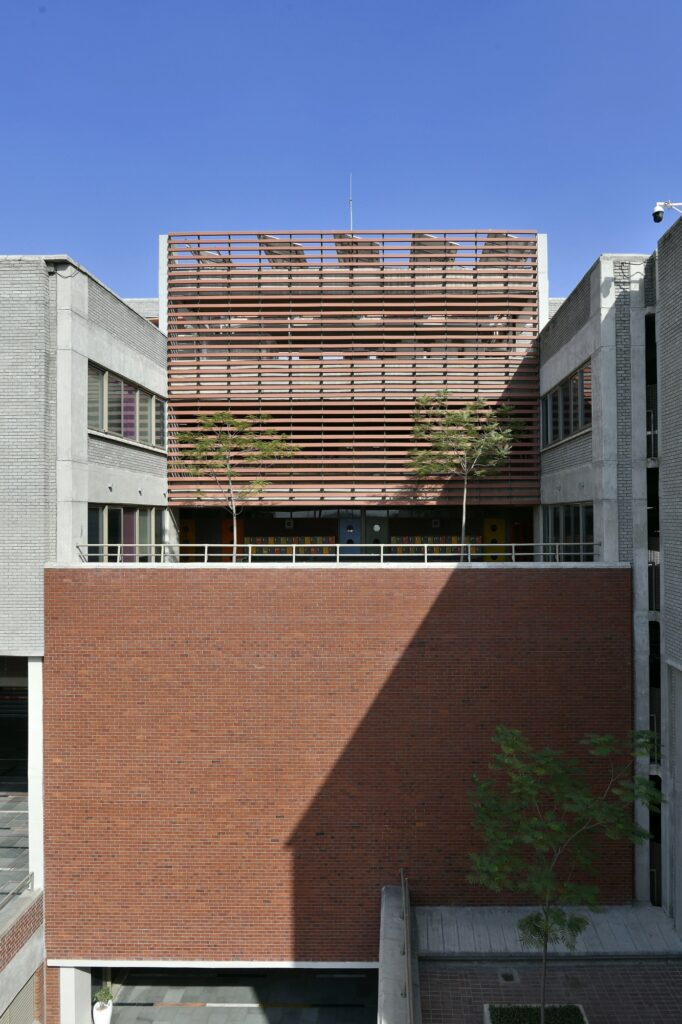 The project is based on 15m long modules creating a built/void chess mat pattern of 2 floors high that can house 4 class rooms, or 2 arts, activities or laboratories as full module, otherwise a double height veranda or a terrace garden when a void.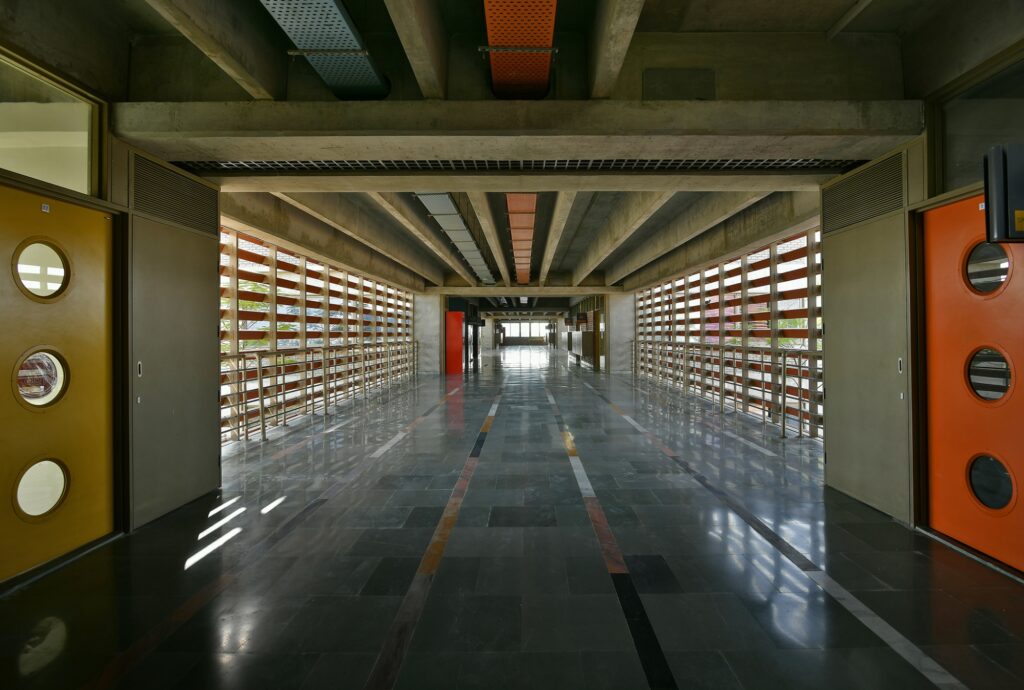 The First floor, like a large plinth, offers double height covered playground and verandahs. The multipurpose hall, used for sports activities as well as 1000 seat auditorium, is located in a semi-basement, with a covered pool. The activity rooms, such as theatre, painting, arts & crafts and music benefit from direct access to terrace gardens as these activities can spread outdoors. The indoor-outdoor relation is made more intricate and tri-dimensional than just classroom- ground floor courtyard dialectic.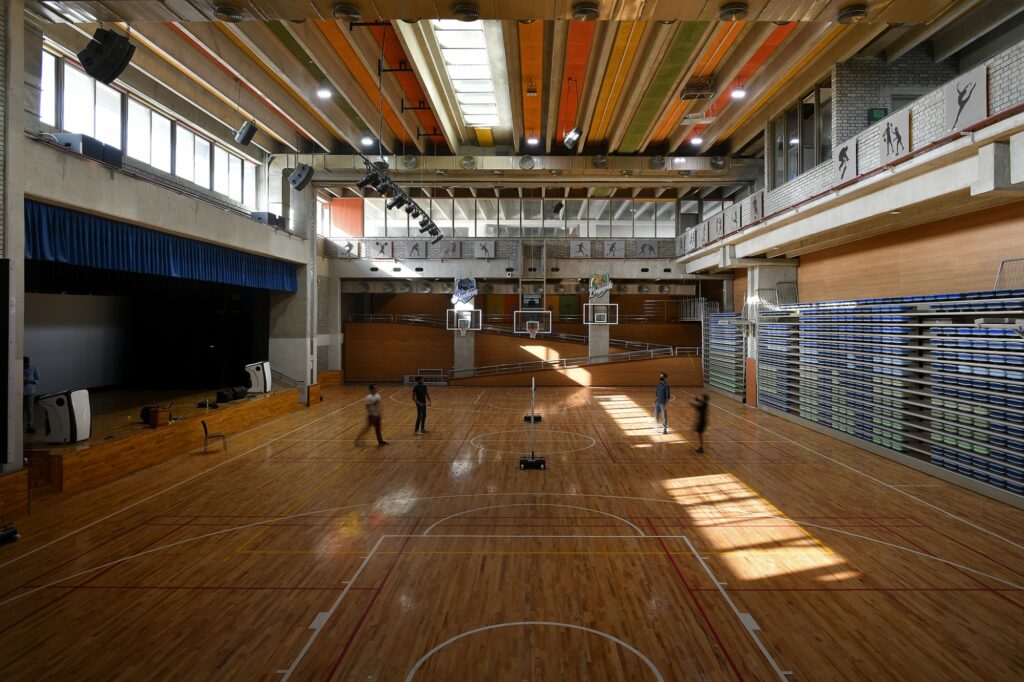 It has all the facilities in a systemic yet flexible modular pattern. This concept was possible by the use of pre-stressed double T slabs of 15 m long, 2.4 m wide and 2 feet deep, cast at the site and lifted with heavy duty mobile crane. The use of long-span pre-cast technology was path-breaking to challenge the typology of the 600 sqft classroom as the structural grid. It also addresses the recent development of school buildings that are more dense, higher than before.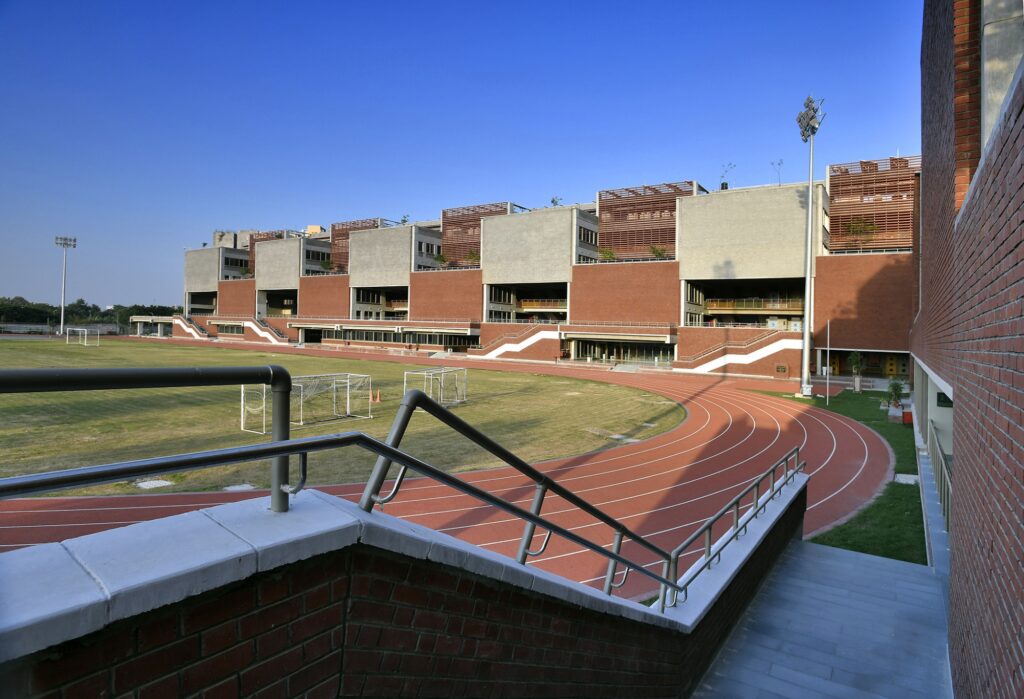 The monochromatic structure, entirely exposed grey RCC and clay or concrete bricks, is balanced by the colours from secondary industrial elements such as metallic doors, ceramic tiles and signage.
Drawings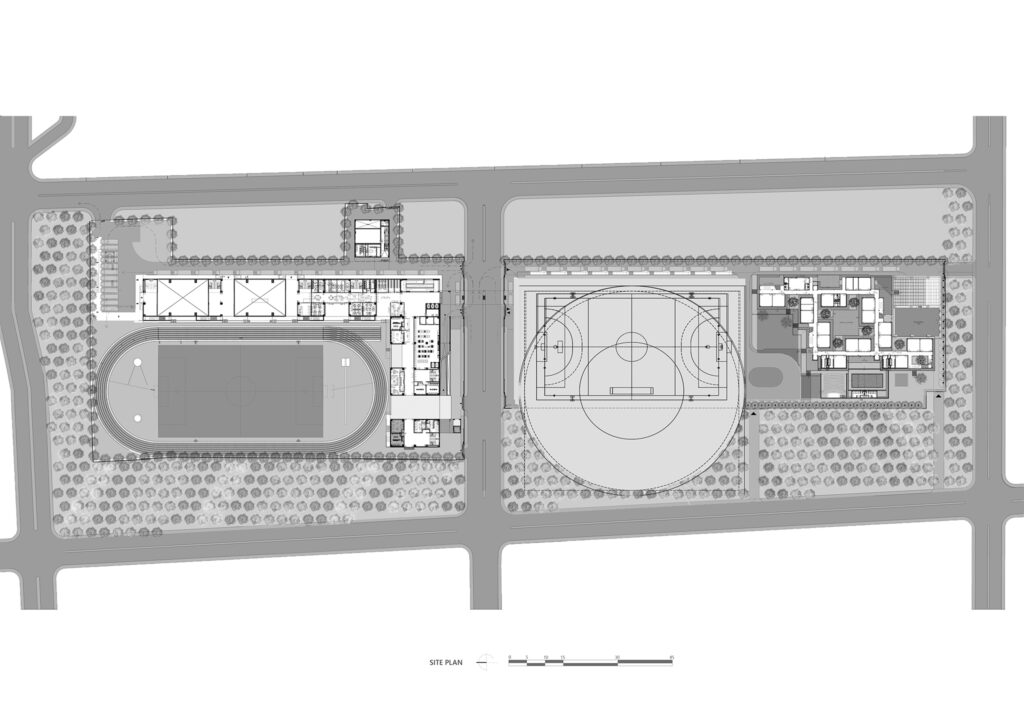 Project Facts
Completion Year: 2019
Gross Built Area (m2/ ft2): 60000 Sqmt
Project Location: Faridabad, Haryana, India
Program / Use / Building Function: School